Greg, Stephen, and I each took a peek into the future of miles & points, but we didn't quite see eye to eye. Stephen tried to pad his numbers for next year's review by predicting that Marriott would have poor promotions, but then he made one prediction that was so far off that I called him out with a bet this week (I look forward to a free breakfast on Stephen during an IHG stay next year!). This week on Frequent Miler on the Air, Greg and I debate some of the key predictions and let it all be captured on video as to what we expected would or wouldn't happen in 2020. One thing is certain: the video evidence of our predictions won't age well for one of us.
FM on the Air Podcast
For those who would rather listen during the morning commute or while you're working, the audio of our weekly broadcast is also available for download as a podcast on all of your favorite services, including:
You'll also find us on Spotify and hopefully your other favorite platforms. If you're not finding the podcast via your favorite source of good podcasts, send us a message and let us know what you'd like us to add.
On to our weekend recap of the week's top stories:
In the hunt for elite status in 2020:
The Delta cards are changing. If you're in the hunt for Delta elite status based on spend, you'll need to make some quick moves and get hitting those spending thresholds in the next couple of weeks. Greg lays out the strategy for those on this path. Personally, I think y'all are a crazy bunch :-).
Many wondered whether or not the status-match-go-round would continue to spin in 2020. Good news: it hasn't stopped yet. If you hopped on this deal last year, it's time to take the next step that will hopefully position you to get another year of Caesars Diamond — and along with it a free $100 dinner and show tickets.
In maximizing value:
With the discovery of the Turkish Miles & Smiles sweet spot and the expansion of dynamic award pricing on American and Delta in 2019, I thought that the Southwest Companion Pass probably wouldn't be quite the standout value that it once was. I ran some sample searches to prove the point, but I came out surprised by the results.
I've recently written about going after bank account bonuses because they are such low-hanging fruit. Acorns is a little different in that it's an investing platform that offers monthly opportunities to refer others and earn bonuses. I went to write a quick deal post about the latest referral promotion, but that encouraged me to dig into my results with Acorns over the past two years: Is this an investing platform worth considering? Ultimately, it seems to me worthwhile for as long as you think you can trigger those bonuses, but otherwise isn't a great option for long-term investing.
2019 in review and a look ahead to 2020:
Some of these really surprised me. The enduring popularity of Stephen's Wyndham timeshare post has long fascinated me (going on two years and it is still one of the most viewed posts on Frequent Miler month after month!), but I had no idea that my Caesars Diamond celebration dinner post had garnered so many views in 2019. I'm glad to see so many long-term resource pages up there in our overall most viewed posts/pages since we do make an effort to keep those resources up to date and relevant. Thanks to all of you for reading our wide-ranging posts and engaging in conversation with us — here's to another successful year in 2020.
I like the confidence of Greg's headline, but he takes a couple of chances in the predictions that I think are less likely to be true than one may hope. Of course, in this post, Greg shares what he thinks about Stephen's predictions and mine as well, so read up to find out which he thinks we all got right or wrong and then see the video/podcast above to hear my arguments about Greg's more questionable predictions.
I'm convinced that Stephen tried to pad his results by predicting that Marriott would have poor promotions, but as Greg pointed out in our discussion above, Marriott used to have quite good promotions, so it is notable that they will continue to follow the downward trend of the past year or two. On the other hand, I think Stephen must have had a long typo in the section where he notes IHG adding breakfast for elites. I feel so confident that this won't happen that I called him out for a breakfast bet in Frequent Miler on the Air. One of us will get free breakfast during an IHG stay next year, and it won't be IHG Rewards Club paying for it, 🙂
---
That's it for this week at Frequent Miler. Check back soon for our week in review around the web and this week's last chance deals.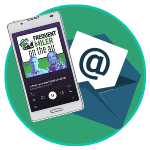 Want to learn more about miles and points?
Subscribe to email updates
 or check out 
our podcast
 on your favorite podcast platform.