This morning, I am disembarking the Royal Caribbean Brilliance of the Seas, our third cruise in the past ~4.5 months. Before this last couple of months, we had only ever cruised once before. I expected that our single cruise about a decade ago would be a "one and done" experience for us, but given how we've been able to take advantage of matching opportunities to Carnival and Royal Caribbean (though sadly not the recent one to Holland America), we've been able to enjoy several "free" (really nearly free) cruises. Given these opportunities, I figured that there must be some readers with cruises booked who are as new to cruising as we are. With our several recent cruises in mind, here are tips for new cruisers that cruise novices like us wish we had known before hopping on board.
Research your ship
This tip seems so laughably obvious that I feel silly for not having done a better job of it. We focused first on cruises going to places we wanted to visit (as with our "free" Carnival cruise in Europe a few months ago) and then on cruises that fit our schedule (including one from Port Canaveral that left days after a planned trip to Disney World in December and one this week, which has been a week off of school for our preschooler).
In hindsight, given the fact that we have some schedule flexibility, I wish we had prioritized the specific ship over the schedule. I don't necessarily regret prioritizing specific ports of call as was the case on our European cruise, but I think in the future my second criteria would be the ship itself over the schedule (assuming I had schedule flexibility).
Cruise ships obviously vary wildly and the amenities on board and even layout of the ship could make a huge difference in the experience.
For instance, in the past few months, we sailed on the Carnival Pride, the Royal Caribbean Independence of the Seas, and the Royal Caribbean Brilliance of the Seas, in that order. Had we cruised in the opposite order, starting with the Brilliance, I don't know if we would have bothered booking another cruise. The Brilliance just fell far short of our experiences on other ships in almost every measurable way other than service, but that was in large part due to things that I'd have seen if I had taken an hour to watch a Youtube walkthrough video.
Though ridiculous in hindsight, we assumed that the "Adventure Ocean" kiddie pool section on the Brilliance would be similar to the splash pad on the Independence of the Seas….and that wasn't the case at all.
The Independence of the Seas had a large, open promenade at the center of the ship with a cafe and a pizzeria and an ice cream chop and a pub and a bunch of places to congregate. The Brilliance of the Seas (which is the ship I'm disembarking today) had nothing like this at all.
After our positive experience dropping both kids off at the kids club on the Carnival Pride, we assumed that we'd be able to do the same on Royal Caribbean, only to find out that Royal Caribbean's Kid's Club is only for kids ages 3 and up and fully potty trained — so our 2-year-old who is still in diapers couldn't attend (they did have babysitting services for a very reasonable fee).
There were a lot of little differences like those that added up to some disappointment with our most recent cruise, but that disappointment is entirely on us for poor planning. Again, had we watched a Youtube video walkthrough of the ship and/or Googled a bit more, we'd have known exactly what to expect.
I would also caution against believing generalizations. I know that the conventional wisdom is that Royal Caribbean is a noticeable step above Carnival, but I would say that while the Carnival ship we were on last fall (the Carnival Pride) was showing its age, everything other than the somewhat dated appearance of the ship exceeded this most recent Royal Caribbean cruise — food, entertainment, ship layout, etc.
Watch a walkthrough video of your ship
As noted above, the majority of our disappointment in our most recent cruise could have been avoided if we had watched a Youtube walkthrough video of the ship. With most ships, you can go to Youtube and type in the name of the ship and someone has probably filmed a walkthrough video showing everything there is to see on the ship. Some of them can be an hour long, but even at a length like that I think that watching it in advance would have been money well spent.
My two Royal Caribbean cruises have been short (4 and 5 nights), whereas my Carnival cruise was 10 nights. A longer cruise gives you a lot more time to get used to the layout of the ship. If you are on a shorter cruise and you don't know what you're getting, you might not know where everything is until your cruise is half finished.
Research your sailing
It might be worth Googling your specific sailing (ship name or port and dates) to see if there are any special events scheduled. I feel like this has to be the most niche thing ever, but unbeknownst to me ahead of time, the sailing I was on this week was a "Legends of Green Bay" cruise. A number of former players (and the current running back, who signed a new $31 million contract the day before the cruise) along with their families were on my ship. I would guestimate that approximately half of the ~2,000 people on our ship were Green Bay Packers fans. While that didn't inconvenience me in any way, perhaps I'd have enjoyed the cruise less were I a more committed Detroit Lions fan.
Again, that wasn't a problem for me — in fact, it was kind of fun that most people had packed a week's worth of Packers gear to wear and there was some excitement every time a player walked by a group of fans (and Aaron Jones danced with the enthusiasm of a guy who just signed for $31 mil at the disco party), but I guess if you're a big Philadelphia Eagles fan you may be less enthused about a Legends of Kansas City cruise.
Note that this cruise wasn't advertised as a special event by Royal Caribbean (at least not that I saw), but it became apparent that it couldn't possibly be a coincidence that so many people were wearing Packers gear on Day 1 and then I saw a magnetic "Legends of Green Bay Cruise" sign on someone's door and I found the website.
Power outlets are a problem
If you're used to plugging in your cell phone and putting it on the night stand next to you, you might need a 15′ charging cord. On each cruise we've taken, there have been one or two outlets on the main desk/vanity area opposite the sofa (which is on the opposite side of the room from the bed — and diagonally located across the room).
After constantly not being able to plug in everything, I brought a little outlet adapter with 3 extra plug-ins on this last cruise. If you need to plug in a couple of phones, a battery pack, a GoPro, and a laptop (and maybe even tablets, earbuds, and other devices!), you'll probably want/need some additional outlet action. Check your cruise line information for rules about power strips / extension cords before you decide what to bring.
Download entertainment in advance (if you don't want to buy Internet access)
Internet at sea isn't cheap — whether you're buying it from the cruise line or getting a signal from your cell phone (note that it is possible that you could get cell signal from the ship itself, but your home carrier will charge you a small fortune if your phone connects to it and uses data / voice / text access). If you don't want to buy Internet access, make sure that you download plenty of content before you set sail.
Along those same lines, since some content is blocked in different countries, you may not be able to download the content you want even if you have cell service in port. Plan ahead on that.
Stay in touch with cheap in-app messaging if you don't want to buy the Internet package
If you don't want to buy the expensive Internet package, both Carnival and Royal Caribbean offered an in-app messaging service for $5 for the entire cruise (I assume other cruise lines offer something similar). You can then connect to the ship's wi-fi and message within the Carnival Hub app or the Royal Caribbean app. My wife and I used that on previous cruises and it worked well enough.
Buy Internet in advance if you do want a package
If you do want to buy the Internet package, you probably want to buy it in advance. Each of the cruises I have taken have offered the packages at a discount when purchased in advance (I saw discounts available right up until the days before the cruise). I thought it might be cheaper to purchase Internet on-board, but it wasn't. One exception there is that one could buy a one-day pass on board that's good for 24hrs (this option wasn't available in advance) — so if you just need Internet access on a specific day or only for the last couple of days, you can save quite a bit by paying for single day access over the cost of Internet for the entire cruise. In advance, I think each of my cruises ran round $15-$18 per day for Internet access purchased in advance (with a small discount for adding a second device). On board, prices were more like $25 per day.
Note that you can switch devices. For instance, we paid for 2 devices on this last cruise so that my wife could have Internet access on her phone and I alternated between my phone and my laptop having Internet depending on what I was doing.
I should also add that Windows (and Android also I believe) has a way to share your Internet connection — so, for instance, one day I used Internet on my computer while sharing it to my son's tablet (and my wife was also online).
Internet via SpaceX Starlink is faster than you probably think
I assumed that Internet while at sea would be impossibly slow, but you might be surprised at how fast it can be. Both Royal Caribbean and now Carnival (and likely others) use SpaceX's Starlink Internet service, which is surprisingly speedy.
Wi-Fi coverage around the ship is of course variable. I found some kind of "dead" spots on each ship so far and I didn't get a good signal on the balcony of my room on any of them, but by and large the coverage is much better than I'd have expected.
Obviously the speed depends on a lot of factors. My rudimentary understanding of Starlink is that, unlike other satellite services which rely on a couple of satellites way out into space, Starlink is covering the earth with a ton of much lower-orbit satellites to reduce latency. My understanding is that coverage tends to be quite good where coverage exists — but it's still got to connect to somewhere off in the sky and back, so it isn't as fast as the best land-based connections.
That said, I did a ton of speed tests on my recent cruise. This was one of the slower results.
At times I got well over 100Mpbs down (even into the 160's and 180's) and a bit over 10 Mbps up. It was plenty fast and steady enough to stream video and get things like this post done. We had our weekly Frequent Miler team meeting on Zoom and while my connection was a bit unstable for the first couple of minutes and I'm told my video froze now and then (I was on the balcony, where WiFi wasn't great, so I had to reposition the computer a bit), everyone else was crystal clear on my end (and Stephen noted that it seemed much better than what he would have imagined).
Bring medicine you might want / need (including over the counter stuff)
Obviously you'll want to bring any prescription medication, but I've been particularly surprised by the lack of over-the-counter medicine available on-board. We wanted to get some Tums on a recent cruise and were surprised to find nothing of the sort available in the onboard shop. If there is something you're likely to need, bring it on board.
Research how the kids club works if you're bringing kids
The Carnival Pride in Europe last fall was our first experience on a cruise with kids. The kids' club on that ship was divided into age groups where our 2yr old and 4yr old (at the time) were in the same age group cohort, so if we dropped them off together, they would stay together (which I think was particularly helpful for our younger son, who has a bit more attachment given being raised in the days of COVID.
On Royal Caribbean, I was surprised to find that the kids' club starts at age 3 and kids must be potty trained. There wasn't any option to drop off our 2yr old (at leas not for free). We could have paid $6 an hour for childcare in the nursery, which is certainly reasonable enough, just not what we would have anticipated based on our Carnival experience. I'm not complaining — I can understand why the cruise line would have the set of parameters they do, I just hadn't anticipated it.
Note also that hours vary. In both instances, the kids' club closed during mealtimes. In some cases it was possible to pay a fee for the kids to be looked after during mealtime, but it wasn't always free even when available.
Still, for anyone with kids older than mine, the kids' club can obviously make it convenient for the adults to attend a particular activity or just enjoy a quiet meal. I am not personally very comfortable with the idea of strangers watching my kids, so while I know they are popular at many resorts I never really expected to be comfortable with the idea of a kids club. I warmed up to it on these cruises.
Consider room location
This is another likely obvious tip to anyone with experience cruising, but you should look at the deck layout when choosing your room. See what is on the floor above or below where your room would be (you can just Google the name of the ship and "deck layout"). For instance, you may not want to be next to the elevator or right above or below the night club if you are likely to be disturbed by noise.
That said, I was impressed by the soundproofing on Royal Caribbean. We had a room just off of the ship's main atrium (the first room behind the wall you'll see to the right in the last seconds of the video below). My wife was awake in the room when this was going on and she had no idea it happened:
There may also be things that you want to be near. For instance, on our Carnival cruise, the kids' club was located on the same floor as staterooms. It probably would have been convenient for us to have a cabin on that floor.
Get on board early on embarkation day
If you're the type with CLEAR or TSA PreCheck, you may be used to showing up as close to when travel begins as possible. With a cruise, you may want to consider the opposite.
For instance, our most recent cruise was scheduled to depart at 4pm. When we checked in, we chose an arrival time between 11:30am and 12pm. We did that because we knew that we could get on board and eat lunch (always nice enjoying an extra free meal!), walk around getting the "lay of the land", and play a little mini golf while we waited for our stateroom to be ready. We headed to the room around 1:30pm and probably would have changed to head to the pool if not for it having been an unseasonably cool day.
Entertainment / activities begin early, so there's no real downside to getting on the ship early.
Download app and look at activity schedule in advance
Speaking of activities, you can download the cruise line app far in advance and sign in and see the entire schedule of activities for your cruise. A night or two before our most recent cruise, I went through the entire schedule and took screen shots of things that I thought we might want to do. That can help you develop a plan of attack or at least know what options you'll have. Some activities repeat — getting an idea as to which do and when can help you plan what you want to do.
Don't buy arcade credit in advance
This is a silly tip mostly due to my bitterness over this most recent cruise, but don't buy arcade credit in advance. Royal Caribbean offered the chance to buy arcade credit for 20% off the face value in advance. Our kids don't play any video games at home or on our phones, so they get really excited by the rare opportunity of an arcade. They loved the arcades on our last two ships, so this time around we pre-purchased arcade credit (we actually messed up and bought more than we intended to buy).
That really made it burn when the arcade on this last ship really stunk. It was tiny and a handful of the few games they had weren't working (our last Royal Caribbean cruise had a much better arcade, but still had a surprising number of out-of-order machines). I think I counted 31 total games in the arcade (including the ones that weren't working!) and I think 13 of them were games that either dispensed tickets or were a quick prize game (like the claw that drops) where you get all of 30 seconds of entertainment at best. Compounding the problem was the fact that the machine that dispensed the prizes that you could get with the tickets you earned was one of the many machines that was out of order.
There were basically two games that my 2.5yr old could play with some assistance and 2 more that my 5 year old could play (one of the overlapping games was air hockey, which had no air around the center of the table and the puck got stuck inside the machine several times during the cruise, so I'm being charitable in counting that). We blew far too much on arcade credit in advance. Even if I knew the ship had a dynamite arcade I'd be hesitant to buy credit in advance given how many out of order machines I've seen on the last two cruises.
Buy magnetic hooks
This was a tip I saw on a Youtube video: since the walls in your room are all made of metal, magnetic stuff can cling to them. I bought some cheap hooks online that worked well for hanging clothes that I wasn't ready to put in the dirty laundry bag or jewelry like my wife's necklace and my rings (given the little storage space available in the room, a high place out of reach of small hands came in handy for those things sometimes!). I've read about people hanging a laundry line from hooks — there are plenty of uses that could come in handy. I only wish I had bought slightly larger / heavier-duty hooks.
Check the laundry situation
Your ship likely offers the ability to do laundry, but it can be well worth researching how that will work.
For instance, on our Carnival ship last fall, guest laundry was available on several floors throughout the ship. You could do your own laundry, charging washers and dryers to your folio. They even sold detergent from a machine in the guest laundry (though they ran out of it in the machine and began bringing guests portioned plastic bags of the ship's detergent). We didn't need to pack a ton because we could wash and dry throughout the cruise (even an iron was available in the guest laundry rooms).
Royal Caribbean offers no self-service laundry. You can pay by the piece as you ordinarily could at a hotel, though that is as expensive as you'd imagine. I read that it is also possible to have an entire bag of laundry washed, dried, and folded for $35 on Royal Caribbean, though I forgot to check on this on our last cruise. I also believe there is a discount for those who have cruised with Royal Caribbean before. Still, we didn't end up doing any laundry on our Royal Caribbean cruises. That's not necessarily a problem, but it's another reason and thing to research in advance about your ship.
Door decorating
Something entirely unnecessary but that you may find fun is that many people decorate their cabin doors on a cruise ship using various magnetic decorations (again — metal doors). While that may seem silly to some, it can make it very easy to find your cabin. Sure, you should know your cabin number, but we sometimes got disoriented about which way to go on our floor on previous cruises and often the door decorations were a quick visual way to verify that we were on the right track.
Since I knew that my wife and I would be busy unpacking for a while when we got into our room on this last cruise, I bought a bunch of dinosaur magnets that I knew would entertain my kids for a while as they played while we unpacked — and then I knew that we could use them to decorate the outside of our cabin door and the kids would have fun recognizing our cabin door.
I had no idea this was a thing before our cruise last fall and I completely forgot about it before our Royal Caribbean cruise in early December. I only remembered to order decorative magnets a few days before our most recent cruise and I was glad I did.
Bottom line
Most of the tips in this post are likely things that regular cruisers take for granted. However, these tips for new cruisers are things we wish we had known / considered before our cruises. We've still had a great time: we went from zero interest in a cruise to actively thinking about what the next one will be. That is in large part because it is a very easy vacation or short break with kids since most stuff is included in the price of the cruise and you can see multiple places without having to pack up and move all of your stuff. There's no doubt that the convenience factor is high and the "fun" factor can be high with a cruise. Following some of these tips for cruise newbies might make your cruise even better.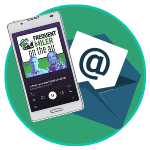 Want to learn more about miles and points?
Subscribe to email updates
 or check out 
our podcast
 on your favorite podcast platform.