Turkish Miles & Smiles has gotten a lot of attention over the past year thanks to the incredible sweet spot we uncovered for domestic awards (See: How to book United with Turkish Miles & Smiles miles). However, Turkish has another awesome sweet spot in its award chart that is worth a look for those planning travel to Europe: 45K miles one-way in business class on Star Alliance carriers to and from Europe. You'll want to avoid certain carriers with high fuel surcharges, but that's a relative steal for carriers without fuel surcharges or those with moderate fees. Since Tukish is a 1:1 Citi transfer partner and you can earn 2x ThankYou points everywhere with the Citi Double Cash when paired with a premium card, this is a sweet spot worth your attention.
Sweet spot spotlight
The short story: Turkish Miles & Smiles charges 45K miles each way for business class on Star Alliance carriers between North America and Europe.
Miles required: 45,000 Turkish Miles & Smiles miles in business class
Award availability: Varies, but generally pretty good given the number of Star Alliance carriers that fly to Europe
How to find awards: Search united.com or Turkish Airlines
How to book awards: Book online at Turkish if you find your preferred routing or potentially over the phone or via email
Booking with Turkish Miles & Smiles online for Star Alliance awards
As we've previously noted is the case with the Turkish Airlines website, availability shown online is very much hit or miss. The good news is that you will find some good options easily bookable online. The bad news is that you will not see all of the bookable options on the website. As an example, I inexplicably couldn't find any itineraries involving TAP Air Portugal on the transatlantic sector (but could find them involving TAP for flights within Europe).
Key to finding availability online begins with knowing where to search. Unlike United.com, you will not start your search on the Turkish Airlines homepage, rather you'll want to log in to your Turkish Miles & Smiles account and then click the drop-down from your name and choose "Miles transactions".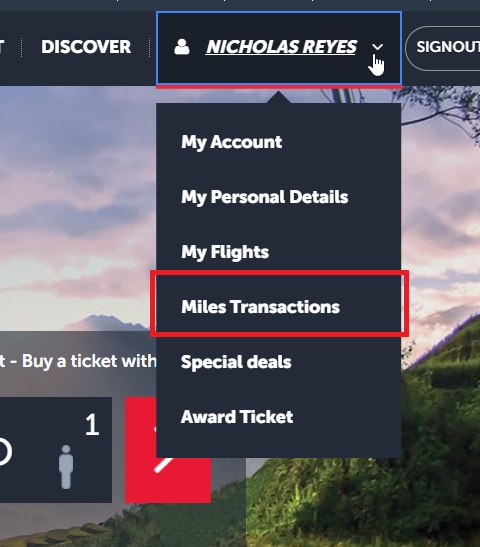 You can then find the "Star alliance award ticket" booking engine to the right of your name.
Clicking "book now" will bring you to the Star Award Ticket booking engine.
When you click the calendar to select dates, you will now find a box to easily search for one-way awards, which is likely the easiest way to search.
After searching, if awards are available in both economy class and business class, you will see radio buttons to select which class of service you would like to see displayed.
While Turkish's economy class pricing is similar to most other Star Alliance airlines at 30K each way, business class is a standout value to and from Europe at 45K miles each way.
Turkish Miles & Smiles search tool good news and bad news
The online search tool is a mix of good news and bad news.
The good news is that you can find Star Alliance flights bookable online. For example, here is New York to Warsaw in business class:
Unfortunately, the tool doesn't show all available flights. For example, from New York JFK they show four itineraries in economy class on the same sample date.
United shows options operated by Swiss and Austrian out of JFK.
Out of Newark, United shows dozens of options, whereas Turkish only showed the direct flight on LOT polish. This is a clear limitation that proved frustrating over hours of searching. You may want to just search for what you want at United and then see if you get lucky and it's bookable online with Turkish (and if not, just send an email or try the phone).
Good news here is that the options you see available at United.com should likely be bookable via email with Turkish Miles & Smiles. You may also have success booking over the phone (we recently had a success report from a reader who was able to book a trip to Hawaii on United over the phone). Keep in mind that you'll need to feed phone agents your desired flights one segment at a time if you're able to book over the phone.
Still, the search tool shows some of the nonstop options to Europe and randomly has connecting itineraries. YMMV.
Fuel surcharges really range with Turkish miles
Turkish Airlines passes along fuel surcharges, but these are mostly painful on Lufthansa Group flights (Lufthansa, Swiss, Brussels, and Austrian). Fuel surcharges on other airlines range from none to moderate.
For example, New York to London on United rings in at 45K miles and $5.60.
Tacking on a flight to Zurich on Swiss brings the cash total up to $98.
But if you'd like to fly direct from New York to Zurich on Swiss, fuel surcharges zip up to $674.50 one way on a business class flight (or about $224 in economy class).
Other Star Alliance carriers can be entirely reasonable in terms of fuel surcharges. For example, JFK to Warsaw on LOT Polish in business class comes with just $84.50 in taxes and fees. The same was true from other US cities like Chicago.
Interestingly, United shows 6 seats available on a number of those LOT Polish flights.
The Turkish website will only allow you to search for up to 5 adults at a time, but I didn't have a hard time finding room for five out of Chicago, either.
Someone cue up my friend Spencer Howard for an award alert from Straight to the Points.
Depending of course on where you originate, fees on the way back can also be quite reasonable.
Interestingly, if you build in a stop in Istanbul connecting on Turkish Airlines, you'll see that it advertises "touristanbul" during the layover.
That brings you to this page with information about free stopover tours. Apparently you can not combine a free stopover tour with a free hotel stay, but I'd definitely be interested in the free tour with a 6+-hour layover. And connecting in Istanbul only adds about 100 Euros in this case for what I expect is likely an even better business class experience and a tour of Istanbul.
Flying via Canada is also a reasonable option, with taxes and fees from Toronto to London ringing in at $54.16 CAD.
For Turkish-only awards, start at the home page
While the above results represent Star Alliance options, and you will find mixed-carrier options that include Turkish airlines with that tool, you'll want to start in a different place if you're looking for options entirely on Turkish metal. For those searches, start on the home page and tick the box for "Award flight".
That tool will show itineraries entirely on Turkish, like this one from Chicago to Istanbul for 45K plus $170.50.
Adding a connection will add additional fees, but in some cases you can easily build in a 20-hour stop in Istanbul for not much more.
The Middle East isn't much more with Turkish Miles & Smiles
Keep in mind that if you're interested in travel to The Middle East, it doesn't cost much more to get there. For instance, you can fly to Dubai for just 2,000 miles more — a total of 47K and $234.30 on Turkish.
But that's another story for another day.
Bottom line
Turkish Miles & Smiles has gotten a lot of coverage due to the amazing sweet spot for domestic Star Alliance flights. However, they also offer one of the best deals to Europe in business class if you can fly a carrier that is not owned by Lufthansa. At 45K miles and none-to-moderate in terms of fuel surcharges, you have a lot of decent options between the US and Europe. Getting the online tool to find your desired itinerary will be a matter of luck, but if you don't find what you are looking for online, getting it ticketed via email should be possible (and perhaps phone will work, too). For those curious, I have not gone through with booking for others online (you need to set up "My Companions" in your account in order to add others to a booking similar to how Singapore requires you to name "nominees"), but I have booked flights for family members via email without issue. With some of those LOT Polish itineraries showing availability for a team of people in business class, this could be a great way to get the whole family to and from Europe.