Yesterday, Greg posted about how you can buy enough Citi ThankYou points to fly from basically anywhere in the US to Hawaii for $386 round trip. The trick of course is using Turkish Miles & Smiles, a Citi ThankYou transfer partner that charges only 7,500 miles + $5.60 each way in economy class (to anywhere in the US — so you're not actually limited to Hawaii). The problem has been email award bookings: ever since I published my post on how to book via email, many readers have reported about unreturned emails to ticket offices. Fortunately, a number of readers also reported that you no longer need to book via email: you can book and ticket Turkish Miles & Smiles awards via phone. I did it myself yesterday and the process is quick and painless and does not require anything beyond what you would ordinarily expect for a phone booking. If you have ThankYou points and a desire to get anywhere in the United States for 7,500 miles each way, it's easy as pie to do.
How to book Turkish Miles & Smiles awards via phone
Here's what you'll need to do:
Call 1-800-874-8875
Press 1 to continue in English
Press 1 because you're a Miles & Smiles member
Enter your Miles & Smiles number
Press 1 to confirm your number is correct
Press 4 for reservations
At that point, you'll be connected to a representative. I told the rep I was calling to book a partner award with my miles and he asked me "from where?". At that point, I told him that my itinerary had 3 segments and I started in with the first segment info. Here's the info I gave him for each segment
Date
Origin & destination airport
UA flight number
He took the information down one at a time and then read it back to me. Then he put me on hold to check availability. Keep in mind that the max layover on domestic itineraries appears to be 4 hours. If your itinerary has a longer layover, you'll be charged for two awards. See Greg's post from yesterday for more on that. I knew this detail in advance and had already chosen flights that fit the parameters.
When he verified that the itinerary was available, he took the names of all of the passengers (I was booking for 3 people) and asked me to spell them phonetically. My Alpha-Bravo-Charlie alphabet gets pretty weak after Foxtrot or so and by the time we get to the letter "L" I'm using Louise and just sounding ridiculous, but I got through it.
Once he got everything entered, he verified my phone number and email (spelled one phonetic letter at a time) and emailed me the itinerary to check. Once I verified everything, he next read me fare terms and conditions. The key terms you'll want to know are:
Changes before check-in will incur a $25 fee (ticket must be used within 1 year of the day it is issued)
Changes after check-in or a no-show will incur a $50 fee
I was given approximately 48 hours to call back and pay for my booking if the call disconnected or payment failed
At that point, he had to go back through and enter birthdays for everyone. Once that was done, he said the last step was to verify the itinerary flight-by-flight, reading off the airports, times, and flight numbers (and verifying passengers names and airport codes again with phonetic spellings) and then he could transfer me to the payment system. He finished verifying the itinerary information and I said that's perfect and as soon as I said that, at less than 24 minutes into this phone call and with the finish line in sight, my phone battery died. Eeeek!
I had to call back, but thankfully I had a record locator (which he had emailed to me and read aloud over the phone). The good news is that this gave me the chance to test another agent. When I navigated the prompts again, I got someone else and I was able to give her the record locator and she pulled it right up.
Unfortunately, she had to go over the spellings of all of the names again and read me the fare rules and go through the flight info and all that. She then needed to add the birthdays — we basically re-did all of the (many) verification steps. But at the end of that, she transferred me to an automated system to enter my credit card information (note: I believe they only take Mastercard or Visa). After I entered my credit card info, the agent came back on the line and verified the first 4 and last 4 digits of my card number. She then verified my Miles & Smiles number and transferred me to an automated prompt to enter my Miles & Smiles PIN. That "PIN" was my password for the account. I actually mistyped it the first time and the agent said she could transfer me to do it one more time. Not sure what happens if you mess it up twice, but I'd advise getting it right the first time.
At that point, she processed the payment and I had ticket numbers in under 30 seconds. The second call verified a lot of the same information as the first, so the second call took about 15 minutes. I was all-in for less than 40 minutes, but it would have likely been less than 30 if I hadn't gotten disconnected.
The takeaways
The first takeaway is that this seems to be an official process rather than something that will require hanging up and calling again to find the right agent. A few key things lead me to believe that this isn't a matter of just getting lucky with a "good" agent:
The process definitely wasn't new to either of the two agents with whom I spoke. There was never a question about whether I was going to ticket this over the phone or any talk of going to a ticket office. I think this means that the old ticket office requirement (Turkish used to require awards to be ticketed in person at one of their few ticket offices) is likely dead.
I further took the textbook-like repetition of the process with Agent #2 to mean that most agents are likely trained on how to do this and are following a manual. I actually mentioned that the repetition of everything in the phonetic alphabet was going to finally teach me how to use it properly and she said it's a requirement that they spell everything back that way. Again, good news in there being a set process to follow.
The existence of an automated system to take payment means that they fully expect to take payment over the phone rather than in person at a ticket office.
So I expect this process to be as easy for anyone else booking over the phone. I should note that if I got my PIN wrong twice, I don't know what would have happened. Glad I didn't find out.
A bonus was that booking over the phone required a lot less information: no copy of my ID and scans of my credit card and Miles & Smiles card, etc. It was much less onerous and every bit as easy as booking with anyone else over the phone.
Another key to note is that, as came up in the comments of yesterday's post, Turkish Miles & Smiles will sell you miles for 3 cents each (up to 50K per year). If you're just a little short on the booking you'd like to make, reader Kimbra notes that purchased miles posted to her account immediately.
If you don't want to wait the 1-3 days or so that Turkish miles take to credit when transferred from Citi, that's another option, That means a round-trip in economy should cost $450 in miles if you purchased all of the miles necessary.
Bottom line
Booking Turkish Miles & Smiles awards via phone is now quite easy. Like this 7,500-mile sweet spot, I don't know whether or not phone bookings will last forever. However, for the time being, it is very easy to book a flight within the US for 7,500 miles each way in economy class or 12,500 miles each way in business class. While Hawaii has been the natural example of a great use, keep in mind that this should also apply to flights to Alaska or anywhere else in the US. While business class availability is hard to come by, I did see six seats available on a late lie-flat flight from Newark to San Francisco in my searches yesterday, so it's not altogether impossible to find. If you do find availability that works for you, I'd recommend calling rather than wasting time with email as the phone process is now quite efficient.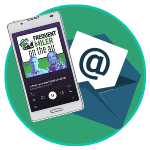 Want to learn more about miles and points?
Subscribe to email updates
 or check out 
our podcast
 on your favorite podcast platform.