Turkish Miles & Smiles has an incredibly generous award chart which includes deals such as 7.5K one-way from anywhere in the US to Hawaii (or 15K in business class), 45K one-way business class to Europe, 52.5K one-way business class to central Asia, etc.  And you can transfer points to Turkish from Citi ThankYou Rewards (1 to 1) or from Marriott Bonvoy (60K to 25K).  Finding these great deals in Turkish's award chart is easy.  Booking these deals is not.
Booking award tickets with Turkish Miles & Smiles is not what most would consider an intuitive process. However, it can be done via email and isn't all that difficult if you know what you want and how to check the availability in advance. Traditionally, one has had to go in person to a Turkish Airlines ticket office to ticket. However, it is also possible to get an award ticketed without visiting a physical office. Whether you're trying to book to Hawaii for 7.5K miles each way, Europe for 45K each way in business class, or one of the many other Miles & Smiles sweet spots, you will need to put in a little more effort than with other programs. The good news is that the payoff is worthwhile.
Step 1) Search for availability using United.com or Aeroplan.com
Before you reach out to Turkish, find availability so you can feed the exact flights you want to the Turkish agents. Calling or emailing Turkish about availability in general on a route, rather than reaching out about specific dates and flights, is not always useful in terms of finding available flights. Furthermore, with the extra steps involved here that naturally slow down the process, you would be smart to find and verify availability in advance.
United and Aeroplan tend to be your best bets in terms of finding Star Alliance award availability. If you use United.com, make sure that you are not logged in to your United account. United credit card holders and elite members will see expanded award availability when logged in and this expanded availability is not available for partner bookings (i.e. you can not use partner airline miles to book that extra award space) Therefore, you'll want to start your search logged out. United has a more intuitive interface, but there are times when it shows phantom availability. If you're looking for particularly complex itineraries, it might make sense to double-check availability via Aeroplan.com.
Keep in mind that Turkish has some additional rules for Star Alliance bookings that may also limit your options further from what you see at United / Aeroplan:
You can only have a single partner in each direction on a Star Alliance award (In other words, you can not fly from New York to Los Angeles on United and then continue from Los Angeles to Auckland on Air New Zealand. However, you could fly Los Angeles to Auckland entirely on Air New Zealand and then fly your return flight entirely on United.)
You can have a maximum of 4 segments in each direction.
While backtracking is allowed, you can not pass through the same airport twice in a single direction.
From what I've read, Turkish does not seem to impose a maximum permitted mileage (something that Aeroplan does do, so there may be some itineraries available with Turkish that aren't available with Aeroplan).
2) Email a ticket office to inquire about availability and confirm the price
Turkish Airlines operates ticket offices in 9 US cities and 2 Canadian cities. They publish contact information for these offices on their website here. Be sure to choose "Ticket Sales Office" rather than "Airport Sales Office" or something like that.
Here is an example email very much like some I have recently sent.
Hello,

I'm emailing to inquire about a Star Alliance award booking. As it is not possible to price this award online, I'm hoping you can confirm the number of miles required and any associated taxes or surcharges on the following itinerary:

Passenger: [Name]

Miles & Smiles Number: XXXXXX

Date: November 12, 2019

Class: Economy

Origin: IAD

Destination: LAS

Segments:

1) UA 632 12NOV IAD-LAX 1230 1456

2) UA 2365 12NOV LAX-LAS 1631 1745

Again, I'm looking for both the number of miles required and the total cost of any taxes, surcharges, or booking fees.

I really appreciate your assistance!

Sincerely,

[Name]
I find the response time to vary a bit but it is decent overall. You'll need some trial and error: one office did not email me back at all while another generally emailed me back the same day if I emailed before 2pm Eastern. Keep in mind that most of the ticket offices are open 9am-5pm Monday through Friday, so you will not get a response after hours / on weekends.
3) Transfer miles and wait
When an agent responds, they will typically confirm availability and price and ask if you would like to proceed with the booking. At this point, you'll want to transfer miles as the agent will not be able to move forward with the process until you have miles in your account. Note that transfers to Turkish Miles and Smiles are not instant. You will need to wait 1-2 days for miles to post, which can be an issue for high-demand awards. If availability is limited and your dates / route is of particular importance to you, you may consider booking with a different program.
I let my agent know that I would be transferring miles and she proactively reached out with the necessary paperwork once the transferred miles posted to my account. You may alternatively keep an eye on your Miles & Smiles account and email again when the miles are deposited.
4) Fill out paperwork
Turkish will next require all of the following paperwork:
Miles & Smiles redemption form: This is a form that includes the basic route and price information and asks you to indicate the type of award (i.e. an award ticket on Star Alliance Flights). You'll sign this form.
Credit card authorization form. This form has your PNR and fare information. It also asks for date of birth, email address, phone number, driver's license number, credit card information, and signature.
Photos of your credit card (both front and back). Be aware that you may need to crop / resize your photos (my email kept bouncing back saying that the ticket office box was full and the message was undeliverable, but it turned out that my files were too large).
Photo of your ID. I provided both front and back.
The above steps may seem a bit tedious and excessive compared to other programs, and it is certainly more information than most programs will ever request. However, if you're comfortable passing on the information, I can confirm that the ticket offices are capable of ticketing an itinerary once they have the above documentation.
5) Receive confirmation
After the Turkish ticket office has received your documentation via email, they will let you know when your booking is complete and the system will send you a ticketing email as soon as the journey has been ticketed. You're done!
Bottom line
Traditionally, you had to call Turkish Airlines to put an award ticket on hold and then visit a physical ticket office (one of the nine in the US or others in different major cities around the world) in order to fill out the required paperwork. Being able to complete this process via email means that an award can be ticketed without speaking to anyone or making an unnecessary visit to a ticket office. Note that it is possible (and indeed likely) that some ticket offices will be unwilling to ticket via email. If you receive a response telling you that you must first call Turkish Airlines to set up an award, you may want to try a different ticket office. Keep in mind also that Turkish may require some members to ticket in person and/or change this process at any time. However, for the time being, ticketing via email is fast, friendly, efficient, and easy.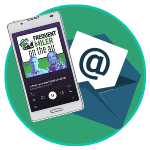 Want to learn more about miles and points?
Subscribe to email updates
 or check out 
our podcast
 on your favorite podcast platform.