United Airlines has announced that they will offer adjacent seating when children under 12 years old are part of a booking. This will even apply in basic economy — and if adjacent seats aren't available, they'll allow a free change without fare difference. This all adds up to a very family-friendly policy.
The announcement says that the new dynamic seat map will ensure that children under the age of 12 will be seated adjacent to an adult in their party, opening up complimentary upgrades to "preferred" seating where necessary (though premium economy and business class are not included in this policy change). In cases where there are no available adjacent seats prior to travel, United will offer a free change to a flight to the same destination with adjacent seat availability without a fee and without having to pay a fare difference.
I understand that airlines have created the basic economy product specifically in order to make it undesirable to purchase (so that people will pay more for full economy). But then they don't make all economy class seats available even when you book a fare that would include free seat selection. Just recently, I booked a flight for my family and despite seats being available in regular economy class rows, some of those seats were labeled "preferred" so that it was impossible for me to select adjacent seats for our 5 year old or 2 year old to sit adjacent to either my wife or me. My choice was to book an aisle and a window in the same row or pay more for "preferred" seats (that we don't really prefer). Again, I wasn't even buying a basic economy fare — it just felt like money grab that United was going to make me pay more to make sure that my 5 year old and 2 year old each sat adjacent to at least one of us.
That just doesn't make sense to me. Nobody else on the plane wants to sit next to a 2yr old who only wants to be near mommy. Seating minors next to strangers has seemed to me like a such a poor idea on the airline's end. At the very least, it has felt like a PR nightmare waiting to happen….and in a worst-case it could obviously be dangerous (and for the record, that's why I paid extra for "preferred" seats even though it felt like a ripoff). I think this is a smart move from the airline's perspective as it increases customer satisfaction (both for parents and for everyone else who doesn't have to deal with an upset kid separated from their parent). View from the Wing also points to the fact that United has reason to expect that this may become a requirement anyway, but it's great to see them get the technology implemented in order to make it happen now.
This change has apparently already taken place on some flights and will be rolled out on all United flights in mid-March.
H/T: View from the Wing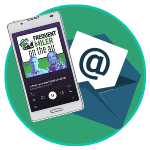 Want to learn more about miles and points?
Subscribe to email updates
 or check out 
our podcast
 on your favorite podcast platform.