In an unfortunate development from the uncarrier, T-Mobile will no longer give the autopay discount to those whose linked autopay payment method is a credit card beginning in May 2023. You'll need to link a bank account or debit card to qualify for the Autopay discount moving forward.
This is disappointing news because many plans come with an autopay discount of $5 per line for using AutoPay. In my case, I have 9 lines on my T-Mobile plan, though only 4 of my lines are paid lines, so I believe that my AutoPay discount is only $20 per month if I remember correctly — although I also get Home Internet for $30 per month with AutoPay thanks to being on Magenta Max. The short story is that those AutoPay discounts add up over the course of a year or years.
However, I prefer paying my cell phone bill with a card that offers cell phone insurance. I have unfortunately had to make claims for purchase protection and cell phone insurance a few times. If I pay my bill with a bank account or debit card, I would forgo the best credit card protections. I also have a couple of Business Platinum cards in my household and I certainly want to take advantage of the monthly $10 statement credit for wireless service.
Doctor of Credit wonders aloud whether manual pre-payments will still work if you have a bank account or debit card linked for your AutoPay discount. I wouldn't be surprised if that works. I certainly hope it does :-).
If that won't work for the AutoPay discount, I guess I'll need to be on the hunt for the debit card with the best cell phone insurance protections. T-Mobile, if you're listening, this seems like a great opportunity for the T-Mobile Money debit card . . . .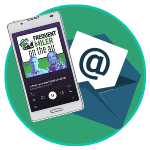 Want to learn more about miles and points?
Subscribe to email updates
 or check out 
our podcast
 on your favorite podcast platform.