With the current point transfer bonuses to Air France KLM Flying Blue, we recently republished a post about Flying Blue sweet spots. I've got a couple of trips to Europe tentatively on the books and I have had at least half an eye on Flying Blue, in no small part because I'd love to pick up another KLM Delft Blue House (and then to a lesser extent yesterday's announcement about Air France adding doors to business class also seemed mildly interesting). I've long seen Air Europa come up in search results on the Air France website, but I have almost completely ignored them. I had been under the impression that Air Europa had a lesser business class (which certainly may be true, but is it enough less to justify the difference in cost?). Given that I'm now searching for four business class seats for future family trips, it finally stood out to me why Air Europa deserves some attention: Flying Blue charges far less in taxes / surcharges on Air Europa flights, so those of us who would be happy to fly to/from New York or Miami can save a bundle by booking Air Europa with Flying Blue.
Pay much less in taxes & fees on Air Europa than Air France or KLM
Just looking at taxes and fees (not mileage prices), this flight from Rome to Miami via either Air France or Air Europa comes with either $294.87 in taxes and fees if booking on Air France or just $84.87 on Air Europa.
That's a difference of $210 one-way for one passenger (never mind the huge difference in miles here; this isn't meant to be a comparison of 72K miles vs 318K miles but rather a highlight of the difference in fees per passenger). If you are flying multiple passengers, that can really add up. To illustrate that, here's a look at 4 passengers (two adults and two children) on the same routing:
At $322.48 in total taxes & fees for four passengers versus $1,162.48 on Air France flights, the difference is quite significant even if the number of miles required were the same. Again, in this case I'm not comparing the difference in the number of miles required, which is also significant, because there are times when the miles required will be more similar. The gap in taxes & fees is a constant.
For instance, in the situation below, you could save 6,000 miles by flying Air France from New York to Madrid via Paris for 59,500 miles and $216.90. However, you might be forgiven if you'd rather pay 6,000 miles more to fly nonstop and pay just $10.10 in taxes.
Given the current point transfer bonuses to Air France / KLM Flying Blue, the difference could feel even smaller. For example, with a 25% transfer bonus, you'd need to transfer 53K points to end up with 65,500 miles for the Air Europa flight or 48K points to end up with 59,500 miles for the Air France flight – an effective difference of just 5K points per passenger, which is more than made up for by the $200 in cash savings on the Air Europa flight.
Again, the difference becomes more salient when you're flying multiple passengers. Double the totals and the $400+ upcharge to fly Air France feels kinda crazy even though it costs 12K fewer Flying Blue miles.
While the above comparisons show Air France and Air Europa, the differences were identical on itineraries served by either KLM or Air Europa, like this one from Brussels to New York which has a difference of $200 in taxes & fees even before accounting for the fact that the Air Europa flights cost fewer miles.
I had hoped that on one of my planned trips to Europe I would find a way to fly KLM again, but between the difference in miles and the difference in dollars for a family of four, those Delft Blue Houses start to feel pretty pricey.
Is Air Europa business class any good?
Obviously the next question is about the quality of product. When Greg and I flew KLM from Dubai to Washington, DC last year, we both loved the KLM lounge in Amsterdam (the place is like a work of art!).
We also particularly liked KLM's 787 business class (which we flew from Dubai to Amsterdam).
By contrast, based on this One Mile at a Time review I read about an Air Europa flight from Madrid to Miami, it sounds like Air Europa doesn't even have their own lounge in Madrid (their hub) but rather they contract use of one. And while Ben ultimately found his flight to be more pleasant than he'd expected, he did say the seat was quite hard.
I like a comfortable seat as much as the next person, but at an $800-$900 difference one-way for my family of four, I might be willing to sit in a slightly less comfortable-but-still-fully-flat business class seat. If I were booking round trip, I'd have an even harder time justifying a difference in cost of $1600 or more. At least by Air Europa's website pictures, their long-haul business class on the 787 doesn't look that bad.
The bigger roadblock for many readers will be that the only US cities served by Air Europa are New York and Miami. Air Europa also flies to quite a few destinations in Latin America, including Cancun, Panama City, Cuba, and the Dominican Republic in North America and quite a few countries in South America (Wikipedia has a full list of destinations here). If you're looking to combo your trip to/from Europe with a second international destination in North or South America, maybe one of those routes will be appealing.
For those who would position to or from a hub like New York or Miami anyway, these Air Europa flights might be worth keeping in mind. I had previously scrolled past Air Europa results with an image in my mind of not-fully-flat business class and a missed opportunity at a Delft Blue house. However, now that I'm looking at tickets for a family of four, I might have to use some of my $800 savings to pick up a house on eBay and pocket a nice chunk of leftover change if I'm tempted to book a Flying Blue award. It's also worth noticing in the screen shots above that the prices shown on each date tab in the search results rarely (if ever) show low prices on Air Europa, so it might be worth clicking date-by-date to find the cheap seats.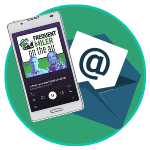 Want to learn more about miles and points?
Subscribe to email updates
 or check out 
our podcast
 on your favorite podcast platform.