Have you seen George Clooney's movie "Up in the Air"? If not, it's definitely worth the price of the rental. Clooney plays a character who is paid to travel the country to fire people. He loves the elite perks that come to define him, but his career and lifestyle is threatened by a new development in which video conferencing is used for the "you're fired" talk, instead of in-person meetings.
In March, my life imitated art when I walked into my company's Cisco TelePresence room to meet with my boss via video conference. He informed me that due to the latest round of reorganizations, my job no longer existed. To be fair, he delivered the message himself instead of hiring Clooney, and the TelePresence room was way more life like. It was more like how James T. Kirk speaks with Klingons and other villains "on screen". Afterwards I felt like yelling "Khaaaaaaan!" (see Star Trek II if you don't get the reference).
Actually, while the news was a shock, I wasn't really unhappy at all. I've been tinkering with this blog for the past 8 months and I've really enjoyed it despite not having enough time to give it my full attention. Thanks to the latest company reorg, I now have 8 months of severance pay to safely call myself a blogger and see if the old "if you build it, they will come" philosophy works with blogs as well as baseball fields.
Business plan
To see whether I could make a career at blogging, I drew up a little business plan. I started with a target monthly salary for 8 months out. It would be less than what I was making at my prior company, but enough to comfortably live off of. My goal was to earn 20% of that target in month 1 (April), 30% in month 2, 40% in month 3, etc. So far, I met my goals in April (woo hoo!), but time will tell how I do going forward. I'll check my targets each month. If I miss a target, I'll have time to try to do better. If I'm way off target 6 or 7 months from now, I'll brush off my resume and start looking at alternatives.
Making money
People often ask me how a blog can earn money. There are two primary sources for me: ads and credit card links. Thanks to you reading this post right now, I just racked up a penny or so from ads (thanks!). And, if you use any of the links on my credit card pages to sign up for a card, I'll make even more. As I promised a while ago, I won't put credit card links directly into my posts unless the post is slated to become a permanent blog page. But I do maintain a few useful permanent pages with credit card links including Preparing for Miles and Best credit card offers. If those pages are missing a card you would like to sign up for, please let me know.
What's next
The content and format of this blog seems to be working pretty well so far, so I have no plans to change things. Instead I'll spend a bit more time planning and writing my blog posts, and I'll do more experiments in the Frequent Miler Laboratory. The ultimate goal, of course, is to find the perfect perpetual point machine…
Thanks
It's been a long time since I've had a job that I truly love. So, I'm thankful to my prior company for giving me this chance! Even more, though, I'm thankful for every reader who gives me a chance each day by reading my posts!
What do you think? Is this insane?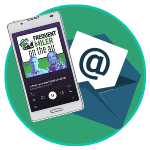 Want to learn more about miles and points?
Subscribe to email updates
 or check out 
our podcast
 on your favorite podcast platform.