US Bank will apparently launch a legitimate Sapphire Reserve competitor May 1st.  We expected this from Amex or maybe Citibank, but US Bank?  Really?  Rumors of US Bank's new card, the US Bank Altitude Reserve, began last week on Flyertalk.  And now Walla.by says that a "source close to the matter has reached out to us to confirm details and timelines."  Walla.by even posted this grainy card image:

Walla.by further posted that the card would have the following features:
3X in travel and all mobile wallet purchases (such as Apple Pay, Android Pay, and Samsung Pay).
50,000 point signup bonus after $4,500 spend within 90 days
$400 annual fee
$325 annual travel credit applied automatically
Points worth 1.5 cents each when redeemed through the U.S. Bank travel portal
12 free Gogo Wifi passes per year
No foreign transaction fees
TSA PreCheck or Global Entry reimbursement
Black car and rental car service
Metal card
Visa Infinite perks
Other reported details:
The Altitude Reserve card will be available May 1, 2017.
You must be a current U.S. Bank member to apply for the card.
Reading between the lines (i.e. guessing the details)
While not all details have yet been released about this card, let's make some assumptions / guesses:
$75 effective annual fee.  If this card's travel credit is as easy to earn at the Sapphire Reserve's travel credit, then it will effectively reduce the annual fee burden to only $75.  In other words, you would pay $400, but soon get $325 back after you spend that much or more on travel.  There is also a Reddit report that "Wealth clients" (I'm not 100% sure what that means) will pay only $299 per year for the annual fee which would make this card completely a no-brainer for those clients, if true.
Priority Pass Select lounge access. While Walla.by didn't mention lounge access, the original Flyertalk post did.  A safe assumption is that they'll offer Priority Pass Select with either 2 free guests (such as with the Amex Platinum cards) or unlimited free guests (as with the Sapphire Reserve).
12 Gogo Wifi Passes per year, US & Canada only, and one segment only.  The US Bank FlexPerks card already offers 12 Gogo Wifi Passes.  And the CNB Crystal Visa Infinite card does too.  As far as I can tell, they are identical (I have both cards).  I expect that the Altitude Reserve passes will work the same way.  Note that the Amex Business Platinum card's Gogo passes work for international travel, so they are more valuable than the passes expected from the US Bank card.
Black car and rental car service.  I'm totally guessing here, but based on other similar cards I'd bet this means discounts and elite status.  For example, you might get 20% off LimoLink car services, discounts with Avis, National, and Silvercar, Avis Preferred status (worthless in my opinion), and National Executive status (great to have).
Visa Infinite Perks.  This probably means access to the Visa Infinite Luxury Hotel Collection (get extra perks like free breakfast, room upgrades, VIP status, etc. when booking hotels in the collection).  And, hopefully, it also means access to the Visa Infinite Discount Air Benefit which offers $100 off any domestic round-trip flight booked for two or three people.  For more, see: Visa Infinite: a path to elite status for couples?
Point Transfers: None.  There hasn't been any news as to whether US Bank will allow point transfers to airline or hotel programs.  I'd be willing to bet, though, that they will not offer that option.  Prove me wrong US Bank, please.
How the US Bank Altitude Reserve compares to the Chase Sapphire Reserve
Let's see how the standard features of each card compare (note to email readers, tables like these are best viewed in your browser):
Feature
Chase
US Bank
Which is better?
Signup Bonus
50K points after $4K spend
50K points after $4.5K spend
Chase
(lower required spend, more flexible points)
Annual Fee
$450
$400
US Bank
Travel Credits
$300
$325
US Bank
Point Value
1.5 cents towards travel
1.5 cents towards travel
Tie
Point Transfers
Transfer 1 to 1 to airline and hotel programs
None expected
Chase
Category Bonuses
3X travel and dining
3X travel and mobile wallet
US Bank. The mobile wallet bonus opens up huge opportunities.
Airport Lounge Access
Priority Pass Select
Priority Pass Select
(expected)
Tie
(unless US Bank limits to 2 free guests)
Rental Car Coverage
Primary collision damage waiver
Unknown
Chase
(unless we learn otherwise)
In-flight Wifi
None
12 Gogo passes per year
US Bank
Airfare Discount
None
Visa Infinite Discount Air Benefit
(expected)
US Bank
Rental car privileges and discounts
National Executive status, miscellaneous savings with Avis, National, Silvercar
Expected to be similar to Chase's offering
Tie
Global Entry or TSA Pre Fee Credit
$85 TSA-Pre; $100 Global Entry
$85 TSA-Pre; $100 Global Entry
(expected)
Tie
Foreign Transaction Fees
None
None
Tie
Authorized User Fee
$75
Unknown
Unknown
Card Type
Metal, Visa Infinite
Metal, Visa Infinite
Tie
Final score (as if all features counted equally):
Chase: 3 points
US Bank: 5 points
US Bank wins!  OK, that's not really fair.  For those who highly value transferable points, there's still no contest between the two cards.  But, but, but…  this mobile wallet 3X feature is very interesting.  Mobile wallet should work at at many places where you can buy gift cards, at Toys R Us (where you can buy Gift of College gift cards), for paying rent, and much more.  Of course, I expect that US Bank will shutdown accounts of those who abuse the feature, but it should be awesome for moderate use.
See also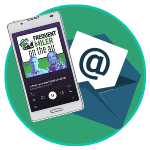 Want to learn more about miles and points?
Subscribe to email updates
 or check out 
our podcast
 on your favorite podcast platform.