Capital One and Chase have each introduced huge new welcome bonuses: Earn up to 100K bonus "miles" with the Capital One® Venture® Rewards Credit Card; or earn 80K Ultimate Rewards points with the Chase Sapphire Preferred® Card.  Which is better?
Offer Overview
The headline for the Venture Rewards card (100K!) makes it sound like a better offer right off the bat.  100K is better than 80K, right?  Well, not really.  100K Capital One "miles" can be used to offset $1,000 in travel purchases.  And, guess how much travel can be purchased through Chase with 80K Sapphire Preferred points?  Yep: $1,000.  Further, Capital One requires $20,000 of spend to get the full bonus.  Chase requires only $4,000.  And for those who prefer real airline miles, Chase allows one to one transfers whereas Capital One transfers are usually 1,000 to 750 (get 750 airline miles for each 1,000 Capital One "miles).
Let's compare aspects of the offers side by side:
| | Venture Rewards | Sapphire Preferred | Greg's Verdict |
| --- | --- | --- | --- |
| Spend required for full welcome bonus | $20K | $4K | Chase wins |
| Travel value of full bonus | $1,000 | $1,000 | Capital One wins* |
| Number of airline miles you can get by transferring full bonus | 75,000 | 80,000 | Chase wins |
| Points earned with $20K spend | 40K (worth $400 in travel or 30K airline miles) | 20K** (worth $250 in travel or 20K airline miles) | Capital One wins |
* When travel value is equal, Capital One is preferred because all travel purchases get this value whereas Chase requires booking through their site.
** Assumes none of this spend is in bonus categories. If half of spend is for travel & dining, which earn 2X, then you would earn 30K points with $40K spend.
Verdict
While both are good offers, in my opinion most people will be better off with the Chase Sapphire Preferred 80K offer.  It offers similar purchased travel value and more miles.  Most importantly, the Chase offer requires only $4,000 spend whereas Capital One requires $20K spend to get the full welcome bonus.
The verdict changes for big spenders who don't have another card great for everyday spend (see our list of best options here).  The Chase Sapphire Preferred card earns 2X for travel and dining, and 1X everywhere else.  The Capital One Venture Rewards card, meanwhile, earns 2X everywhere.  This makes the Capital One a much better option for spend outside of the Sapphire Preferred card's bonus categories.  That said, Chase has other cards that are great companions to the Sapphire Preferred.  One great choice, for example, is the fee-free Chase Freedom Unlimited card which has great 3X and 5X categories and earns 1.5X everywhere else.
How about both?
While most readers would do better with the Sapphire Preferred offer (in my opinion), both offers are worth considering.  If you can handle the big spend and if you can get approved for both, it may make sense to go for it.  Keep both cards for a year.  At the end of the year, decide which you want to keep and then cancel or downgrade the other to a fee free card.
Of course, I always recommend doing your homework first.  Summary details about each of these cards are shown below.  Click into the links for more detailed info:
More About Capital One Venture Rewards
More About Chase Sapphire Preferred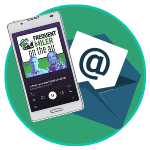 Want to learn more about miles and points?
Subscribe to email updates
 or check out 
our podcast
 on your favorite podcast platform.