This site is part of an affiliate sales network and receives compensation for sending traffic to partner sites such as CardRatings and One Mile at a Time. This site does not include all financial companies or all available financial offers. For additional details, see our Advertiser Disclosure.
Card Details and Application Link
Chase Sapphire Preferred Card
FM Mini Review: Great signup bonus. Solid option to pair with fee-free Ultimate Rewards cards such as the Freedom cards, Ink Business Cash, and Ink Business Unlimited in order to unlock ability to transfer points to airline and hotel partners.

---
Card Type: Visa Signature
<!–– qBaseq -->
<!–– qTravelq -->
<!–– qDineq -->
<!–– qOtherq -->
Earning rate: 2X Travel and Dining ⚬ 5X Lyft (through March 2022)
Noteworthy perks: Primary auto rental collision damage waiver ⚬ Free DashPass for at least 1 year (activate by 12/31/21)
See also: Chase Ultimate Rewards Complete Guide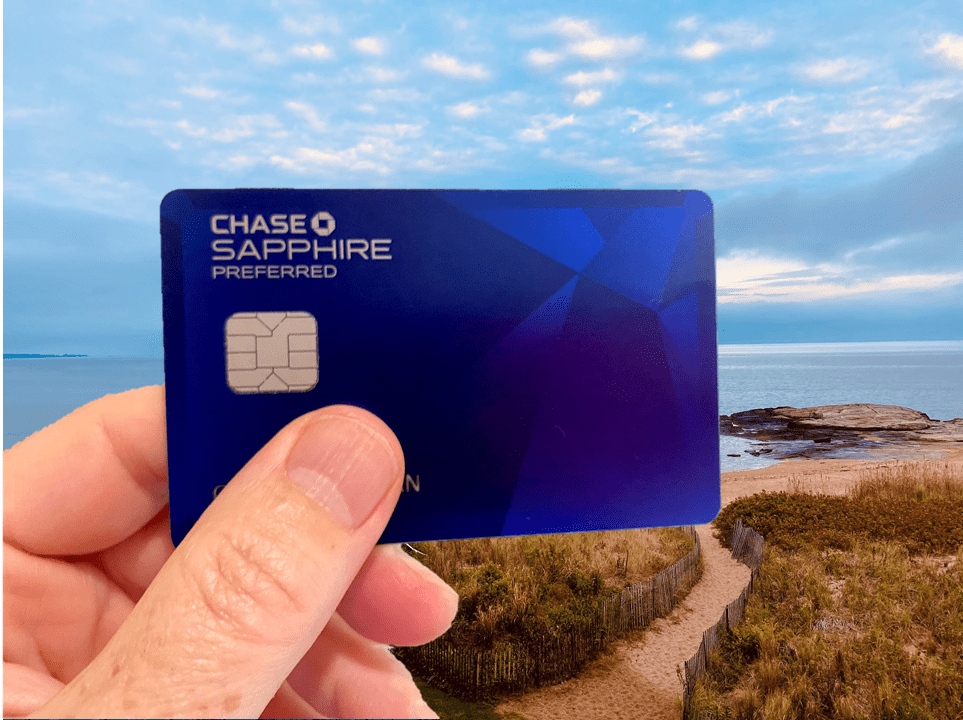 Prior to the release of the Chase Sapphire Reserve card, the Sapphire Preferred card was one of my favorite travel cards. The card offers 2 points per dollar for all travel & dining purchases, no foreign transaction fees, and primary rental car coverage for $95 per year.
Over time, as other cards have added valuable category bonuses and perks, the Sapphire Preferred has lost much of its original luster.  See this post for my thoughts on the topic: Chase Sapphire: What's Next?  Still, the card is a great choice for its welcome bonus and to unlock the ability to transfer Ultimate Rewards points to travel partners.  You can do well by using various fee-free Ultimate Rewards cards to earn 3X to 5X in various categories of spend and then move those points to the Sapphire Preferred so that you can then transfer the points to airline and hotel programs.
Chase Sapphire Preferred Application Tips
Chase Application Tips
Shut-Down Caution

: Signing up for new Chase cards can lead to Chase reviewing your accounts. This may lead to Chase shutting down all of your accounts if you appear to be a credit risk. See this post for details and recommendations: Why Chase shutdowns have increased and how to avoid them.
5/24 Rule: With most Chase cards, you won't get approved if your credit report shows 5 or more cards opened in the past 24 months. Details here.
24/48 Month Rule: With most Chase cards, you can get the same card and bonus again 24 months after having received the bonus as long as you no longer have the card open. With Sapphire cards, you must wait 48 months. No wait is required for Chase Ink cards.
30 Day Rule: It is tough to get approved for more than 2 Chase cards within 30 days
Get Same Card Again: You can get the same exact card and again if you first cancel the older card and follow the 24/48 month rule. Ink cards are OK to get again without cancelling previous card if you apply with a new business.
Better Offers: You may be able to get a better offer than the best available public offer. Details here.
Hard inquiries combine into 1 when approved same day (not always true when mixing business and personal)
Call (888) 338-2586 to check your application status
If denied, call reconsideration here:1-888-270-2127 for both personal and business cards
Should you apply?
The Sapphire Preferred card usually has a terrific welcome bonus.  Interestingly, the Sapphire Preferred bonus is usually better than the bonus for the Sapphire Reserve.  For that reason, it can make sense to sign up for the Sapphire Preferred card even if you really want the Sapphire Reserve.  You should be able to upgrade to the Sapphire Reserve after year simply by calling Chase to request the product change.
If you are eligible (see next section), the welcome bonus on this card makes it a great choice.
Are you eligible?
To get this card you must be under 5/24, you must not be a current Sapphire Preferred or Sapphire Reserve cardholder, and at least 48 months must have passed since you last received a new cardmember bonus for the Sapphire Preferred or Sapphire Reserve card.
Chase's 5/24 Rule: With most Chase credit cards, Chase will not approve your application if you have opened 5 or more cards with any bank in the past 24 months.

To determine your 5/24 status, see: 3 Easy Ways to Count Your 5/24 Status. The easiest option is to track all of your cards for free with Travel Freely.
How to apply
You can find the current best welcome bonus offer and application link at the top of this page: Chase Sapphire Preferred.
Application status
After you apply, call (888) 338-2586 to check your application status.
Reconsideration
If your application is denied, I recommend calling for reconsideration (1-888-270-2127). It's surprising how often denials can be changed to approvals just by asking.
Chase Sapphire Preferred Perks
Premium Ultimate Rewards
Since this is an ultra-premium Ultimate Rewards card, the following rewards are available:
---
Redeem Points for 25% More Value: Points are worth 1.25 cents each when used to book travel through the Ultimate Rewards portal or to erase statement charges via Pay Yourself Back.
Transfer Points to Partners: Points can be transferred one to one to a number of airline and hotel loyalty programs.
Travel Benefits
No foreign transaction fees
Travel Protections
---
Auto Rental Coverage: Chase offers primary auto rental CDW (collision damage waiver). Here's the description directly from Chase: "Decline the rental company's collision insurance and charge the entire rental cost to your card. Coverage is primary and provides reimbursement up to the actual cash value of the vehicle for theft and collision damage for most rental cars in the U.S. and abroad."
Trip Cancellation / Interruption Insurance: "If your trip is canceled or cut short by sickness, severe weather and other covered situations, you can be reimbursed up to $10,000 per person and $20,000 per trip for your pre-paid, non-refundable travel expenses, including passenger fares, tours, and hotels."
Trip Delay Reimbursement: "If your common carrier travel is delayed more than 12 hours or requires an overnight stay, you and your family are covered for unreimbursed expenses, such as meals and lodging, up to $500 per ticket."
Lost Luggage: Reimburses for costs incurred to repair or replace checked or carry-on bags and property within if loss or damage occurs during a covered trip.  Coverage is up to $3,000 per person per trip (or up to $500 for jewelry, watches, cameras, video recorders, and other electronic equipment).
Baggage Delay Insurance: "Reimburses you for essential purchases like toiletries and clothing for baggage delays over 6 hours by passenger carrier up to $100 a day for 5 days.
Travel Accident Insurance: When you pay for your air, bus, train or cruise transportation with your card, you are eligible to receive accidental death or dismemberment coverage of up to $500,000
Purchase Protection
Extended Warranty: "Extends the time period of U.S. manufacturer's warranty by an additional year, on eligible warranties of three years or less."
Damage and Theft Protection: "Covers your new purchases for 120 days against damage or theft up to $500 per claim and $50,000 per account."
---
DoorDash Food Delivery Benefits
---
DashPass Free Delivery
: Activate your free DashPass membership by 12/31/2020 in order to get 12 months of free delivery for DoorDash orders over $12.
---
Lyft Rideshare Benefits
5X Rewards
: Use your Sapphire Preferred card with Lyft in order to earn 5 points per dollar.  That's 3X points in addition to the 2X points you already earn on travel.
---
Chase Sapphire Preferred Earn Points
Signup Bonus
This card earns super-valuable Ultimate Rewards points. Here's the current signup offer:
Refer Friends

Referring friends is often a good way to earn extra points with Chase products, but referral offers come and go over time.  When referral offers are available, Chase sends emails to eligible cardholders with the offer details.  Cardholders can also look for
Chase friend referral offers here
.
---
Bonus Spend
Card Info Name and Earning Rate (no offer)
The Sapphire Preferred card offers 2X travel and dining, and 1X everywhere else.
Chase Sapphire Preferred Redeem Points
Pay Yourself Back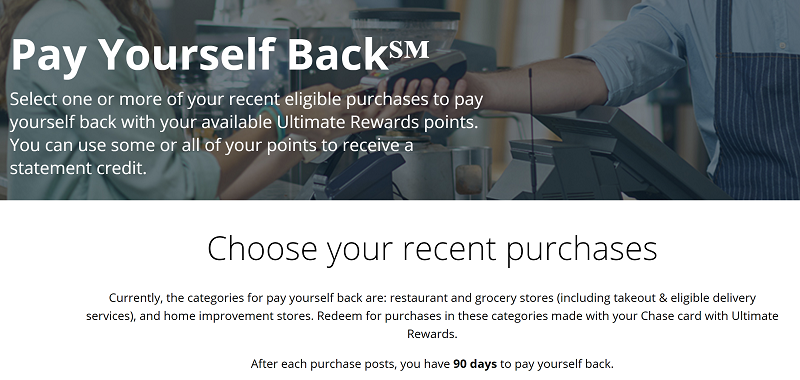 Chase allows most Sapphire, Freedom, and Ink cardholders to "Pay Yourself Back".  The basic idea is that you can exchange your Chase Ultimate Rewards points for statement credits against certain categories of purchases.  For example, at the time of this writing, Sapphire Preferred and Sapphire Reserve cardholders can redeem points,
at full travel value
, to offset restaurant, grocery, food delivery, home improvement store, and select charity purchases.  Ink Business Preferred, Ink Plus, and Freedom cardholders can also directly use this feature, but with much more limited categories.  For most people, your best bet is to move points to a Sapphire Reserve or Preferred card in order to pay yourself back from there. 
Here's the link to use this feature yourself.
---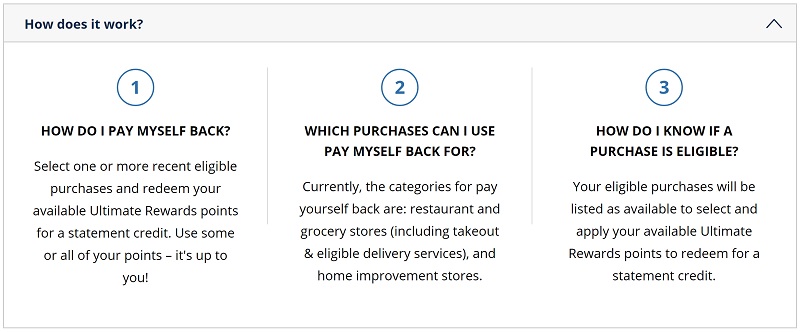 ---
It appears that Chase will change the eligible categories every few months.  When using this feature, Sapphire Reserve cardholders get 1.5 cents per point value and all other eligibile cardholders get 1.25 cents per point value.  Plus, cardholders earn points on the same purchases!
More details about Chase's Pay Yourself Back feature can be found here
.
---
Cash Back
Cardholders can redeem points for 1 cent each either as statement credits or as cash back. Cash back can be taken as a statement credit or via check or ACH transfer.
Travel
Redeem points for travel: 1.5 cents per point
This option requires that someone in your household has the ultra-premium
Chase Sapphire Reserve card
. First move (combine) points from your other Ultimate Rewards card to the Sapphire Reserve account. Next, log into Chase under the Sapphire Reserve account, and go to the Chase Ultimate Rewards portal to book your travel. A $500 flight would cost 40,000 points if you used points attached to a premium card (Sapphire Preferred or Ink Business Preferred), but with the Chase Sapphire Reserve it would cost only 33,333 points.
---
Redeem points for travel: 1.25 cents per point
This option is directly available to anyone with a premium Ultimate Rewards card:
Chase Sapphire Preferred
,
Chase Ink Business Preferred
, or the no-longer-available Ink Plus. If you have points with no-fee Ultimate Rewards cards, then move them first to your premium card. Next, log into Chase under the premium account, and go to the Chase Ultimate Rewards portal to book your travel. A $500 flight would cost 50,000 points if you used points attached to a no-fee Ultimate Rewards card, but with your premium card it would cost only 40,000 points.
---
Details about booking travel through Chase
You can use the Chase Ultimate Rewards portal to book airfare, hotels, cruises, activities, and car rentals. Airfare purchased through the portal still earns airline miles and elite qualifying miles.  Hotels booked this way do
not
earn hotel rewards.  Worse, hotels booked through the portal often won't offer you elite benefits even if you have status. Unfortunately, Chase switched to an Expedia-backed portal and 
removed some ultra low cost carriers
. For example, you can no longer book Spirit Airlines or Southwest through Chase Ultimate Rewards.  There is a work-around for some carriers though.  Please see this post for details:
How to book the cheapest flights with Chase Ultimate Rewards
.
---
Travel protections apply
When you pay with points for travel,
Chase's automatic travel protections do apply
.  So, you can be covered for things like car rentals, trip delays, trip cancellation & interruption, lost luggage, etc.  The coverage you receive will be based on which card's rewards were used to book the trip. For example, if you have both a Chase Sapphire Preferred and a Sapphire Reserve, you would want to move your Ultimate Rewards points from the Preferred to the Reserve and then use the Reserve points to book your trip. You will get both better value (1.5 cents per point) and better travel protections.  See:
Sapphire Reserve Travel Insurance
.
---
Transfer points
The best use of Ultimate Rewards points, in my opinion, is to transfer points to airline and hotel partners in order to book high value awards.  Your best bet is usually to wait until you find a great flight or night award before transferring points. Points transfer at a ratio of 1:1 as shown in the list of transfer partners below. Keep in mind that while transfers are instantly posted to most loyalty programs, transfers to Singapore Krisflyer and Marriott Bonvoy are 
not
instant.
---
Move points to premium or ultra-premium card first
You cannot transfer points directly from a no-fee Chase Ultimate Rewards card to airline and hotel partners, but you can
move points
first to a premium card (Sapphire Preferred or Ink Business Preferred, for example) or ultra-premium card (Sapphire Reserve) and then transfer the points to airline or hotel partners.  Points can be transferred to the loyalty accounts of the primary cardholder or any authorized user on the account. Points can also be transferred to the loyalty account of a joint business owner, but they do need to be an authorized user on the associated business account.
---
Transfer Partners
| Rewards Program | Best Uses |
| --- | --- |
| Air France KLM Flying Blue | Monthly Air France Promo Awards often represent very good value. Air France miles can be used to book Sky Team awards, including Delta awards. |
| Avios | While flights on British Airways itself often incur outrageously high fuel surcharges, many BA partners charge low or no fuel surcharges. Great value can be had in redeeming BA points for short distance flights. Iberia offers very low award prices on their own flights. Round trip partner awards can offer good value under some circumstances as well. Fuel surcharges are often lower than when booking through British Airways. Aer Lingus shares the "Avios" currency with British Airways and Iberia. In most cases it is best to move points to one of those programs in order to book awards for less. |
| Emirates Skywards | Emirates has different award charts for each airline partner. Sometimes they allow one-way awards, sometimes they do not. In general, award prices are fairly high, but there are a few sweet spots such as New York to Milan for 90K round trip in business class. |
| Hyatt | Use for Hyatt free nights, free suite nights, lounge upgrades, or suite upgrades. Hyatt points are often worth at least 1.5 cents each, but they're sometimes worth far more. One hidden bonus: award nights are not subject to resort fees. |
| IHG | IHG dynamically prices their awards and sometimes offer very good value. IHG credit cards can increase value: IHG Select Card (no longer available) offers a 10% rebate on awards. IHG Premier and IHG Traveler Cards offer fourth night free on award stays. |
| JetBlue | JetBlue points offer the most value when cheap ticket prices are available and when award taxes are high relative to the overall cost of the ticket (more details can be found here). The JetBlue Plus Card and the JetBlue Business Card offer a 10% rebate on awards, so you can get more value by holding one of these cards. |
| Marriott Bonvoy | 5th Night Free awards. Opportunities to get outsized value exist but can be hard to find. |
| Singapore Airlines KrisFlyer | Use to book Singapore Airlines First Class awards (generally reserved for their own members) or for Star Alliance awards. Low change fees and no close-in booking fees make this a very good program for booking United Airlines flights. |
| Southwest Rapid Rewards | Award flights are fully refundable. Point values vary due to certain taxes not being charged on awards, but tend to average around 1.5 cents per point. |
| United MileagePlus | Like Avianca and Aeroplan, United never charges fuel surcharges for awards. Unfortunately, United usually charges more miles for the same awards that are bookable with other Star Alliance miles. One good use of miles is to make use of United's Excursionist Perk awards. United no longer charges change or cancellation fees on awards cancelled at least 30 days prior to booking. |
| Virgin Atlantic Flying Club | Virgin Atlantic miles can be usefully thought of as a way to get a discount off Virgin Atlantic flights (high fuel surcharges make the flights far from free), but there are some better uses. Use miles to upgrade paid flights or to fly partner airlines. A fantastic use is to fly ANA in business or first class thanks to Virgin's generous ANA partner award chart. Or, if you can find saver level Delta awards for nonstop international travel, you can often book through Virgin Atlantic far cheaper than with Delta directly. Virgin Atlantic also offers great award prices for Air France premium economy awards. |
Other ways to redeem points
Through the Ultimate Rewards portal you can redeem points for cash back, gift cards, merchandise, or experiences.  With this approach you'll usually get 1 cent per point value.  One exception is that Chase occasionally offers gift cards at a discount so you may be able to get better than 1 cent per point value during a gift card sale.
---
You can also use points to pay some merchants directly (Amazon.com, for example or via Chase Pay).  Don't do this.  These options offer very poor value. Further, they may compromise the security of your account (i.e. if someone hacks into your Amazon account, they might spend your Ultimate Rewards points - causing you a headache in getting your points reinstated).
---
Chase Sapphire Preferred Manage Points
Combine Points Across Cards
If you are the primary account holder with multiple cards, you can freely combine Ultimate Rewards back and forth between your accounts.  Your points can then be redeemed according to the card to which you move them.  For example, if you have the no-fee Ink Business Cash card and the ultra-premium Sapphire Reserve card, you can earn 5X points per dollar on office supply purchases (or on gift cards purchased at office supply stores) with the Ink Card and then move those points to your Sapphire Reserve account to redeem them for 1.5 cents per point towards travel.
---
If you intend to cancel a Chase Ultimate Rewards card,
you should first combine your points with a card you intend to keep active
. Once you cancel, you will forfeit any unused points in that account (See:
My 90,000 Ultimate Rewards Points mistake
). A product change should not affect your balance, but some people prefer moving points before a product change as well just to be safe.
---
Share Points Across Cardholders
Chase allows customers to transfer Ultimate Rewards points to any other account in that customer's name or to one additional household member or joint business owner (for free).
---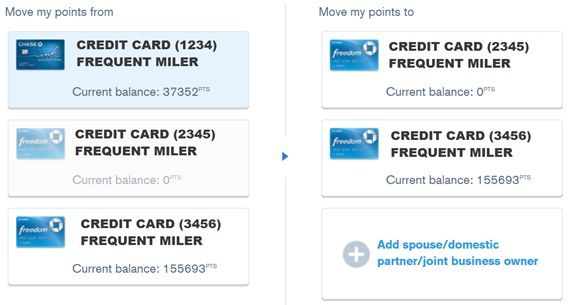 Why this is valuable:
---
You earn points with the card offering the best return on purchases and then use points with the card offering the best redemption rate.
Only one member of your household needs to maintain a premium card for transferring to partners or booking travel (though note that the primary cardholder can only transfer points to partner loyalty programs in the name of the primary cardholder or authorized users).
Transfer difficulties? Create a loop
If you have trouble transferring between accounts, some users have been able to combine points between their own accounts — like from Bob's Ink Business Cash to Bob's Sapphire Reserve — via secure message.
---
However, you may run into an issue if you try to connect more than one of your cards to a single card that belongs to someone else. Chase allows you to combine/transfer to someone else who lives in your household (or a co-owner of your business for business cards), but I've had complications with this from time to time.
---
For example, let's say that Joe and Suzy live in the same household and are joint owners of a business and have the following accounts:
---
---
Joe first combines points from his Freedom Unlimited to Suzy's Sapphire Reserve. Later, he logs into his Ink Business Cash account and tries to combine points with Suzy's Sapphire Reserve. Joe may run into an error adding Suzy's Sapphire Reserve card to combine points. This has happened in our household several times. In that case, Joe should log into his Freedom Unlimited account and remove Suzy as a household member (click "remove saved card). About 24 hours later, he should be able to add Suzy to his Ink Business Cash in order to combine his points to her account.
---
The easy solution I've found is to create a loop. In the example scenario they should transfer like this:
---
Joe's Freedom Unlimited —> Joe's Ink Business Cash —> Suzy's Sapphire Reserve —> Joe's Freedom Unlimited
---
Creating a loop chain has solved that problem in my household. As noted, it took 24 hours after removing accounts to re-add them to other cards, so be aware of that limitation.
---
How to Keep Points Alive
Thankfully, it is very easy to keep Chase Ultimate Rewards points alive: simply keep the points in an open Ultimate Rewards account and they will not expire. Note that if you close an Ultimate Rewards card, 
you will lose any points associated with that card
. You should first combine points to move points away from the card you intend to close and to another card that will remain open as per the sharing section above before canceling. See:
My 90,000 point Ultimate Rewards mistake
. See also: 
A checklist for cancelling credit cards
.
---
Chase Sapphire Preferred Lifecycle
How to meet minimum spend requirements
Keep, cancel, or product change?
Is this card worth keeping in the long run? The main reason to keep this card around long term is as a way to transfer points to airline and hotel programs. You can get that same capability from the Sapphire Reserve or Ink Business Preferred, so you may find that one of those cards fits your needs better.
Related Cards
Ultimate Rewards Consumer Cards
Ultimate Rewards Business Cards