The investment app Webull offers a steady stream of referral promotions and currently has a very good offer that awards a total of 30 free stocks (Min $90 value) after one successful referral. This is one of the more lucrative promotions that they've had in some time. The referred person will get 2 stocks valued between $3-$3000 upon initial sign-up and 4-10 more once they deposit at least $100.
The Deal
Refer one friend to Webull & earn 30 free stocks worth $3-$3,000
Get an additional 15 stocks for every additional referral.
If you already have a WeBull account, you can find the new referral promotion in the promotion center
If you don't have an account, you must first sign-up for an account, make at least a $100 deposit, and you'll then be able to refer (our referral links are below if you'd like to use them)
Key Terms
New user must sign up and open an account with Webull via an existing referee's link between between January 17, 2023 and January 31, 2023.
Eligible customers will receive 30 Reward Stocks for their first successful referral during the offer period. For each additional successful referral thereafter, eligible customers will receive 15 reward stocks per successful referral
A successful referral is a new Webull user who

Is at least 18 years of age
Resides in the United States
Opens a Webull account using the eligible customer's unique referral link during the offer period
Has a valid social security number
Has never previously applied or opened for a Webull brokerage account with that social security number
Makes an initial deposit of any amount

Referee will receive 2 free stocks valued at $3-$300 plus 4-10 free stocks valued at $7-$3,000 after depositing any amount
Offer rewards must be claimed through the Webull mobile app by 11:59pm EST on March 30, 2023 in the My Rewards page of the Webull app. Offer Rewards not claimed by the claim date will expire and cannot be reissued.
Quick Thoughts
Webull's marketing is interesting to me, as they dramatically incentivize referral bonuses over sign-up bonuses. There is always a referral promotion of some kind, but their recent offers have been notable because they stack nicely and have low-ish referral requirements.
The first referral promotion offers 30 free stocks worth $3-$3,000 for the first successful referral during the promotional period. Webull markets this as their 'Best Referral Promotion.'
In my experience, there's usually 1 or 2 more highly-valued stocks in each bundle of ten and the average total value ends up being between $100-150/thirty stocks. The most expensive single stock that I've ever received was around $35. The promotion gets better if the person you refer is in your household because they'll also receive free shares – two shares worth at $3-3000 when they sign-up and 4-10 additional shares when they deposit any amount. That's a minimum of $18-$36, so between the two of you you'd earn a minimum of between $120-200 in free shares (unless you really hit it big, which is very unlikely).
That's a very good return for just one referral, especially since the referred person only has to make a minimum $100 deposit to qualify. Unfortunately, new Webull customers have to be 18+ to be eligible for this referral promotion, so signing up a child along with or instead of your partner isn't possible.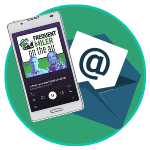 Want to learn more about miles and points?
Subscribe to email updates
 or check out 
our podcast
 on your favorite podcast platform.