This week at Frequent Miler, we're pulling out all the stops to help you save more. Whether by hidden-city-ticketing so you can pay less for your next flight or using cash-and-points-and-cancel-and-save to gaze into a magic mirror that would make the Evil Queen jealous, we can help you spend less but look like you're spending more (we've got news on what still works on that front as well!). Read on for our Frequent Miler week in review.
---
Have you ever sold something in a private sale — whether on eBay, Craigslist, or an old-fashioned classified ad in the newspaper? If you have, you have probably been asked a variant of this question before: "What's the lowest amount you'll take for this?". If you are anything like me, you have at least thought to yourself, "Hopefully about $1 less than the highest amount that you're willing to pay." Guess what? You and I think a lot like airlines. And that's why a flight from Greensboro to Detroit to Toronto costs less than Greensboro to Detroit. Turns out the airlines are pretty good at this game. But you can beat them — read this post for tips on hidden city ticketing, including how to find these opportunities and what risks are present. You might be able to save money on your ticket and save time with a direct flight — and if time really is money, we just helped you double dip your savings.
---
Greg had a chance to sit down face-to-face with the president of Retail Payment Solutions for US Bank. Find out what he had to say about buying gift cards with your shiny new Altitude Reserve. There are already reports of shut downs popping up around the Internet — in the first two weeks since launch. Part of me feels like my prediction was more or less correct — but the other part of me wonders whether those who have been shut down had read this article and Greg's advice based on what he learned. Make sure that you read it so you can save yourself the frustration of a shut-down before you even use your points.
---
We don't typically include Quick Deals / Quick Tips in our week in review, but this one seemed significant enough for many readers that it merited inclusion this week. While there have been some isolated stories of success in buying or reloading since publishing this, the vast majority of reports from around the net indicate that PayPal My Cash cards are dead — and not just at CVS. According to most of what I've read, it seems that PayPal is discontinuing the cards altogether in favor of cash loads using a smartphone-produced barcode. This will probably be a much more secure system, but will come at the cost of being able to load with a credit card in most (if not all) locations. So if you were planning to go to CVS today in search of a PayPal My Cash card, let me save you some time: it's not going to be available for sale.
---
I'd read Frequent Miler for years before working here. I'd been to FTU several times and seen Greg speak at each one I attended. At least two times, I sat through an excellent, detailed explanation of the complexities of 1800Flowers stacking and I took extensive notes. Let me tell you, I can stack a mean deal on Tumi luggage or All-Clad cookware. You need a new 60″ home theater display? I'm your guy. But you wanna buy flowers and get as many miles as humanly possible? I'll just point you to our Complete Guide to Extreme Stacking 1800Flowers. I just can't wrap my mind around it for long enough to understand it for whatever reason — so I, for one, was thrilled when Greg broke it down to the magic question. That one question was easy to answer and the rest was a matter of following the diagrams to stack the savings. Read on for Extreme Stacking 1800Flowers: Simplified.
---
Mirror, mirror on the wall, what's the best Choice of them all? Could it be this Cambria? Any way you slice it, Choice Privileges is my favorite dark horse points currency. I love that the chain doesn't over-promise and under-deliver. Choice doesn't try to pretend to be something it's not: Quite the opposite, they promise what they know they can deliver: a simple and clean place to spend a night. Or maybe two. And maybe they'll throw in a waffle machine in the morning (and maybe even dinner if you're in the right part of the world). But every once in a while, they really defy your expectations — and in a good way. In the fall of 2015, I had the good fortune of stumbling on the Comfort Hotel Bolivar, a charming little hotel in a fantastic location in the heart of Rome. At the time, it was going for 150 Euros a night or just 10,000 Choice points. Eventually, Choice realized that the value was too good — and they now charge 30,000 points for a night at the Hotel Bolivar. I expect that the same fate will befall this great find at LAX. If it fits into your travel plans, book this one while you can still save big.
---
Whether it's to meet a minimum spend, hit a Big Spend Bonus, or just to amass points toward your next big award, you need to know what will work to get you where you want to be. The landscape is constantly changing (as evidenced by the overnight disappearance of PayPal My Cash cards this week), so we stay on top of the latest develops to give you the tools you need to succeed.
---
If you like to secure your space at the top of the Delta elite echelon through credit card spend, there may be changes heading your way. Check out this post to know how you could be affected and to get Greg's take on how this is going to play out.
---
I can unequivocally say that the first FTU I attended was an absolute game-changer for me. I took feverish notes during the presentations (including one that Greg did on stacking shopping portals and promotions that has saved me thousands of dollars in the time since), and learned some incredible tips from like-minded individuals who were willing to share their wisdom and experience. I walked away confident that the value of what I learned far outweighed the cost of admission. And that hasn't stopped — this past February, I enjoyed the chance to share some information with newcomers and learn some great new techniques from attendees at the FTU Seattle Event. I look forward to another opportunity to share insights and exchange tips with those readers attending FTU Minneapolis. If you're on the fence, we have a discount code for you — and I highly suggest making the trip if you can.
---
While long-time road warriors may know the DOT's rules and regulations by heart, many of us who are primarily leisure travelers are likely less informed as to the legalities involved with involuntary denied boarding. Indeed, before April 2017, I'm willing to bet that a majority of Americans probably didn't even realize that they could buy a ticket for a flight, check in, drop off their bags, wait at the gate, and then be told that they couldn't have the seat for which they had paid, checked-in, and waited to take. I'd further wager that most airlines were acutely aware of that fact and enjoyed years of under-compensating those who didn't know better. Attorney Alexander Bachuwa helps you educate yourself as to what you can expect and demand in the event you are denied boarding against your wishes.
---
That's it for this week at Frequent Miler. Check back soon for some great reads from around the web as well as this week's last chance deals.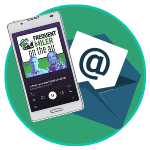 Want to learn more about miles and points?
Subscribe to email updates
 or check out 
our podcast
 on your favorite podcast platform.