The clock is ticking: are you counting down the hours until Prestige benefits disappear, or are you counting down the time until you can take down the new 75K signup bonus? July 23rd looms in the not-so-distant future. If you're looking to book a few rounds of golf or get into the Admirals Club, the final countdown has approached. But do you need to make your 4th night free booking today? Can you get the signup bonus tomorrow? Forget about the Prestige, how do you get Amex Offers on your Blue Business Plus? Read on for all this and more in today's Frequent Miler Week in Review.
---
Tomorrow (7/23) is the big day that changes take effect on the Citi Prestige card. Some benefits are disappearing, others are changing — but at this point, few tangible benefits are being added. Still, the signup bonus is very valuable and the 4th night free benefit might still be quite useful despite being nerfed a bit.
There is no doubt that the 4th night free has been an unmatched benefit among premium cards, and after reading the announcement of confirmed changes, our initial reaction to the official Prestige changes was not positive. It immediately looked like an attempt to make the 4th night free booking more convenient had just stripped it of the remaining major benefit of 4th night free bookings: earning points, elite credit, and enjoying elite benefits. However, after publishing this post, a rep from Citi reached out to say that our fears were unwarranted. Read the updated post for more info.
Not all 4th night free bookings become worse tomorrow. For example, I just looked up a 4-night stay at the Hyatt Centric Park City during Sundance Film Festival. Hyatt's lowest rate is a promo rate there the 4th night is already free. In this case, if that promo rate is bookable via the Prestige concierge, you wouldn't get any rebate at all before the change (since the rebate is based on the Night #4 price). After the change, you would get rebated based on the average cost per night (excluding taxes) — meaning that you'd save over $700 on this example booking. However, Greg gives some examples where you'll want to make that 4th night free booking today. Hop on it while you can.
Surely the new 75K signup bonus on the Citi Prestige is a valuable offer. Should you get it? Can you get it? We look at three key considerations in applying. Some of these points are contested — be sure to see the comments for more discussion. One thing is for sure: there simply aren't many datapoints on the 24-month clock for Citi ThankYou cards. It will be interesting to see how this plays out amongst those who apply.
Just when Greg has finally convinced me that spending to Delta Diamond status might be a worthwhile pursuit, it looks like the rug might be pulled out from under it. Could the rumors be true? Time will tell, but I think the smart money is on the end coming sooner rather than later — though I'd love to be wrong on this one.
Forget about earning miles without flying, in this post Greg outlines how to enjoy the benefits of loyalty without required stays. Well, that's not entirely true — this is really how to enjoy the benefits of someone else's loyalty. Find a friend with Hyatt Globalist status and enjoy free breakfast/club lounge access and guaranteed late checkout. I think it's awesome that Hyatt allows top-tier members the chance to share benefits with friends and family and it's one of the reasons I went for Diamond/Globalist status in the first place. But keep in mind that if you take the points-transfer route, each of you will be unable to send or receive any more points for the following 30 days. Read on for more.
This one was a quick deal, but one that seemed both important for many and more confusing than intended. Note that if you follow the directions, this one should work. I think many readers who have been confused are opening the promotional page and clicking "Get Offers". Don't do that — open the promotional page and then scroll down and click each individual store logo. If you're having trouble, try separating your Blue Business Plus from a mixed login ID (see the comments for more on this). We have confirmed that this method works whether your card is separate or in the same login — though offers that you've previously loaded to other cards in the same login will not work. So for many, it may be best to create a fresh login ID for the Blue Business Plus. See the post for more.
Club lounge access is something I didn't even know existed before I discovered how to travel with points and miles — I was never a road warrior earning status from stays. Over the past several years, I've discovered the range in hotel lounges — from awful to awesome. Based on Greg's pictures, I think it's safe to say that the St. Pancras Renaissance Chambers Club is firmly in the latter category. I will unfortunately not be enjoying the same posh comfort as Greg on my trip to London, but maybe my mansion in the countryside will make up for it. We shall see :-).
---
That's it for this week at Frequent Miler! Check back soon for our favorite posts around the web and this week's Last Chance Deals.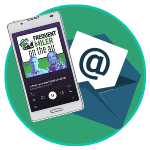 Want to learn more about miles and points?
Subscribe to email updates
 or check out 
our podcast
 on your favorite podcast platform.