This week's news around the web has been dominated by a single story that has (rightfully) generated the most press coverage of any aviation incident in recent memory.  At this point, you've probably read all you care to about United Flight 3411 — perhaps even more. And so this week, we bring you a United-less recap of some of the other stories that you may have overlooked. Here is this week's Frequent Miler Week in Review around the web:
Do you use Twitter for customer service issues? I resisted for years (which is an eternity in the Internet world). I was never interested in knowing what Snookie had for lunch, nor did I think the world was curious about that guy who just cut me off at the drive-through. But then, one day, I had an issue that customer service couldn't resolve despite several emails. I finally loaded Twitter on my phone and tweeted…and boom, it was fixed in under 5 minutes. I've since used Twitter not just for customer service issues, but also for praising companies and staff members when appropriate and even for applying a Diamond Suite Upgrade with Hyatt. But in this article, Lucky argues that Twitter is dead — for airline customer service, anyway. Gary Leff responded in disagreement. In the midst of this week's national discourse on the relationship between customers and company, now seems like a good time to ask: What do you think? Is Twitter still useful for resolving smaller customer service issues — or have companies become deafened by the noise?
On the other hand, the Twitter team doesn't always get it done — or at least doesn't always get it done right. This post from AcCounting Your Points is a good reminder that Explorist Club Level Upgrades can not be used on free night certificates like those that come with the Hyatt credit card. It's definitely a bummer that the major perk of mid-tier loyalty can't be used in conjunction with the free night certificates (I assume this would also apply to the free night certificate you earn after staying at 5 brands). Thankfully, rooms booked on points (such as those transferred from Ultimate Rewards) are eligible to be used in conjunction with the club level upgrades.
Sometimes, you need to get stuff done on your own — but award booking isn't always as easy as it looks. In our Frequent Miler week in review, we talked about the value of having transferable currencies. With so many international airlines partnering for transfers with Chase, Amex, Citi, and SPG, it can be easy to get overwhelmed and forget how many options there are for a single award ticket. On Thursday, I wrote about the relative value of booking American award tickets with Etihad Guest. Several people pointed out in the comments (and I did in the post as well) that the challenge is that it's not easy to book Etihad partner awards. And so it is important to not just consider the price in miles, but the cost in terms of your time and frustration in trying to book the award ticket you want. Stephen, a new contributor at Point Me to the Plane, compares the booking experience between four different programs when attempting to book the same partner itinerary. And he's not done — his review of booking the same itinerary with four more partners is yet to come. I'll be especially curious to read his review of booking that itinerary with ANA as it is an intriguing Membership Rewards transfer partner.
One of the things to know about miles and points is that the landscape is constantly changing, and what worked yesterday may not work tomorrow. However, sometimes new doors also open up in unexpected places. Harlan at Out and Out covers a cool new opportunity to pick up some points with Plastiq. Speaking of Plastiq, remember that the current referral promotion ends in just a few days, so be sure to sign up or to remind your referees to make that first payment.
As Alaska and Virgin have merged, there have been a number of small changes — including quite a few route changes and additions. This week, it's four new routes out of Dallas. It's nice to see Alaska and Virgin coming together to offer increased opportunities to connect around the country. Dan at Points with a Crew has the scoop.
Finally, Angelina at Angelina Travels tells us about a stroke of luck she had in detecting credit card theft the moment the thieves used her card information — and it wasn't even a text from the bank. I am always hesitant to give out my cell phone number for fear of being bombarded with texts and marketing calls I don't want to receive, but this story is a good reminder that sometimes, a simple text could save you a lot of trouble down the road.
That's it for this week around the web. We have several last chance deals ending this week, so keep your eye out for more on those to come!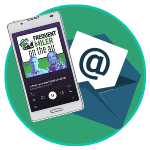 Want to learn more about miles and points?
Subscribe to email updates
 or check out 
our podcast
 on your favorite podcast platform.