I was wrong. I thought that using the NetSpend card for normal everyday purchases would be safe (see "NetSpend challenges the throne"). However, I tried to log into my account Tuesday evening and found "We're sorry, there is a problem with your account":
Uh oh. I knew from readers that this meant my account had been closed. I thought back to things I've done with the card in the past week. It was all miscellaneous small purchases. I bought pet food. I paid for movie tickets. I bought a few groceries. What could they have objected to? I didn't take money out via an ATM. I didn't pay any bills. I didn't make any large purchases. I didn't buy money orders or gift cards.
Was it my blog post? In that post, I recommended that people use the card as it is intended to be used. Did they read the post and see something they didn't like?
I called the number on the screen and had an entertaining conversation. It went like this:
NetSpend: Mr Miler your account is already closed. You are no longer eligible for NetSpend services.

Me: Why?

NetSpend: Due to a bank request. The only reason we close an account is due to a bank request.

Me: Why did a bank request that my account be closed?

NetSpend: We don't have that information. We are not the ones that closed the account. We have a department that is constantly monitoring accounts. We work hand in hand with with banks in monitoring accounts.

Me: What bank are you talking about? I didn't do anything with my NetSpend card that had anything to do with any of my banks.

NetSpend: It was a previous bank, not NetSpend. They requested that the account be closed due to suspicious activity. We're not even supposed to tell you that, but you asked.

Me: What activity was suspicious?

NetSpend: We do not have that information.
During this conversation, I racked my brain trying to think of what bank could have even known I had a NetSpend card. Finally, the fog lifted in my brain. I remembered that NetSpend cards are issued by a bank called Metabank…
Me: Is the bank you're talking about, Metabank?

NetSpend: [long pause] Yes
I tried mightily to get more information, but to no avail. I spoke to a supervisor who gave me the same non-answers. I asked who else I could speak with that could give me more information. "No one." Could I speak with the risk management team? "No. You can call back during business hours and ask for a supervisor and ask the supervisor to speak with the risk management team." Great. Can I speak with the marketing department? "We don't have one." Can I speak with the sales department? "We don't have one… I mean we do have a marketing and sales department, but we don't have a number for customers to call." And on and on it went.
While I couldn't get any information about why I was shut down, I did get some information about what happens next. I was told that I would be sent a check in 20 business days. When I asked about a fee, the supervisor confirmed that there would be a $5.95 fee. I asked that it be waived, but he said that all he could do is make a note in my account to ask. I also asked about the $20 referrals. He said that once they're paid they would go into my account and then I can request a check again. I'll believe that when I see it.
Reader experiences
Hopefully others will have better luck than I had. If not, maybe this will work out as a nice, one time only, cash-out of Vanilla Reload cards. We could do worse.
Next steps
I'll run out soon to get a Mio card if I can find one. Unfortunately, you can't order them online without first buying one in-store. Also, of course, I'll watch eagerly for the new OneVanilla card, coming soon.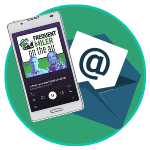 Want to learn more about miles and points?
Subscribe to email updates
 or check out 
our podcast
 on your favorite podcast platform.