If you've ever owned gift cards, you've probably encountered this issue.  You use your gift card as intended until you have something like two dollars and 16 cents left on the card.  For merchant gift cards, that's hardly enough to warrant another trip to the store, and for bank gift cards (Visa, Mastercard, American Express) it's a difficult amount to use at all.
The key to finishing off a gift card is different for bank cards than for merchant cards, so I've separated the advice below.  Please chime in with your own suggestions and I'll update this post as warranted.
Remember to use an app like GoWallet to check your card balances when you're on the go.  See "GoWallet.com simplifies your gift card life."
Bank Gift Cards (Visa, Mastercard, American Express)
Caution: Some merchants will put a $1 (or higher) hold on your gift card to verify the card before charging the full amount.  Unfortunately, this means that when buying a $100 item with a $100 gift card, the charge may be denied because of the additional $1 hold.  Worse, you may think that the card is used up when there is really some money still available (under hold).  Usually the hold will go away in a few days and the funds will become available again.  Gas stations (at the pump) and hotels typically put larger holds on cards so be careful about trying to use gift cards in those situations.
In person / automated: Many stores have smart card registers that automatically use up the remaining credit on your gift card when the total checkout amount is more than the card's value.  When checking out of a store like this, swipe your gift card and the register will automatically empty the card and will adjust the amount still owed accordingly.  Next, pull out a regular credit card (or another gift card) to pay for the remainder.  Put the gift card in your pocket and when you get home double check that the balance is really down to zero.  Then, toss it out.  I've had success with this approach at many stores including Target, Whole Foods, and Lowes.
In person / split payment: Most stores and restaurants will let you split your purchase.  If you know the exact amount left on your card, ask them to charge that amount to your gift card and the rest to another card.  If you're at a gas station, go inside to pay and do this trick there.
At restaurants, DavidAL reports that "a lot of the GC companies (Am Ex, Visa, etc.), will only allow you to charge 80% of the balance of the GC to the bill, because they assume the other 20% will be the tip.  So if you have a $100 GC, and if it won't go through the restaurant POS for $100, tell them to charge $80, and you can leave the other $20 as tip."
Online / split payment: In my experience it is rare for online vendors to allow split payments, but some do.  One example I encountered recently is the Sony store.
Online / prepay: Some utilities (phone, cable, electric, gas, etc.) allow credit card payments.  Usually, you can submit a payment at any time so you may be able to log-in and make a one time payment of the odd amount left on your gift card.  Your next bill should be adjusted accordingly.
Online / gift cards:  Some merchants, like Amazon.com, allow you to buy eGift cards for any amount you specify.  If your gift card has been activated and registered with your full name and address, then you can use the remaining balance to buy yourself a gift card.  With Amazon.com the eGift card can then be loaded as credit onto your account and will be used automatically for future purchases.
Send money: I have this one in red because I don't recommend it.  Some people cash out gift cards through services like Amazon Payments, Venmo, PayDivvy, etc.  While this technically works, there is a risk of getting your account flagged if you do it often.  This activity looks suspiciously like illegal money laundering.
Pay yourself: Another option I don't recommend is to use a service like Square.  Square lets people take credit card payments for a fixed 2.75% fee.  As with the send money options, there is a very real risk of getting your account flagged if you do it often.
Merchant Gift Cards
Sell: An easy option for liquidating your merchant gift cards is to sell them via services like PlasticJungle or Cardpool.  GiftCardGranny.com is a good place to find which reseller will pay you the best price for your balance.  If you then go through a site like TopCashBack to PlasticJungle or Cardpool you have a chance to get even more money for your sale.  Note that for most gift cards you will get between 60% and 90% of its value through a sale like this.  I don't recommend selling on EBay: EBay has decent fraud protections for buyers, but much less for sellers.
Update: New Girl in the Air reminds me that PlasticJungle and Cardpool only accept gift cards with balances of $25 or more.
Live in or visit California: Several States have laws in which merchants must allow customers to cash out their gift cards when under a certain balance.  In California, any gift card containing less than $10 qualifies.  Other States have $5 thresholds including: Maine, Massachusetts, Montana, and Washington.  Look for your State's rules here: http://www.ncsl.org/issues-research/banking/gift-cards-and-certificates-statutes-and-legis.aspx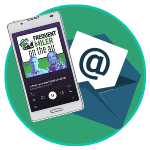 Want to learn more about miles and points?
Subscribe to email updates
 or check out 
our podcast
 on your favorite podcast platform.