JetBlue's award pricing has long been a mystery to me.  I've heard of people getting good value (more than 1.5 cents per point, for example), but when I look to use my points I usually see something closer to 1 cent per point — not good at all.  What drives JetBlue's point values, and how can you maximize your points?
Over the years, Wandering Aramean has analyzed JetBlue's award prices vs. paid prices several times.  The earliest post of his I found was in 2011 (here), and the most recent was in October 2015 (here).  In that latest post, with "more than 1100 data points across 50 city pairs and multiple travel dates," Seth found that JetBlue TrueBlue point values ranged from as low as 0.88 cents per point to as high as 3.76 cents per point.  And, he noted that point values were highest with the cheapest seats.  Overall, though, his analyses didn't shed light on the formula JetBlue may have used to assign award prices.
The observation that cheaper flights tend to lead to higher point values is not unique to JetBlue.  The same pattern is evident with Southwest.  Even though Southwest charges a fixed 78 points per dollar compared to paid rates for the same flights, cheaper flights lead to higher point values.  This is true because some taxes and fees are waived with awards and are not part of the formula.  So, when taxes & fees make up a bigger portion of the fare (which is usually true with cheap fares), the value of using points increases.  In the post "The new true value of Southwest points, 2018 edition," I showed examples where Southwest points can be worth up to 1.9 cents per dollar for cheap flights with high taxes.
Is it possible that JetBlue determines point prices in exactly the same way as Southwest?  Could the fluctuation in point values be due entirely to taxes & fees that are waived on award flights?  I set out to answer this question.
Initial Observations
I picked a somewhat random date in January and used the JetBlue website to record point prices vs. cash prices on a number of different routes.  With each route, I calculated points per dollar using the core fare (the price without taxes & fees) for the denominator.  At first, it looked like the "JetBlue is like Southwest" hypothesis was exactly right.  My first four observations, and 12 of the first 13 observations showed that the JetBlue award price was exactly 80 points per dollar based on the core ticket price.  That's remarkably similar to Southwest's 78 points per dollar. Importantly, I found the same values regardless of fare type.  That is, JetBlue charged 80 points per dollar for Blue, Blue Plus, and Blue Flex fares.
I couldn't yet account for the one outlier which was priced at 77 points per dollar (a Blue Flex fare) but I figured that I was very close to wrapping up the JetBlue award pricing algorithm in a neat bow.  Then, I added additional routes to my analysis and the pattern crumbled to dust.  Fort Lauderdale to Grand Cayman was priced more attractively at 74 and 75 points per dollar.  With LAX to JFK, only the Blue fare came in at 80 points per dollar.  Blue Plus was 84, Blue Flex was 82, and Mint was 83.  And Orlando to Mexico City was priced most attractively at 75 points per dollar across the board.
Overall, I found it surprising that most award prices seemed to be determined by a simple formula (80 points per dollar compared to the core ticket price), but others varied.  More surprising to me was that when I calculated the JetBlue point value compared to the full ticket price, the values ranged from 1.3 cents per point to 2 cents per point.  This surprised me because I clearly remember seeing 1 cent per point value, or less, on flights that I had hoped to book in the past.  Why wasn't I finding those poor point values now?
Peak Pricing
One thing that was different between my experimental observations and my real world past observations is that my real world observations were usually for family travel during holidays.  In other words, I've tended to look to JetBlue when planes were full and prices were high.
I decided to re-do my observations with a peak flight date.  I chose to look at one-way flights for the Saturday before Christmas (December 22nd 2018).  This changed the results completely.  Using the same flights but the new peak flying date, point values were much worse.  Now, the points per core ticket price ranged from 90 to 118 points per dollar (vs. 74 to 84 points per dollar in the previous analysis).  This meant that the point value range (previously 1.3 cents per point to 2 cents per point) dropped to 0.85 to 1.1.
What's going on?
I think that JetBlue uses fare classes to decide how many points per dollar to charge.  Fare classes are different from JetBlue's fare types of Blue, Blue Plus, Blue Flex, Mint.  JetBlue doesn't show fare class on the screen when booking flights (but I think that it can be found in your ticket receipt).  Travel Codex has a nice overview of fare classes here.
My guess, based on my observations so far, is that the cheapest fare classes are assigned the fewest points per dollar. It's very hard to test this hypothesis, though, since JetBlue doesn't display fare class on their search results screen.
If my hypothesis is true, it means that JetBlue points are worth more when cheaper fares are available.  So, you're more likely to find good point value at off-peak travel dates when the cheapest fare classes are available.  And, don't forget that JetBlue points are also more valuable on cheaper flights due to taxes & fees (some of which are not charged on awards) being a higher percentage of the overall fare.  These two points lead to the following summary:
The best JetBlue TrueBlue value can be found on the cheapest flights on off-peak dates
So, what are JetBlue TrueBlue points worth?
For the purpose of computing a JetBlue Reasonable Redemption Value (see: Reasonable Redemption Values), I think it's reasonable to assume that one could cherry-pick flights where JetBlue charges 80 points per dollar based on the core ticket price.  And, if we take the average $361 round-trip fare I previously used to calculate RRVs for other programs, we can derive the Reasonable Redemption Value for JetBlue:
One-way fare: $361/2 = $180.50
Core one-way ticket price = $180.50 – TSA Fee ($5.60) – Flight Segment Tax ($4.10) – Facility Charge ($4.50) – Transportation Tax (7.5% of core)
Core one-way ticket price = $166.30 – Transportation Tax (7.5% of core)

Core x 1.075 = $166.30
Core = $166.30 / 1.075 = $155

JetBlue one-way award price at 80 points per dollar = 155 x 80 = 12,400 points
JetBlue round-trip award price at 80 points per dollar = 12,400 x 2 = 24,800
JetBlue point value compared to full price = ($361 – $5.60) / 24,800 = 1.43 cents per point
This derived value (1.43 cents per point) is remarkably close to Wandering Aramean's 2015 median observed point value of 1.46 cents per point for Blue and Blue Plus fares.  I've been using that 1.46 cents per point value for our JetBlue Reasonable Redemption Value for quite a while, but now I'll lower the value to 1.43 based on this new analysis.
As a reminder, Reasonable Redemption Values are point estimates with which it is reasonable to expect to get that much value or more.  It's always possible to get worse value, though.  You can avoid that fate by using points only for the cheapest flights.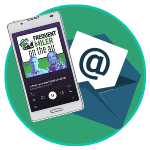 Want to learn more about miles and points?
Subscribe to email updates
 or check out 
our podcast
 on your favorite podcast platform.