I recently wrote a post about some of the Strengths Membership Rewards has over Ultimate Rewards. Of course, Ultimate Rewards is also a terrific currency to collect and one that has many strengths of its own. Whereas some of Amex's greatest strengths lie in partner sweet spots, Chase's strengths over Membership Rewards mostly lie within the card portfolio itself. That's not to say that Chase doesn't have transfer partners with award chart sweet spots — just yesterday we published a post about business class awards to/from Europe from 13,250 points each way on Air France — an Ultimate Rewards transfer partner. We've also spotlighted a couple of Avios sweet spots recently, another Chase transfer partner. However, since Chase shares almost all of its transfer partners with Amex, it also shares those sweet spots. Here are a few key advantages Ultimate Rewards has over the competition.
Strength 1) Easier earning
The first strength of Ultimate Rewards that comes to mind, and indeed one pointed out quickly in the comments on the Membership Rewards post, is the easy ability to earn Ultimate Rewards at 5x. That's because the Chase Ink Cash earns 5x at office supply stores on up to $25,000 per year in purchases (and some readers still have the no-longer-available Ink Plus with a $50K/yr 5x limit). That's terrific because office supply stores like Staples and Office Max carry a wide range of 3rd-party gift cards, making it easy to earn 5x on a wide variety of purchases — up to 125,000 Ultimate Rewards points per year at 5x with the Ink Cash.
Applying for Business Credit Cards

Yes, you have a business: In order to sign up for a business credit card, you must have a business. That said, it's common for people to have businesses without realizing it. If you sell items at a yard sale, or on eBay, for example, then you have a business. Similar examples include: consulting, writing (e.g. blog authorship, planning your first novel, etc.), handyman services, owning rental property, renting on airbnb, driving for Uber or Lyft, etc. In any of these cases, your business is considered a Sole Proprietorship unless you form a corporation of some sort.

When you apply for a business credit card as a sole proprietor, you can use your own name as your business name, use your own address and phone as the business' address and phone, and your social security number as the business' Tax ID / EIN. Alternatively, you can get a proper Tax ID / EIN from the IRS for free, in about a minute, through this website.

Is it OK to use business cards for personal expenses? Anecdotally, almost everyone I know uses business cards for personal expenses. That said, the terms in most business card applications state that you should use the card only for business use. Also, some consumer credit card protections do not apply to business cards. My advice: don't use the card for personal expenses if you're not comfortable doing so.
Rotating 5x categories on the Chase Freedom card provide a shot at another 7,500 Ultimate Rewards points per quarter. If you're able to max out the $1,500 spending cap on this every quarter, that's another 30,000 Ultimate Rewards points per year. With the current quarter including wholesale clubs, department stores, and Chase Pay, I'd imagine that most readers won't have much trouble maxing out the 5x earnings between now and December 31st.
Assuming you have both of the above cards and you max out the spending bonuses, that's the potential to earn 155,000 points per year on $31,000 in spend. That's a lot of spend for sure, but there are ways to do it and it's hard to beat that kind of return on spend.
Strength 2) Easy points combining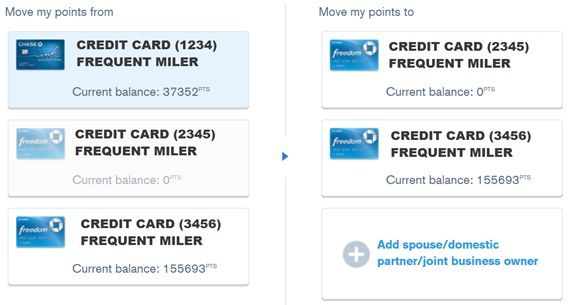 Of course, both of the cards mentioned above earn cash back. If you want to unlock the power of those points as Ultimate Rewards, you'll need to have a premium (Chase Sapphire Preferred or Ink Business Preferred) or ultra-premium (Chase Sapphire Reserve) card. Thankfully, it's easy to move your points from card to card within your portfolio of Ultimate Rewards points. While it had been rumored at one time that Chase might take away this functionality, that hasn't come to fruition.
But where Chase really shines here is in allowing you to also combine points with 1 member of your household. This means that, for example, I can move points from my Ink Cash card to my wife's Sapphire Reserve and then she can use those points towards travel at 1.5 cents each or transfer them to partners. This means that those playing in 2-player mode only need 1 premium or ultra-premium card in the household. While Membership Rewards automatically pools the points from all of your Membership Rewards-earning cards, Amex is missing the easy ability to move points at will between two members of a household. When you're a little short for an award booking, being able to combine forces with your spouse/partner is huge, so Chase comes up very strong here.
Strength 3) Instant transfers to most airline partners
Award availability comes and goes. On the most desirable routes, you need to be ready to pounce when you find seats available. Chase makes that pretty easy since all airline partners other than Singapore Airlines transfer instantly. That's huge. Earlier this year, I nearly got tripped up when I didn't think to check the transfer time before moving Membership Rewards points to ANA. Imagine my surprise when that transfer took 48 hours and the award flights I wanted disappeared in the interim. While Membership Rewards also enjoys instant transferability to most of the partners it shares with Chase, the variability means I need to check before I transfer my Membership Rewards points and I need a backup plan in case award inventory goes out of stock.
Knowing that transfers from Chase are instant for all airlines other than Singapore is a major strength in my eyes. I recently put a Flying Blue award on hold for 2 days to think about it knowing that I could instantly transfer my points and book right before the deadline.
I'd like to see Chase expand with a few more airline partners, but I also hope they can maintain the instant transfer times.
Strength 4) More keeper cards
While Amex is rumored to be stepping up the game in this department this week, Chase definitely has a much bigger stable of "keeper" cards — credit cards that are worth maintaining beyond the first year without closing them down. In the era of 5/24 when it is difficult to get approved for the Ultimate Rewards cards, it's huge to have a strong collection of no-annual-fee cards that might just be worth keeping in perpetuity (or downgrading to from a card with an annual fee) if you do not plan to be under 5/24 again any time soon. Here are the Ultimate Rewards cards with no annual fee:
Chase Sapphire (not preferred)
Arguably, all of those cards other than the no-fee Sapphire card are worth having and holding 'till death do you part for their favorable earning structures. Unless you want to….
Strength 5) Earn the new cardmember bonus again
Unlike Amex, which generally limits you to earning one welcome bonus per product in your lifetime, Chase generally deems you eligible to earn the bonus as long as you have not earned a new cardmember bonus on that particular product within the past 24 months — making it at least theoretically possible to earn the new cardmember bonus on a card every other year if you cancelled and re-applied. That said, it's not quite that easy these days as Chase has introduced new rules complicating this. For example, the waiting period is now 48 months on the Sapphire cards (that's 48 months from the last time you earned a new cardmember bonus on either the Sapphire Preferred or Reserve in order to get the new cardmember bonus on either card in the future). Thankfully, Ink cards do not share that restriction.
In short, it's easy to build your balance via new cardmember bonuses if you're under 5/24.
Strength 6) Better travel protection
One area where Chase is really leading the way is in travel protections for trips booked with premium and ultra-premium credit cards. While things like trip delay and cancellation insurance or rental car CDW may not be useful on the vast majority of trips, it is certainly useful to have those protections when you need them. Our own Stephen Pepper wrote about his experience utilizing the Chase CDW when his rental car got caught in a hail storm in Australia (See: My experience using Chase Sapphire Reserve rental car insurance). I haven't yet had a claim with Chase for trip delay, but I was glad to have had coverage on what was surely either an expensive or uncomfortable night in DC for many travelers who had to choose between ridiculous hotel rates or sleeping at the airport (See: My $500 trip delay claim with Citi Prestige).
See our Ultra-Premium Credit Card Travel Insurance guide for a full comparison showing how far the Sapphire Reserve comes out on top of the Amex Platinum card in this realm — the Platinum card offers surprisingly weak travel insurance protections by comparison. Even the Chase Sapphire Preferred offers trip delay, trip cancellation/interruption, and baggage delay insurance. Furthermore, whereas Amex requires you to have paid the entire cost on your Platinum card to get coverage in many cases, Chase typically only requires you to have paid for part of the cost with your card to get coverage.
I rarely ever use an Amex card to book travel because of the lack of travel protection.
Strength 7) Chase secure message system
This one is debatable, but I'll say that one of the things I like about Chase is how easy it is to do many things via secure message. Unfortunately, some things that were previously done easily via secure message (like product changes and credit limit reallocation) now require a phone call, but things like confirming your new cardmember bonus, matching an offer, and general questions can be quickly and easily answered without picking up the phone. Amex does have a live chat feature that can be helpful, but I've still run into situations on more than one occasion where the chat rep was unable to help without calling.
Strength 8) Hyatt / hotel partners
Without a doubt, one of Chase's greatest strengths over Membership Rewards is having Hyatt as a transfer partner. While there are plenty of airline sweet spots shared by both Membership Rewards and Ultimate Rewards, Amex just doesn't have an answer to Chase's hotel transfer partners. With an award chart starting at 5K per night and topping out at 30K, with some amazing properties in between, it's hard not to get great value out of Hyatt redemptions. Since you can even borrow elite status, it's easy to get a terrific hotel stay out of Hyatt points.
Furthermore, while transfers to IHG don't make sense since you can usually buy the points for half a cent each, the fact of the matter is that you could transfer to IHG for a decent PointBreaks redemption if you're points-rich and cash-poor.
Strength 9) Using Ultimate Rewards at 1.5c each to book travel
When the Chase Sapphire Reserve debuted a couple of years ago, I under-valued this benefit. That's because I generally try to redeem transferable currencies at greater than 2 cents per point — I didn't think I would want to accept 1.5 cents per point for my Ultimate Rewards. I was wrong about that. I've found that I have redeemed points at 1.5c each much more than I anticipated, thanks in part to cheap airfare sales galore. Just the other day, I redeemed 7200 points for a round trip domestic flight thanks to booking it through Ultimate Rewards rather than transferring to a partner. Since I can earn points easily (see Strength #1), I've come to accept that it's great to have this alternative to award tickets when the price is right.
Furthermore, Chase offers a great range of activities that can be booked with points online. While I have yet to use the Ultimate Rewards portal to book tours, I've heard good things from a number of people about tours and activities booked through the Ultimate Rewards portal. While one would again be accepting less-than-premium value for pionts in most scenarios, it's great to be able to score a huge discount on these activities if you are generating points cheaply. I have been wanting to put the portal to use to test out some of these activities and will likely do so at some point in the coming months.
While Amex Business Platinum cardholders can actually get slightly better than 1.5c in value out of points for business and first class airfare or any cabin on their one chosen airline each year, the inability to get good value for points when booking economy class on other airlines or booking other types of travel is a definite weakness for Amex. Chase gives your points a great deal of flexibility to use your points at good value for a variety of travel needs. Chase will eventually be moving to an Expedia-powered portal. It will be interesting to see what opportunities are created or lost in that change.
Bottom line
Ultimate Rewards has is a powerful program. Much of its strength comes from having great transfer partners — there are plenty of ways to get a lot of value out of the points. But beyond great uses of Ultimate Rewards points, Chase has a number of strengths over Membership Rewards in its design, independent of point transfers. Ultimately, both programs offer excellent value. It's hard to pick one over the other, but these were some of the reasons to love Ultimate Rewards.