Earlier in the year, when the Amex Hilton Aspire card began offering Hilton Diamond status to anyone willing to pony up the $450 annual fee, a reader commented to say "When everyone is Diamond, no one is Diamond." I understood what he meant: the more people who have status, the less special/exclusive it is. I checked out of the Conrad Fort Lauderdale yesterday afternoon and I'll say this: I don't know whether it was my Diamond status that turned horrible circumstances into such a display of terrific customer service or if it's that the staff at the Conrad Fort Lauderdale is just that good, but I'll hang on to that Aspire card another year for sure either way. I'll write a separate review of the property itself, but today I wanted to highlight how they surprised me both before and during my stay in very different ways.
Conrad Fort Lauderdale Resort: Booking & Upgrade
Last month, I wrote about the phenomenon of Hilton's dynamic pricing stacked with its fifth-night-free for Hilton Honors members causing some 5-night stays to cost less than 4-night stays. I stumbled on that with the Conrad Fort Lauderdale, where a 4-night stay would have cost 300,000 points:
But a 5-night stay was 280,000 points.
That sounded pretty good to me, especially since the standard room at this property is a Junior Suite that looked pretty nice based on the website photos.
That looked pretty sweet indeed — there was even a small galley kitchen in that standard room. However there were some even nicer-looking premium suites on the website — including 1-bedroom, 2-bedroom, and 3-bedroom residences that include a full kitchen, living room, and large outdoor terraces. We wanted to go to Fort Lauderdale with my parents and my sister and brother-in-law, ideally getting at least one room with plenty of space to hang out as a group. If we could get one of those larger residential-type rooms, it would be like if we had rented a home as we could comfortably cook, play a game, watch a movie, etc. Initially, we were just looking at a weekend. Weekend rates for a standard Junior Suite were around 89,000 per night but the 2-bedroom residence was just under double the cost of a standard room (both in cash or points). My family would probably only join us for the weekend, so I briefly considered booking one of those rooms just for the weekend.
However, when I found the 5-night prices for standard rooms shown above, I booked a standard room for 5 nights. Since my wife and I both hold the Amex Hilton Aspire card, we would have $500 in total resort credit between the two of us, and the Conrad Fort Lauderdale is an eligible resort. Looking at the difference in price between the standard rooms and the 2-bedroom suites, I thought that perhaps I could book a standard room and reach out to the property about the cost of upgrading to the 2-bedroom suite just for the weekend (I reserved Wednesday to Monday in a standard room and only expected my family to join us Friday-Sunday). I figured that the resort credit would probably cover the cost to upgrade at least two nights — maybe I'd get three if the property came back with a really reasonable cost to upgrade. I inquired about the cost to upgrade to the 2-bedroom for Friday and Saturday nights, and expressed my willingness to move rooms on Friday and again on Sunday. It's worth noting that I emailed a month before check-in.
Much to my surprise, the property came back with this:
I am happy to confirm that we have the availability to upgrade your stay to a 2 bedroom Oceanfront Residence and there will be no need for you to move suites.
Wow. They upgraded me from a Junior Suite to a 2-bedroom residence for my full stay. For free. That would have been a difference in price of at least $1,500 over the course of five nights. I was particularly surprised that they did this a month in advance. A Marriott Suite Night Award, earned with Platinum status after 50 nights in their hotels, doesn't confirm until 5 days in advance at most. The Conrad confirming the upgrade a month in advanced seemed really generous. Especially when you consider the fact that I indicated I was willing to pay for it.
Do I think that would happen for someone who is not a Hilton Diamond member? I don't know. Honestly, the staff at this property turned out to be so good that I can't say it wouldn't happen for a non-Diamond member. But I can't imagine that being a Diamond member hurt my chances.
A good stay gone bad
From arrival last Wednesday through Saturday, we were having an excellent stay. My parents ended up coming on Thursday since we had the 2-bedroom suite and we welcomed my sister and her husband on Friday morning with a separate room. On Saturday afternoon, things changed dramatically when my mother suddenly became violently ill. In every sense of the word. Vomiting, fever — I'll spare you the details. It was awful. My father says it was only the second time she's vomited in the 44 years he's known her and the sickest he's ever seen her. We wanted to take her to the hospital, but my mother is hardheaded strong-willed and refused to go.
Concerned about our baby and the possibility of this being something viral, my wife and I didn't think it would be wise to spend the night in the same room (even though it was a large 2-bedroom suite). My sister and her husband had a separate 1-bedroom suite, and they offered up the pull-out couch. We gathered the stuff we needed and headed down to their room for the night.
When I called the front desk to ask for the pull-out to be made up as a bed, they perhaps sensed something in my voice and asked if everything was OK. I explained the situation and the hotel wanted to send security to check on my mother. I told them it wouldn't be necessary. They eventually offered to slip a note under the door with local emergency medical numbers and locations. I had hoped that maybe the hotel had a doctor on call for situations like this — and they did, but at $1700 and up for a room visit, I think my parents likely would have gone to an urgent care facility first. Since we booked the tickets with our Chase Sapphire Reserve, I looked it up to see if the emergency medical coverage benefit would help. Unfortunately, it would only cover immediate family — defined as a spouse and dependent children (my mom wouldn't be covered).
So we settled in to my sister's suite for the night on Saturday. Around 3am, I awoke to the sound of my sister getting no less ill than my mother. It wasn't pleasant.
When the baby woke up just before 7am, I went to the front desk to see if we could get a new room. They let me book a third room and check in right away at 7am, which was great as we wanted to get our son away from this Plague spreading among my family.
My sister and her husband were scheduled to fly home on Sunday, but as Sunday morning progressed, it became clear that they weren't going to make that flight. As of Sunday morning, we had three rooms:
A 2-bedroom residential suite where my mother was still sick (checking out Monday)
A 1-bedroom residential suite where my sister was sick (checking out Sunday)
A 1-bedroom suite where my wife, son, and I were living under self-imposed quarantine (checking out Monday)
The front desk stayed in constant contact inquiring about how everyone was doing. Security proactively came to my room to take a statement about when everyone got sick, anything we thought it could have been, etc. They asked a number of times if we thought it was something they ate. We initially thought it could have been for my mom, but when my sister ended up with the same exact problems and they hadn't eaten much at all in common (maybe breakfast potatoes?) it became clear that it was likely something viral. Surely, nobody wants to be sick while in a hotel/on vacation, but the staff at the Conrad certainly did not miss an opportunity to impress and make my family feel as much at home as possible under the circumstances. There were (many) extra rounds of housekeeping, room service orders of plain toast, etc. Nobody missed a beat on helping out and being totally understanding. Staff members seemed genuinely concerned and eager to help despite the unpleasant situation.
They were also very flexible. They extended us a late checkout on my sister's room so we could move her to the 2-bedroom suite with my parents. Being able to get my immediate family into a new room art 7am on Sunday morning when my sister got sick was also huge.
And then, Sunday afternoon, I received a call from the Front-of-House manager, Julie Richaud. She again expressed her concern over everyone's health and asked — as had so many other staff members — if there was anything she could do. Before my other became ill on Saturday, I had written to ask for a slightly late checkout on Monday since we had a late flight out of Fort Lauderdale. Julie was aware of that email and told me that she had noted to extend a checkout time of 6pm on both of our rooms. That was totally unexpected and turned out to be a godsend as my sister's husband eventually became sick as well and my entire family needed the time and space to rest. If we all had to be out at 11am, I think we would have had to have booked another night. I can't imagine the Conrad wasn't aware of that — and rather than make us do that, they were completely accommodating.
Don't get me wrong — I love the guaranteed 4pm checkout offered to top-level elites by Hyatt and Marriott. I sometimes wish that Hilton had the same. On the other hand, I was beyond appreciative when the situation dictated that we needed an extra inch or two and they were willing and able to give it. That's actually not the first time I've dealt with being sick at a Hilton property — and both times the staff were accommodating beyond description.
Bottom line
I understand the argument that when everyone is Diamond, nobody is Diamond. And I'm further not sure that my positive experience (despite negative circumstances) at the Conrad Fort Lauderdale this weekend was directly related to my Diamond status. But customer service like we received this weekend is what keeps me coming back to Hilton despite Hilton being a favorite punching bag of the blogosphere. When I write up a little review of the property, one thing I'll note will be consistency in that everyone we dealt with had the same attention to customer service and ability to take action. I'll note the Conrad's shortcomings as well — it's not necessarily perfect — but sometimes the little things mean a lot, and this weekend they sure did.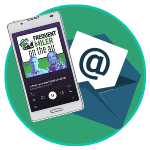 Want to learn more about miles and points?
Subscribe to email updates
 or check out 
our podcast
 on your favorite podcast platform.