Last week, I wrote a post about the great customer service I received recently at the Conrad Fort Lauderdale. It wasn't just the service: the Conrad Fort Lauderdale Beach is a great hotel and makes for an excellent stack of Hilton Aspire benefits and a current Amex Offer – though hindsight being 20/20, I could have done even better than I did. Along with redeeming points for one room for five nights, my wife and I used our annual free weekend night certificates from the Amex Hilton Aspire cards to book a second room for the weekend so that we could treat my family to a vacation. While their weekend didn't wind up quite as we planned, the fact remains that this is a good option for those looking to stay domestic with Hilton Aspire benefits. Here's how I stacked it and how the hotel stacked up.
Stacking Hilton Aspire Benefits, an Amex Offer, elite benefits…and what else I could have added
The Hilton Aspire card comes with what I consider to be killer benefits for a $450 annual fee. Included each year:
1 free weekend night
$250 airline incidentals credit
$250 resort credit for use at select resorts
Automatic Diamond status
Priority Pass w/ 2 free guests
See more about the card in our in-depth review
As noted at the top, we used points to reserve a 5-night stay in a standard room, though the hotel graciously upgraded us to a 2-bedroom suite far in advance of our stay. Since we were planning to treat my parents and my sister and brother-in-law, we needed 1 additional room. My wife and I each have the Aspire card, so we used our annual free weekends certificates to book Friday and Saturday nights for my sister and brother-in-law.
One awesome benefit of using points and/or free night awards: you don't pay the resort fee on free nights with Hilton. That's a savings off the bat — and the resort fee inclusions aren't bad at this resort. More on that later.
Based on the above benefits, my wife and I each had $250 in resort credit to use. Additionally, there is a Current Amex Offer for Conrad and Waldorf properties in the US and US Territories good for $70 back on $350 or more. I figured the credits would likely stack, and they certainly did.
In the end, my wife and I each spent $350 at the hotel and got $320 back between the $250 Aspire credit and $70 Amex Offer. Of course, it's not quite as good as it sounds — while we spent $700 at the hotel and got $640 back, we obviously spent $900 on the Aspire card annual fees ($450 each x 2). Still, we're pretty good at maximizing the airline incidentals credit for pretty close to face value ($500 between the two of us…and in fact, some of that ended up covering our flights there and back) and we got 2 nights at the hotel that would have ordinarily been over $800 with tax and resort fee. I'd say we felt comfortably ahead.
But the stack gets a bit….bigger. Is bigger always better? I couldn't quite put the word better in that spot. That's because Hilton Gold and Diamond members generally enjoy free breakfast at most properties in the Hilton portfolio (and Diamond members get guaranteed lounge access at properties with a lounge). The Conrad Fort Lauderdale is one of the properties that kind of cheaps its way out of offering breakfast by instead offering $20 per person for up to 2 registered guests in credit that can be used for breakfast at the restaurant, room service, at the Cornucopia Market (breakfast / pastries / sandwiches / pizza / drinks), or even at the Atlas Bar (which is one of the cooler-looking hotel bars I've ever seen). They run specials on Veuve Clicquot champagne each night, so you could almost get a bottle at 5pm with your daily vouchers.
We used our credits for breakfast in the restaurant, room service, and at the Cornucopia Market. At $40 per day, that was another $80 in resort credit for the rooms booked on our Aspire weekend certificates. We ended up spending $700 on our credit cards and got the following:
$500 rebated from the Aspire credits
$140 rebated from Amex Offers

$80

in resort credit as the Diamond breakfast benefit
$720 in total credits / rebates
Actually, it was a bit better than that even. The room we booked on points also got $40 per day x 5 in credits for a total of another $200 in restricted resort credits (I say restricted because while the "breakfast" credits didn't have to be used on breakfast, they did need to be used each day and couldn't be used at the spa for example, so there were some limitations).
While I think the hotel is being unnecessarily cheap with breakfast (more on that later as it is my biggest point of criticism), the ability to use the daily credit for things like room service or at the bar or pool lends itself well to using your Aspire benefits since you'll likely be looking to charge things to your room anyway.
It's also worth nothing that the hotel hosts a free wine and cheese / light snack pairing daily from 4pm-5pm for Gold and Diamond members — so even though there is no lounge per se, you do get an hour's worth of free wine and (very) light bites (think crackers / cheese / olives). Honestly, I'd rather they just give you a full breakfast the way the vast majority of Conrad properties do, but some folks will probably be happy to drink a couple of glasses of wine for free each day on vacation.
We used our Hilton Aspire credit on a mix of room service, breakfast overages, and a trip to the spa for my wife. In hindsight, the way our trip worked out specifically, we could have done a bit better yet.
Those who read my post last week will know that my mom and my sister and brother-in-law all ended up horribly sick (highly unlikely it had anything to do with the hotel). My sister and her husband couldn't make their flight home on Sunday, so we had to book an extra room for Sunday night. I used points to do that, but in hindsight I should have paid for it. That's because the Conrad Fort Lauderdale is on Amex Fine Hotels & Resorts.
The rate that Sunday night was only $250. With tax & resort fee, it would have come out to somewhere around $320. Booking through FHR would have given us daily breakfast for 2 (I don't know if it's the same $20 vouchers or perhaps a full breakfast?) a guaranteed 4pm checkout (the hotel ended up generously giving us a 6pm checkout, but this would have guaranteed 4pm), and a $100 credit. My wife could have still gone to the spa for her massage, but this way we would have been close to the $350 spend necessary on one card and gotten the room, $320 back, and an additional $100 resort credit. Instead, I used points to book that Sunday night room and gave up the chance to get an additional $100 in resort credit. Maybe I shouldn't try to play Monday morning quarterback here but rather say that if you would rather use your Aspire credit to book additional nights rather than on charges to your room, compare rates with FHR. As long as you choose to pay at the hotel (see this post for what I mean) and not pay in advance, you should still trigger the Aspire resort credits and the Amex Offer.
At any rate, it's hard to think that we did badly at the Conrad. This place was pretty awesome — let's move on to why.
The Room
Rooms at the Conrad Fort Lauderdale Beach are nice. The standard room is a Junior Suite. I didn't actually end up staying in one, but this is what it looks like (and I'd expect it to look exactly like this based on the other room types I saw).
That standard room has a leather (or leather-like) sectional sofa, a kitchenette with a 2-burner cooktop and microwave, etc. I spent one night in a 1-bedroom suite that had identical contents but with a slightly different layout (the bedroom was separate). Here was my picture of the living room area.
It's worth noting that you can also book the 1-bedroom suite shown above for the same price as the Junior Suite – it says the 1-bedroom suite is a "premium room award", but on all the dates I've checked the price is the same as the Junior Suite. The difference will be in the view — some rooms face the ocean or have at least a partial ocean view, others have a view of the surrounding streets, which aren't really scenic. But if the view isn't as important as a space to entertain, some of the 1-bedroom units are pretty awesome. My sister and her husband ended up with a 1-bedroom residence (upgraded from a Junior Suite at check in — and they arrived around 11am). Here was the living room:
At the far end there is the kitchen, with a full Wolf Gourmet cooktop, stainless steel fridge, and what had to have been the quietest dishwasher I have ever seen. We ran ours every day and each day I totally forgot it was on until I heard it drain at the end. This room had a Lavazza espresso machine. Our other room had a Nespresso. The cabinets were filled with cookware, dishes, a blender, a toaster, etc — just about everything you'd want residentially. The room came with dish soap and a new sponge and capsules for the dishwasher.
As if that wouldn't be enough space, there was also a terrace with a dining table for 6 and a separate coffee table and seating for 4 more.
In addition to the master bathroom in the bedroom, there was even a half bathroom in the hallway – both were similar to what we had in the 2-bedroom suite shown below.
I was fortunate enough to get a great upgrade on our other room as well. We booked a standard room on points for 5 nights. As I'd outlined in a previous post, the cost for 4 nights would have been 300,000 points. But because of a combination of Hilton giving members the 5th night free on award stays and their variable pricing bringing down the regular price of the nights, a 5-night stay was actually cheaper at 280,000 total points. I emailed in advance looking to see if I could pay for an upgrade to a 2-bedroom suite and the hotel upgraded me for free. Here's a video of most of my room (all except the master bed/bath and outdoor areas, which are pictured below it) — excuse the fact that there is music for like 30 seconds and then it just disappears…I'm obviously not very good with the video editing app I used.

And as promised, here is the master bedroom and bath:
What was hard to capture was our outdoor seating area. Our suite was oceanfront and on the corner of the building — so we had a long balcony that extended the length of the living room + kitchen + master bedroom with a loveseat and several chairs as well as a coffee table. We also had standing-room-only ocean-view balconies on the south side of the living room and outside the 2nd bedroom. The views were awesome. Unfortunately, the main oceanfront space had kind of an odd layout that I didn't quite get. It was great for walking out from the living room and getting a view of the sunrise / ocean / sunset.
But whoever it was who had the idea to build the premium suites with these weird diagonal columns that even someone who is 5'7″ had to duck around daily (especially while carrying a baby whose head might dart at any moment) should never design a hotel again.
Service
I mentioned it in my previous post, but service was outstanding. And I'm not just saying that because my family got sick and the hotel was beyond hospitable. From Tanja, who responded to my email in advance of my stay letting me know that Fin couldn't wait to meet my son…
…to each person we interacted with, service was absolutely on par with that at the Conrad Tokyo, Conrad Dubai, etc. I get that this is what a higher-end brand like Conrad is after, but I didn't expect it in Fort Lauderdale. I just don't always find service at high-end hotels within the US matches service at the same brands overseas, so it was a really nice surprise here.
Case in point: we ended up cooking one night while we were at the hotel (before The Plague took down my family. We just made rice, beans, and corn basically — no meat). We needed some things that the hotel brought up (a chef's knife, etc). One thing they didn't have was an individual can opener, so they sent a young man to retrieve our can of corn, go open it, and bring it back. While he was gone with the can, we realized that we couldn't figure out how to use the fancy Wolf Gourmet cooktop (all touch surfaces). He comes back with the can opened and my mom and sister ask if he might be able to show us how to use the cooktop. Now, at this young dude's age, I was lucky if I knew how to run the microwave. I had a cookbook in my bachelor pad at that time in my life: A man, a can, a plan. I kid you not. Here it is on Amazon.
But this kid didn't miss a beat, "Certainly." He walked right in, demonstrated how it worked (it turns out you had to hold your finger on the unlock button for 5 seconds to be able to operate the burners, all of which were set to heat levels using a touchpad). I was impressed that this young guy who they sent as a gopher to get our can was well-trained enough to know how the equipment in the kitchen works and to confidently stroll in and demonstrate it. To me, that's a sign of really good management and training. And it is just a silly example of how well-equipped everyone at the resort seemed to be to answer questions and take action when needed. Contrast that cooktop experience with the number of times I've stayed at a hotel where something didn't work right and one person had to call someone else to call someone else and send a fourth person to the room, etc. We ordered room service a number of times and had various needs throughout the weekend, and each person we interacted with was polite, courteous, and helpful when needed.
Resort Fee inclusions
If you're on a free night / points night, you do not have to pay a resort fee. However, you still get to enjoy the benefits of the resort fee, which actually aren't bad at this hotel. Don't get me wrong — I still hate resort fees. I think it's ridiculous that hotels are allowed to unbundle stuff you can't choose not to pay for and pretend like this extra fee isn't part of the room rate just so they can advertise a lower rate and likely skirt some of their tax obligation. I'm not giving the Conrad a pass for employing this deceptive practice — but I'll at least give Hilton the nod for eliminating the fee on free night awards, unlike Marriott.
But like I said, the Conrad Fort Lauderdale has some decent inclusions with the fee:
2 free beach chairs / umbrellas on the beach
2 bottles of water in the room and on the pool deck, though in reality this was unlimited — you can call for more at any time)
two free 2-hour bike rentals per day
Sunrise yoga
Free Internet
The free bike rental is something I'd love to see more hotels offer. The bikes were very simple — just a single speed old-fashioned beach-cruiser — but they also had helmets and the bike had a bungee cord so you could carry stuff. I took one to Publix one day since it was an easy enough ride and I could bungee in the aforementioned can of corn.
I also highly recommend talking to the Concierge in general. Very helpful folks without whom we would have wasted more money on Uber. Fort Lauderdale has a free ride program with guys who drive golf carts up and down the beach, you just tip the drivers. Ask the concierge for more details.
Breakfast
This is where the Conrad takes a turn for the worse. I already lamented the way they handle the breakfast credit above — but that isn't even as bad as the absolute weak-sauce they pass off for breakfast here.
With your $20 per person (up to 2 people per room) credit, you could order room service or grab-and-go at the Cornucopia Market in the lobby level (they have bagels ($4 for a bagel and cream cheese), breakfast sandwiches, parfaits ($8), overnight oats ($7), coffee, etc. You can eat for $20 there and some people will be plenty happy with a bagel, coffee, and parfait or something like that for breakfast.
The other option is the restaurant, Terra Mare. Here's the menu in the restaurant.
Now, credit where credit is due — I got that Acai Bowl one day and it was delish. Maybe it was even the reason I stayed immune from The Plague.
However, that's where the good began and ended in terms of breakfast.
As you can see on the menu, the breakfast buffet costs $35. That's pretty standard for higher end places. However, most places that charge that much for a breakfast buffet have a breakfast buffet that feels like it's worth it. The Conrad has a very limited buffet set up in a small corner in the restaurant in the morning. The only part of the buffet missing from the pictures below is the omelet station. That's it. I'm not missing some other pile of pastries or salad bar or fresh fruit station or whatever it is you expect to see at breakfast at a place like this for $35. It isn't there. This is it.
Actually, looking back at those pictures, the buffet looks better than it did in person. I'm not exaggerating.
I've honestly had better breakfast buffets at Hilton Garden Inns and probably enjoyed a breakfast more at a Hampton Inn than the day I got the buffet at the Conrad Fort Lauderdale. That was surprising — and seeing as how the breakfast credit barely covers half the cost of the buffet, that made it even more egregious in my opinion. That breakfast certainly doesn't beat the average Hilton Garden Inn. If they can't give that buffet to a Diamond member for free, it just seems unnecessarily cheap compared to most other hotels in the Hilton portfolio (and especially when compared to other Conrad properties). When everything else at this place is so outstanding, breakfast is even more disappointing as I can't love the place as completely as I'd like.
However, since you do basically have a kitchen in all the rooms, and Publix is a free ride away, it would be easy enough to do breakfast in your room cheaply and then use your resort credit for lunch or the bar — and that probably appeals to most people more than the breakfast matters to me. I will give the Conrad credit in not forcing you to use your credit for breakfast at the restaurant as they no doubt could.
Conrad Spa
I don't have extensive pictures of the spa, but my wife did report receiving a 20% discount at the spa — she thought because of our Diamond status, though I see online that the resort fee includes a 20% discount at the spa. Regardless, I consider my wife to have had plenty of spa experience to adequately judge one versus another. She said the facilities were fairly limited for a resort spa, but that the massage was excellent (and she's not one to rate a massage "excellent" if it isn't, so I'd assume it was quite good).
Bottom line
The Conrad Fort Lauderdale was an excellent use of our Hilton Aspire benefits. The hotel is gorgeous, the staff terrific, and the rooms very spacious. I will be happy to pay the annual fee on our Aspire cards knowing that we'll do no worse than this on our free weekend nights and resort credit each year. If I'm able to time it out with an Amex Offer again, I'll be happy to enjoy outsized credit at the hotel and a nice weekend away without flying too far.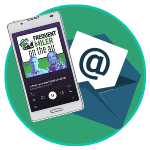 Want to learn more about miles and points?
Subscribe to email updates
 or check out 
our podcast
 on your favorite podcast platform.