An astute reader pointed out a great opportunity to sign up for a 1-800-Flowers Celebrations Passport for $9.99 or maybe less (Thanks, Todd!). Those who have read our guide to Extreme Stacking 1800Flowers promo codes, portals, gift cards and more know that the Celebrations Passport can really come in handy if you'd like to regularly stack savings and leverage discounts at 1800Flowers.
The Offer
What: Celebrations Passport for free shipping at 1800Flowers and its family of brands such as Harry & David, 1800Baskets, Wolferman's, etc
Why: Free 2-day shipping, no minimums, no service charges on eligible orders makes it easier to maximize Amex Offers and portal rewards
How much: $9.99 after mail-in rebate
How to: Use promo code NOMAGAZINE, print out email receipt and mail it to:
Food & Wine Promotion
1151 N.E. Cleveland St.
Clearwater, FL 33755
The Details
1800Flowers is currently including a 1-year subscription to Food & Wine magazine with your Celebrations Passport subscription. However, if you don't want the magazine subscription, you can decline it and instead receive a refund of $20 — making your net cost for Celebrations Passport just $9.99. Here are the terms of the offer:
FULL OFFER AND REFUND DETAILS ***Your purchase of Celebrations Passport at $29.99 will include a one year (12 issues) subscription to Food & Wine magazine. Don't worry, NO STRINGS ATTACHED, NO BILL, NO AUTO-RENEWAL! If for some reason you don't want it, although even if YOU won't read it, give it to someone that will. Please note your name and address will be shared with MagaZing Marketing for the purposes of fulfilling the magazine subscription. You will be subject to the Privacy Policy of MagaZing Marketing. The magazine offer is valid for U.S. subscribers only. Please allow 6-8 weeks for the delivery of your first issue of Food & Wine magazine. If you have an existing subscription to Food & Wine, your subscription will be extended by 1 year. Each magazine subscription is valued at $20. If you would like a refund for this magazine offer, simply enter coupon code NOMAGAZINE during checkout and then print out your email receipt and mail within 30 days to the following address to receive a refund for its stated value: Food & Wine Promotion, 1151 N.E. Cleveland St., Clearwater, FL 33755
How to do it
Start through a shopping portal. Since you are using a promo code (NOMAGAZINE) that is not listed on the shopping portal, you may not receive cash back — but it's worth a shot. If you do receive cash back, I'm not sure whether it will be based on the $29.99 price you pay now or the $9.99 net — but either way, your final cost will be less than $9.99.
When you get to 1800Flowers, look for the link on the left side for Celebrations Passport:
On the next page, you can see the terms of the offer (at the bottom) and click the "add to cart" button to add the Celebrations Passport to your cart.
After you click "Add to Cart", the Celebrations Passport membership will be added to your cart. You'll have to click the cart icon in the top right corner to initiate the checkout process:
From there, you go through checkout and add the promo code NOMAGAZINE. Don't forget to print out your receipt and mail it to the address above within 30 days.
If you want to maximize 1800Flowers Amex Offers and portal rewards on 1800Flowers, this is a no-brainer. You only have to use the benefit once or twice to get your $10 in value, and if you have multiple Amex offers to use, this can work out very well.
HT: Reader Todd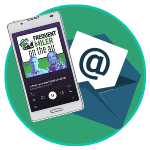 Want to learn more about miles and points?
Subscribe to email updates
 or check out 
our podcast
 on your favorite podcast platform.