I'm convinced that 1800Flowers provides an awesome opportunity for point earning through their regular promotions. For example, all of these promo codes currently appear to be active:
RR22: Earn 1000 Southwest Rapid Rewards points per order
RR59: Earn 30 Southwest Rapid Rewards points per dollar
RR60: Earn 30 Southwest Rapid Rewards points per dollar
AKA3: Earn 30 Alaska Mileage Plan miles per dollar
And, by subscribing to the 1800Flowers Celebrations Passport program for $29.99, you'll get a year of free shipping and handling on all orders.
By themselves the above offers are not quite good enough to be worth doing if you don't actually care about the product being sent, but there are some ways to reduce costs and increase rewards beyond the amounts offered by the above promotions. I've written about these options before:
Portals
One option that appears to be a good way to increase rewards is to start with an online portal and click through to 1800Flowers. At the time of this writing, two portals are offering 20% cash back for 1800Flowers:
In all of my previous posts on this topic I've said that I didn't think that portals were stackable with promotion codes. In past experiments, the portal rewards would show up initially, but then were later clawed back. With two tests I kicked off in November, it happened again.
Initially, rewards posted from the AAdvantage eShopping Portal:
And from the FatWallet cash back portal:
Then, on January 1st, I received an email from FatWallet that seemed to indicate that I had received more cash back from a negative purchase amount:
When I looked at my account, though, I found that the cash back had been zeroed out. Similarly, the AAdvantage eShopping Portal shows a claw back:
Work Around
One way to earn portal rewards and promo code rewards from 1800Flowers is to go through a portal to buy a 1800Flowers gift card, and then use the gift card and a promo code to buy flowers. In earlier posts, I wrote that I wasn't able to use both a gift card and a promo code in the same order, but that 1800Flowers phone reps believed that it would be possible. Fortunately, I can now report that whatever was wrong before seems to be fixed. I tested all of the above promo codes after entering in a gift card code and all of them appeared to work. In the end, I checked out successfully with promo code RR22.
Additional rewards
Don't forget that there are many ways to earn additional rewards beyond portals and promo codes:
Credit card rebates: Amex business cards offer 5% cash back. Plus, Amex frequent has special offers for 1800Flowers in which they'll give you $15 back on an order of $50 or more. Discover often has a similar offer: $10 back on an order of $39.99 or more.
Celebration Rewards (previously named Fresh Rewards): This is 1800Flowers' own rewards program. As long as you're signed up for this, you'll earn one point per dollar for each order. 200 points results in a $20 savings pass that can be used for future orders.
ShopYourWay Rewards: This is the Sears / Kmart rewards program. By linking your Visa or MasterCard credit card, you can earn ShopYourWay Rewards points with each 1800Flowers order. Currently they are offering 20% back in points, but in December they offered as much as 40% back in points! It's worth checking the current rates here.
Taxes: If you donate food or other items from 1800Flowers to a charity, it is possible to save on taxes as a charitable donation.
Full details of all of these options can be found here: Increasing rewards beyond 50X.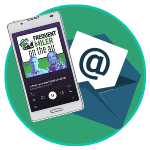 Want to learn more about miles and points?
Subscribe to email updates
 or check out 
our podcast
 on your favorite podcast platform.