Choice used to only have one credit card and it was issued by Barclays, but they now have two credit cards which are both issued by Wells Fargo.
Existing cardholders are in the process of having their accounts moved over to Wells Fargo, with both new cards now available for application. The card with the annual fee is a surprisingly compelling option and is a keeper card thanks to the bonus points you'll earn when renewing the card each year.
The Offers & Key Card Details
Consumer Cards
Quick Thoughts
Let's start with the no annual fee card. The welcome offer is a little disappointing because when it was with Barclays it was possible to earn 80,000 bonus points a couple of times. It's therefore a little surprising that Wells Fargo isn't matching that level of offer, but I guess that would mean they'd need to bump up the welcome offer on the card with an annual fee to differentiate it a little more and they might not be keen on doing that.
The no annual fee card has some interesting bonused spend categories, earning 3x at grocery stores, gas stations, home improvement stores and on phone plans. That's not bad for a card with no annual fee, but there are better options out there and so I wouldn't recommend putting spend on the card after earning the bonus from the welcome offer.
The new Wells Fargo Choice Privileges Mastercard Select card which comes with a $95 annual fee on the other hand is far more interesting. You can earn 90,000 Choice Privileges points after spending $3,000 in the first three months which I think is the highest bonus we've ever seen on a Choice card. Similar to the no annual fee card, it also offers bonused spend at grocery stores, gas stations, home improvement stores and on phone plans, except it's at an enhanced 5x rate.
Perhaps most notable of all is the fact that you earn 30,000 bonus points when renewing the card each year. 30,000 points are worth well in excess of $95, so it'll be worth paying the annual fee each year and racking up the points, similar to the Radisson credit cards of old.
Greg has pointed out that the ironic thing is that if you're interested in racking up Choice Privileges points, you'd likely be better served by another bank – Citi. That's because the Citi Premier card also has a $95 annual fee and currently comes with a welcome bonus of 75,000 ThankYou points. Those transfer to Choice on a 1:2 basis, so that's worth 150,000 Choice points – 66.67% more than you'll get with the Wells Fargo Choice Privileges Mastercard Select card.
Some of the bonused spend categories work out better on the Citi Premier card too if you're mainly interested in Choice Privileges points. The Citi Premier card earns 3x at grocery stores and gas stations while the $95 annual fee Choice card earns 5x. However, the 1:2 transfer ratio effectively makes the Citi Premier a 6x card in those categories for Choice purposes with the same annual fee.
What the Citi Premier card doesn't have is the 30,000 bonus points at renewal each year. If you'd be using the Citi Premier card solely to rack up Choice points, you'd therefore need to spend $30,000 or more in those bonused spend categories to outweigh the points earned from that renewal benefit on the Choice card. It can be both/and rather than either/or though. If you have both the Citi Premier and Choice Privileges Mastercard Select cards, you can earn the bonuses on both, renew the Choice card each year to pocket the bonus points while putting grocery and gas station spend on the Citi Premier card.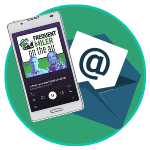 Want to learn more about miles and points?
Subscribe to email updates
 or check out 
our podcast
 on your favorite podcast platform.