Note: This promotion was ended early, at 11:59pm Pacific time on Friday, March 10th. Read more here. There is a new referral promotion that has begun and is open to everyone. Read more about it here.
New users of the Plastiq bill pay service can pay up to $2500 worth of bills with a credit card fee-free.  Here are the terms:
You must sign up with a referral link from someone who received a targeted business referral offer (more on this below).  I checked with my contact at Plastiq and found that since I wasn't targeted, my referral link won't work.
You must make a payment of at least $100 by March 31, 2017, and (I believe) you must make that payment with a business credit or charge card.
Once you have fulfilled the requirements, both you and the person you referred will receive $2500 in fee-free payments.  This means that your next $2500 worth of bill payments can be made fee-free (you must remember to click the link to "apply fee-free dollars" on the final check-out screen).  Note that once you have the fee-free dollars it won't be necessary to pay with a business card to use them.
Important Note: Initially you'll see only $200 Fee Free Dollars in your account. Plastiq says that it will take 24 hours after your $100 payment before you'll see the full $2500.
To learn more about Plastiq, please see: Complete Guide to Plastiq credit card payments.
Referral Links
If you need a referral link, please check the comments of this post.
If you have received a referral link, please feel free to post in in the comments of this Quick Deal.  Do not post referral links to the Complete Guide page (going forward, I want the comments on that page to be informative: questions and answers, rather than referrals).
NEW REQUIREMENT FOR POSTING REFERRAL LINKS:
In order to try to ensure that people posting links really received the referral offer, I'm only going to approve the referrals that include a link to an image showing your offer.  Doctor of Credit posted this same deal today and offered the following rules (which I'll implement as well):
In order to verify that you got this offer, you must link to a tweet or some other image (like Imgur or some social media platform) that shows a screenshot of the offer from your email along with the referral code (it all shows in the email). The screenshot should look similar to the screenshot shown above, just include another bit more underneath that which shows your referral code as well. You don't need to show your name.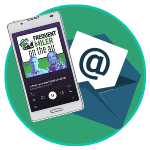 Want to learn more about miles and points?
Subscribe to email updates
 or check out 
our podcast
 on your favorite podcast platform.