Dosh is once again offering $40 cash back when you use your Dosh-connected card to pay for a membership in-store. This could make for a nice stack with the current Amex Offer for $25 back on a membership to make a membership net-profitable, though there are other options that may be more appealing to you.
The Deal
The Dosh app is offering $40 in-store instant cash back when you use your Dosh-connected card on memberships in-store (note that the rate for online memberships is only 15% cash back)
Key Terms
Valid on membership purchases only.
Membership upgrades excluded.
Offer is eligible for one time use
Valid only at participating locations
$40 offer is valid in-store only
Valid through 2/20/22 (app says "4 days remaining)
Quick Thoughts
If you intend to buy a membership in-store, this makes for a great stack with the Amex Offer. Since membership normally costs $45, this offer drops the net cost to $5. Stacked with the Amex Offer for $25 back when you spend $45 on a Membership, you could come out $20 ahead. Buying a membership and turning a profit isn't a bad deal. Keep in mind that you would need to connect the Amex card to which you've synced that offer to your Dosh account before purchasing your membership.
On the other hand, there are a lot of offers going on right now. Through today (2/17/22), new members can sign up in-store for a one-year membership for $8 (h/t: Slickdeals). I don't know for sure whether that would still trigger the $40 back from Dosh, but it wouldn't trigger the Amex Offer since you wouldn't be spending $45.
I recently joined up with this other offer to get a monthly $10 Uber Eats credit with $45 membership. I used an Amex card with the $25 back offer and synced to Dosh for 15% back ($6.75 back), so my net cost was $13.25 and I am now getting a monthly voucher for $10 to Uber Eats. I believe someone said that the voucher only works on delivery orders. Even if I only get an average of $3 per month in value out of the voucher, that puts me as far ahead as this Dosh deal. If you value the Uber credits more like 50% of face value, I think the Uber deal is superior.
On the other hand, you could skip a lot of hoops and get a membership for a year for eight bucks in-store today, so that will probably appeal to some. If you want to come out ahead on the in-store membership, you'll probably need to wait until the in-store price goes back up to $45 tomorrow.
H/T: Doctor of Credit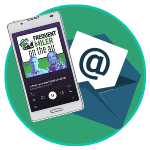 Want to learn more about miles and points?
Subscribe to email updates
 or check out 
our podcast
 on your favorite podcast platform.