THIS DEAL IS NOW DEAD: As reported by DealsWeLike and a reader named Joe (see comments), the Aadvantage shopping mall is no longer offering 10 points per dollar for Sears' purchases. However, for those with Chase rewards cards, the Chase Ultimate Rewards shopping portal currently offers 10 extra points per dollar for Sears, Macy's, and Kohl's. Ultimate Rewards points cannot be transferred directly to Aadvantage miles, but if you're shopping for Continental Airlines miles, Hyatt points, or several others, this might be a great opportunity. For more see my prior post 30,000 Continental Airlines miles for $2,000 Sears spend!
Last week I posted a way to earn 30,000 Continental Airlines miles by spending $2000 at Sears. Now, there's an even better opportunity.  Through the Aadvantage shopping mall, you can now (for a limited time) get 10 miles per dollar spent at Sears.  On it's own, that means that a $2000 spend at Sears would get you 20,000 AA miles.  However, if you follow this plan, you can get 40,000 miles! 1. Browse to the Aadvantage Shopping Mall and find Sears.  Currently, purchases from Sears via this portal are rewarded with 10 miles per dollar.  Go to Sears from this portal and buy a e-gift card for $2000 (or whatever amount you need).  Note that it may take an hour or so to receive your e-gift card.  From this step alone, you will have earned 20,000 Aadvantage miles. 2. Return to the Aadvantage shopping mall and click through to Sears again.  Find what you need and add it to your shopping cart.  This step will earn you the additional 20,000 miles giving you a total of 40,000 miles for this purchase!  But, wait, there's still more bonus available: 3. Make sure you belong to Sears' Shop Your Way Rewards program.  When checking out of Sears.com, enter your Shop Your Way Rewards number.  For your $2000, you will earn 20,000 Shop Your Way Rewards points!  Don't get too excited, though.  Each point is only worth 1/10 of a penny.  Still, that comes to $20 worth of points.  You might as well take it.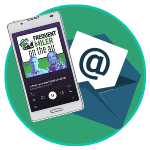 Want to learn more about miles and points?
Subscribe to email updates
 or check out 
our podcast
 on your favorite podcast platform.