ABOUT KIVA
Kiva is a nonprofit organization that provides micro-loans to enterprising individuals around the world so that they may earn their own way out of poverty.  By making loans through the Kiva website, you can be part of the solution to poverty AND earn points and miles.  This post will show you how to do the most good and earn the most points and miles along the way.
The trick is simply to use a rewards credit card to "purchase" loans.  When you receive payments back from your loans, cash them out and make new loans of the same amount, but again with your credit card.  The following steps give more detail:
STEP 1: SIGN UP AT KIVA.ORG
Kiva loans are not tax deductible, but almost all loans pay back 100% of what you put in.
STEP 2: (OPTIONAL) JOIN THE KIVA MILEPOINT TEAM
This is a group of like-minded frequent travelers who are eager to pay it forward via Kiva.  By joining, you will help this group meet its ambitious donation goals, and you may even be rewarded with a team shirt!  For help with joining the team, check out this MilePoint link.
STEP 3: DECIDE HOW MUCH TO "BANK"
You can think of Kiva as a savings account where, instead of interest, you earn credit card rewards, and you help make the world a better place.  How many banks can offer that?  Note that, if you choose to, you will have the option to withdraw the money once the loans are repaid, but it can take as long as a year for all of the repayments to complete.
STEP 4: FIND THE "BEST" LOANS
Really, the best loans are the ones you feel best about giving!  However, it is a good idea to find loans that are safest (e.g. most likely to pay back) and pay back soonest.  The reason for preferring earlier payback is that the more often you are paid back, the more often you can use that same money to fund new loans.  This will both help more people and give you more chances to earn credit card rewards.  For many great tips on how to find the best loans, checkout this MilePoint forum.  If you'd prefer to figure it out on your own, this site will help: http://www.kivalens.org/.
STEP 5: FUND YOUR LOANS VIA REWARDS CREDIT CARD
After adding loans to your Kiva "shopping cart", it is time to check out.  You might notice that Kiva will, by default, add a suggested donation amount to your tab to cover operational expenses.  Unlike the loans, this amount is truly a tax deductible donation (at least in the US), but it is up to you whether or not to donate this or any other amount.  If you have a US Bank Flexperks card, I'd suggest you decline giving a donation as part of this transaction and separately donate to Kiva (if you're inclined to) via Flexperk's charity link which will give you 3 Flexperks points per dollar.  See my related post Give to Charity, Fly Free.
In order to use your credit card to pay Kiva, click the link under "Don't have a PayPal account?" (even if you do).  See below:
Then, if PayPal finds your account anyway, select "Continue to pay as guest and do not use my PayPal account".  See below:
STEP 6: WITHDRAW AND RE-LOAN
As loans get paid back, you can keep the cash in your Kiva account and re-loan the money at any time.  This is the easiest way to do it, but it won't earn you any more credit card rewards.  To maximize your credit card rewards, withdraw your funds each month and purchase new loans with your credit card.  Loans are paid back on the 15th of each month, so consider making this a monthly ritual and you will continually earn points for yourself and loans for those who need them.
FEEDBACK
Do you have other suggestions for maximizing rewards and virtue from Kiva loans?  If so, please comment below.  I would love to enhance this post over time with your best suggestions.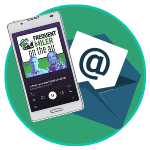 Want to learn more about miles and points?
Subscribe to email updates
 or check out 
our podcast
 on your favorite podcast platform.