Well, that's a wrap for day one of 40k To Far Away.
Sort of.
It's almost midnight as I write this, but travel hasn't ended for all of us today. Greg is at JFK about to jet off somewhere. Nick's in Hawaii on his way to do something that he's been giving cryptic clues about.
It's been an interesting day of travel with a series of mishaps for all three of us, but thankfully nothing that's destroyed any of our trips. Hopefully. The last I saw from Greg was that he was worried about making it to JFK in time. Hopefully Megabus doesn't become a Megabust for him. (Update: It's all good)
In case you haven't been following along on social media, here's how our days have gone.
Early Morning
Greg and Nick both had early starts and caught early shuttles to Dulles. Greg's first flight took him to Lewisburg, WV on United, a trip he only needed so he could take advantage of the Excursionist perk. See: Greg's #40KFarAway Mystery Excursions.
Things got a little dicey as his flight was delayed. If it was outright cancelled, that would've destroyed his plans, but thankfully he made it there in time to immediately turn around and fly back to Dulles.
Meanwhile, Nick had his own concerns. He overslept – slightly – but made it to the airport in time to catch his flight to Chicago.
Me? I was sleeping.
Late Morning
Greg arrived back in Dulles and took advantage of some Priority Pass lounges before heading out to explore D.C. for a little while.
Nick arrived in Chicago with not much time to spare until his flight to Honolulu departed. Mr Parkour legged it through the airport, making it to his gate with a couple of minutes to spare. See: The United workout plan: gate-to-gate in 14 minutes or less #40KFaraway.
Me? I'd just woken up. I was up until 3:30am the night before and had set my alarm for 9:15 so that I could get my fill at the Hyatt Regency's buffet breakfast. I was a little confused when I woke up as I didn't know what time it was. The power outlet next to the bed didn't work, so my phone was charging by the bathroom. The alarm had woken me up the previous morning, but it didn't this time.
I leaned to the other side of the bed to look at the alarm clock and saw it said 11:30am. What?! Well, that was breakfast missed. Thankfully I have Globalist status and had already arranged a late checkout, so I wasn't in any hurry to pack everything up. Seeing as my 40k trip hadn't officially started, my $400 cash budget didn't come into play yet. I therefore ordered room service lunch and enjoyed an episode of Chicago P.D. before packing everything up in a leisurely manner.
Early Afternoon
While Greg headed back to Dulles from D.C., Nick was on his way from Chicago to Honolulu.
I stayed at the hotel until 2:45pm, at which point I took the hotel shuttle to Dulles. From there it was the express bus to Reston, the Silver Line to Metro Center, then the Red Line to Union Station. My 40k To Faraway trip was finally about to get underway.
Or so I thought.
While on the train, I tried bringing up my eTicket on my phone but got the following message:
If Greyhound had hosed me by cancelling my ticket for some reason, I'd have still been OK as I wasn't in a hurry to get to my next destination, but it was a little concerning as buying another ticket last minute would've been $10 more expensive than I'd paid for my original ticket.
Late Afternoon
My bus was due to leave at 5:15pm and I arrived at Union Station at about 4:30pm. It took a little while to find the Greyhound bus station and then I had to wait in line for some time while a Greyhound employee melted down, swearing at her colleagues and going back and forth slamming doors.
Thankfully I had a different member of staff assisting me who couldn't have been more lovely. She didn't have any problem bringing up my confirmation number and so gave me a paper boarding pass. I then got on my bus up to Newark – the first leg on my trip that was starting after Greg and Nick had both already taken a couple of flights.
Evening
As for Greg, he was having his own bus problems. He'd picked up a cheap ticket on Megabus, but it stopped in New Jersey to pick up a different driver. His journey continued slowly, but he just made it to JFK in time to catch an international flight. Where? We're going to have to wait and see.
Nick went off to do something which, judging by his cryptic clues, was going to be both sun-related and high up. I'm wondering if he secretly packed feathers in his bag so he could have an Icarus experience minus the tragic ending – that'd be one way to rack up some free miles towards his overall total.
While on the bus to Newark, I tried checking in for my flight when I hit a snag. I need a visa for my 5 hour layover. I've been to this country twice in the last few years (including this year) and never needed a visa, so didn't have a clue this was a thing. Apparently when flying through you need a visa, but not when driving. Oops.
Thankfully the visa was only ~$5.50 and I have plenty left in my budget for snafus like this. I also received the visa instantaneously, so I won't be missing my flight. It did make me worried about future flights though, but a little Googling suggested that visas aren't needed for where I'm going. n.b. I did research visa requirements already (well, apart from visa requirements for where my layover will be tomorrow!), so I was fairly confident I didn't need any more, but clearly it's best to double check these things.
So I'm now sitting in Newark Liberty Airport waiting for my flight tomorrow morning. Yep, my first day of 40k To Far Away consisted of a 248.1 mile bus ride to Washington D.C. to Newark, while Greg is about to depart on his third flight and Nick's in Honolulu about to set flight on homemade wings (possibly).
Like I said on Instagram earlier though, tortoise and the hares. Except in Aesop's Fable, the tortoise got to its destination before the hare. I have another two weeks of this, while the hares will be done in less than a week's time.
What will day 2 bring? Stay tuned for our upcoming adventures. In the meantime, here's a video recap of what's happened so far:
https://youtu.be/_AalWTBqx6E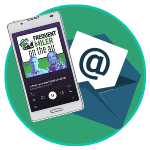 Want to learn more about miles and points?
Subscribe to email updates
 or check out 
our podcast
 on your favorite podcast platform.