The 40K to Far Away Challenge got underway this morning. After a brief flight delay scare (just a little fog), I was on my way… all the way to West Virginia. When I arrived, I turned around and got back on the same jet to fly back to DC. This seeming inanity was all part of my master plan.
My flight to West Virginia and my return flight to DC were booked as two separate United round-trip-ish awards. The first award looks like this:
Washington Dulles to Lewisburg, West Virginia
Free Excursionist one-way in a different region
Chicago to Houston (this segment is scheduled for February)
Segments 1 and 3, above, cost 5,000 United miles each (10K miles total). Segment 2 is free thanks to United's Excursionist Perk award. To get a free Excursionist one-way, you need to begin and end in the same region (US, in my case) and the free segment must be in another region (I'm not yet telling where mine is).
What!? Why!? I know, I know. It's really hard to wrap your mind around this. United never intended for Excursionist Perks to be used in this way. But, thanks to Drew at Travel is Free, I knew how to push this perk to the limit. So, I did two of them…
My return flight award looks like this:
Lewisburg, West Virginia to Washington Dulles
Free Excursionist one-way in a different region
Houston to Chicago (this segment is scheduled for February)
Finding 5K awards
Finding a 5K award that left from DC wasn't easy. Luckily, I found a useful pattern: the cheapest flights are sometimes available at 5K miles. See: Finding United MileagePlus 5K Awards. Using that technique, I found 3 options from DC. Next, I needed another 5K award from that destination airport to either go back to DC or to go to the next useful stop on my itinerary. I scoured all possible options and found only one that worked for my needs: to Lewisburg and back.
I wasn't thrilled with this option because I knew that weather would impact a flight like this more than most, but it was literally the only option I could find that would let me nest two United Excursionist awards into my trip. I took a chance.
20K already spent
Half of my 40K budget was spent on these two awards which, so far, have only gotten me to West Virginia and back. That sounds a bit discouraging, but it was crucial for setting up two free one-way flights in another region. As a bonus, I also get a free weekend in Houston long after the 40K to Far Away Challenge is done. I'm feeling pretty good about this use of miles now.
Where will I fly my Excursions?
I'm not ready to reveal my excursionist flights yet! However, keep in mind that my goal was to go far. So, you can assume that I'll fly across a very large region. Or two. But I can't use them in the US (since my award flights begin and end in the US). In order to visualize my options, I earlier created United Region Maps so that I can easily see which regions are biggest. Check out those maps here:  United Excursionist Perk Maps. Visualize regions to optimize awards.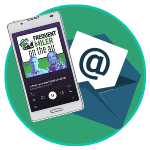 Want to learn more about miles and points?
Subscribe to email updates
 or check out 
our podcast
 on your favorite podcast platform.