Late last night (for most readers) I made it to Lanikai Beach on Oahu. In a move that likely shocks you as much as finding out that the southern-style smoked beef and pork sausage sandwich on United's in-flight menu is really just a hot dog, I used 7,500 Citi Thank You points transferred to Turkish Miles and Smiles to book a United flight to what will long be one of my favorite places on Earth, Hawaii. Once I arrived at the airport, I spent another $5.50 on an all-day pass for The Bus, Oahu's much-heralded and very extensive bus system. My pass is good until 3am. Unfortunately, my flight got in almost an hour late. Then my first bus was late and my second bus got delayed repeatedly. I didn't make it here in time to get all the way to the top of the Lanikai pillboxes hike, but man is the view beautiful even if you don't make it to the top.
For what it's worth, this wasn't my original plan.
Since I'd written about the
status-match-go-round
a few months ago, I thought an awesome start to my trip would be Las Vegas. A few months back,
Brian Cohen at The Gate
published a post about how to walk to the Strip from the Las Vegas airport. Back in a different era, I went to Las Vegas shortly after turning 21 with $253 to my name. In that trip, I found everything free and cheap that there was to do at the time: the Bird Man of Las Vegas's free show in the Tropicana lobby, the free Elvis Impersonator Ice Cream Social at Fitzgerald's, the ten cent roulette at Sahara, the 99c 3/4 lb got dog at Westward Ho, the late night all-you-can-eat pancakes at Riviera for $2.99, and the many free spectacles like the pirate fight at Treasure Island, taking statutes at Caesar's, etc. Most of the casinos I just mentioned don't even exist anymore.
At any rate, I thought that if I could get a free night at a Caesar's property (and on a Wednesday night in October, I thought that wouldn't be a stretch), walk to it for free, see a free show with my Caesar's Diamond status, try to sweet talk my way into a Diamond lounge for free, and maybe try to put twenty bucks on red to double up, it would be an epic start.
I originally wanted to fly to Las Vegas cheaply so I could take advantage of using 11,500 Singapore miles to fly Alaska to Hawaii from there. It was while researching options to get to Vegas that I stumbled on the chart showing that Turkish charged 15K round trip for a domestic United econony class award. I was pumped: I'd get to both Vegas and Hawaii for 19,000 milles (7500 from  Washington to Las Vegas and 11,500 from Las Vegas to Hawaii).
In fact, the first time I emailed Turkish Airlines, it was to see if I could book DC to Las Vegas and it would *really* price at just 7.5K miles. They told me the first itinerary I wanted, Washington to Chicago to Las Vegas, wasn't available but confirmed that it would cost 7500 miles plus $5.60 if available. Awesome! I tried another one, connecting through Los Angeles and it worked! They put it on hold and I had 48hrs to transfer the miles and then email back to ticket it.
My plan from Hawaii was to use Turkish miles to book the United island hopper. In years past, the major Turkish sweet spot was that Hawaii was categorised in Oceania, so I expected a one-way would cost 15K miles in economy class. However, the ticket office emailed me back and quoted me
52,500
miles one way to fly to Guam. That was totally unexpected, but I quickly realized that was the price for economy class from North America to Oceania. I thought, "That's odd since Turkish classifies Hawaii as Oceania….." and that was the moment when I went to the region definitions and saw it: Hawaii was now in North America. I'm so thankful that the light bulb flashed moments later and before transferring miles to book my flight to Las Vegas: I realized that flights to Hawaii are domestic and if Hawaii is in the same region as the continental US, it had to price as any other domestic ticket. Unfortunately, this idea hit me on a Friday afternoon, so my email to Turkish didn't get there in time to get an answer before the weekend. But I felt confident Uf === that this was correct that I talked about it at our
FM to Go Minneapolis
event that weekend, telling people that I was reasonably confident that Hawaii could be booked this way. The following Monday, I had my answer. Then it was a matter of sitting on pins and needles waiting for miles to transfer and get it paid for. I was literally on board a flight with the doors about to close as I was snapping pictures of my credit card to send to Turkish to book this. But sure enough, on July 3rd, I had my answer.
Greg and I talked about whether or not to publish it and ultimately decided that we would for two main reasons: first, it would benefit Frequent Miler readers. Second,  we expected that the 40K to Far Away challenge would inspire some of the most zealous readers to hunt for things we might try to do. Indeed, just that week a reader had written to alert me to a deal with Turkish Miles and Smiles that I hadn't seen reported anywhere. We thought it was only a matter of time before someone found it and reported it, so we might as well give Frequent Miler readers the jump on the story.
 In recent weeks, I've second guessed whether I should have tried to book a flight to Alaska instead or to Northern Canada just because I knew my first leg would be so predictable. But in the end, I couldn't pass up the allure of getting some sand between my toes and a few hours of the tropical Hawaiian sun on my skin.
A number of people have asked what the winner of this competition gets. My mental response is, "In addition to this?"
I got the chance to visit Uncle Clay's House of Pure Aloha with a few other miles and points enthusiasts as well!he winner gets the opportunity to fly halfway around the world and write about it as a job. Coincidentally, that's also the consolation prize. Seems like a competition I can get behind.
So here I am, basking in the glow and natural beauty and majesty of Hawaii, winning even if I lose.
Unfortunately, the lights have gone out on a great start to the #40K to Far Away challenge, but I look forward to the rising sun tomorrow.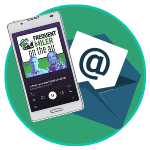 Want to learn more about miles and points?
Subscribe to email updates
 or check out 
our podcast
 on your favorite podcast platform.