Update 10/31/21:
This 8x offer has been extended through November 30, 2021. h/t
Mark
Marriott Bonvoy is offering 8 points per dollar spent at US Restaurants participating in the Marriott Bonvoy Eat Around Town program between 10/1/21 and 10/31/21. While that definitively a better deal than the ones offered by most airline programs, it could be a solid return for anyone who values Marriott points and particularly for those still trying to collect Marriott points for obscure airline transfer partners.
The Deal
Marriott Bonvoy is offering 8x at restaurants participating in the Marriott Bonvoy Eat Around Town program during the month of October. You must pay at the restaurant with the credit card you have linked to the Eat Around Town program to earn these bonus points.
Key Terms
To be eligible, you must be enrolled in the Marriott Bonvoy program and Eat Around Town by Marriott Bonvoy™ program.
Please visit www.MarriottBonvoy.com to enroll in Marriott Bonvoy and to enroll in the Eat Around Town program.
Effective 10/1/2021, for a limited time up to 10/31/2021, all registered Marriott Bonvoy members will receive 8 Marriott Bonvoy Points for each eligible USD$1 spent.
Effective 11/1/2021, Marriott Bonvoy members will receive 4 Marriott Bonvoy Points for each eligible USD$1 spent. Marriott Bonvoy members with Elite status (Ambassador, Titanium, Platinum, Gold, or Silver) receive 6 Marriott Bonvoy Points for each eligible USD$1 spent.
All checks must be paid for with a credit or debit card registered with the Eat Around Town program at the time of the visit.
Eligible charges include food, drink, tax and tip as charged to the registered card.
Not valid on orders placed through third-party online ordering or delivery sites.
Takeout and/or delivery may not be available at all restaurants.
Please note that some restaurants offer rewards under this offer only on certain days of the week or up to a maximum spending amount per month. For the latest rewards calendar, visit eataroundtown.marriott.com.
Marriott Bonvoy points earned through Eat Around Town do not count towards elite tier qualification in the Marriott Bonvoy program.
Please allow six to eight weeks from completion of your Eat Around Town transaction for points to appear in your Marriott Bonvoy account.
See offer page for full terms
Quick Thoughts
According to our most recent Reasonable Redemption Value for Marriott points (Greg just refreshed the value to 0.63c per point this week), the return here is just over 5%. That is in addition to whatever you earn with the credit card used to pay. If you've opened the Amex Platinum card via the Resy offer, you could be earning 15x Membership Rewards points per dollar spent on top of these Marriott points. In addition to the 8x points, you can earn 1,000 bonus points every time you dine 10 times. While 100 extra Marriott points per dine isn't a ton, that may not be a bad additional return if most of your meals are pretty cheap.
Keep in mind that most airlines offer bonuses at the same set of restaurants (this used to be known as "Rewards Network" dining I believe) and I believe most of the participating programs typically offer 3 airline miles per dollar spent. If you value those miles at greater than 1.67c per mile, using one of those airline programs could make more sense than the Marriott Eat Around Town program.
However, I think that this increased payout is particularly interesting for those who are still collecting Marriott points to transfer to more niche airline programs like Aegean or JAL that do not partner with major transferable currencies (or perhaps even Turkish if you don't have access to Citi, Capital One, or Bilt points). That's because this deal actually does yield a fair return in those "other" airline miles.
That's because Marriott points ordinarily transfer to airlines at a rate of 3:1. That means that 6 Marriott points = 2 airline miles. The additional 2 Marriott points are then roughly equivalent to .67 Airline miles for a total return of about 2.67 airline miles per dollar spent.
And if you're able to consistently take advantage of the bonus when transferring 60K Marriott points (which become 25K Airline miles), it works out to potentially better than 3 airline miles per dollar spent:
6 Marriott = 2.5 airline miles (because 60K = 25K)
2 more Marriott = at least 0.66 miles (better if transferred at the 60K:25K rate)
Total return = 3.16 airline miles per dollar (or more)
Again, since this is in addition to ordinary credit card earning, that's not a bad deal.
The problem of course is limited restaurants in many areas. You'll find plenty of options in most large cities, but in smaller areas options may be limited if there are any. Thus this deal won't work for everyone. Still, I have a couple of situations coming up where I'll need a meal in a city with participating restaurants, so I may link up a credit card and try to take advantage of this.
See Stephen Pepper's post about other card-linked programs that you may prefer (or in some cases there may be stacking opportunities).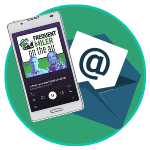 Want to learn more about miles and points?
Subscribe to email updates
 or check out 
our podcast
 on your favorite podcast platform.