A couple of months ago, I wrote about what many people thought sounded like an insane deal: $9.95 per month for Unlimited movies in the movie theater. I had previous experience with MoviePass and knew the service was legit, but I understood the general skepticism. If it sounds too good to be true, it usually is — but MoviePass is a notable exception in my book. Yesterday, it got even better: new users can now sign up for MoviePass for $89.95 per year — and now that has also been extended to existing users. That's unlimited movie theater movies for about $7.50 per month. In many markets, that's less than the cost of a single matinee. Will the company stay afloat? I have no idea. But they didn't just start yesterday — I began with MoviePass back in 2014, so whatever they are doing has kept them in the ring for 3 years….I think I'd bet $90 on them to last at least one more.
The Deal
Key Details
2D movies only
One movie per day, max 2 memberships per household
Can't share a single pass or put two people on one pass
Once you finish 12 months, membership will auto-renew at $9.95/month
Find theaters near you by going to www.moviepass.com on a desktop (or request the desktop site on mobile) and scroll down to the bottom of the page (you should see a map where you can enter a zip code)
Quick Thoughts
I previously wrote about my experiences with Movie Pass when they first cut the price to $9.95 per month (See: Great deal: Go to the movies every day for $10 a month). Apart from the slow initial shipping of the cards, I haven't heard of many glitches this time around. If it continues to work as advertised (and I mostly suspect it will), this will be a fantastic deal for movie lovers.
On the negative side, I did see some discussion in the related Slickdeals thread that indicated there may have been a change in terms limiting you to seeing each movie only one time or banning users for abuse. I suspect the type of behavior they are trying to avoid is people buying tickets for others or without intending to see the movie themselves. I haven't monitored that thread of discussion closely, but I check in now and then and haven't read reports of people being shut down for normal movie-watching behavior. It might be worth taking a look at it here.
Again, to see theaters in your area, just go to www.moviepass.com. Scroll to the bottom of the page and you should see something like this (change the zip code to see your theaters):
As noted above, an email went out to existing users today advising them of the ability to "upgrade" to this lower rate for a year.
I clicked the link and logged in and was prompted to upgrade if I'd like:
In my case, I opted not to upgrade yet. With a baby on the way, I'm not sure how often we'll get out to the movies in the coming year. I'll probably stick with the $9.95 cancel-any-time membership for now. I believe it's not possible to sign up for that membership now that they have this new option. However, it says that this membership is "for a limited time only". It's not clear whether it will go back to the cancel-anytime model or go stick with the annual model at a higher price if this current promotion ends. When I originally signed up back in 2014, I had to commit for a year (though I was charged monthly).
Bottom line
If you like to go to the movies a lot, this is probably a no brainer. According to the Internet, the average cost of a movie is somewhere over $8. If you go to more than 11 movies, you're probably ahead of the game unless you always go to matinees. Some will speculate that this new model means that MoviePass is teetering on the edge of collapse and making a grab for cash. I personally doubt that to be the case, but it's certainly something to consider.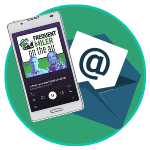 Want to learn more about miles and points?
Subscribe to email updates
 or check out 
our podcast
 on your favorite podcast platform.