Frequent Miler is part of an affiliate sales network and receives compensation for sending traffic to partner sites, such as CardRatings.com, but we always show the best public offer even when we don't earn a commission . This site does not include all financial companies or all available financial offers. For additional details, see our Advertiser Disclosure.
Card Details and Application Link
Chase Ink Business Premier℠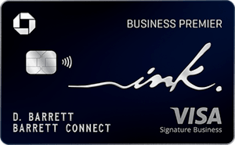 FM Mini Review: This is an almost 1 to 1 copy of Capital One's Spark Cash Plus card, but the Chase card throws in 2.5% earnings on very large purchases. Unfortunately, the Chase card also has a slightly higher annual fee. The biggest disappointment about this card is that, unlike other Chase Ink cards, the rewards cannot be moved to other Chase cards to improve their value. Even though this card technically earns Ultimate Rewards points, it's best to think of it as a straight up cash back card.

---
Card Type: Visa Signature Business Charge Card
<!–– qBaseq -->
<!–– qOtherq -->
Earning rate: 2.5% cash back on purchases of $5,000 or more ⚬ 5% back on travel purchased through Chase Ultimate Rewards ⚬ 2% cash back on all other spend
Noteworthy perks: Purchase protections ⚬ Cell phone protection (up to $1K per claim) ⚬ Travel protections
Ink Business Premier Review
The Ink Business Premier is a charge card, not a credit card.  That means that there's no explicit credit limit and that you must pay the bill in full each month.  This card is a reasonable choice for those with large business spend who are looking for a single business card with decent cash back rewards for all spend.  The card earns 2.5% cash back for purchases of $5K or more, and 2% back everywhere else.  Unfortunately, unlike other Chase Ink cards, you can't move rewards to other cards in order to make them more valuable, nor can you product change it to an Ink credit card (since this is a charge card).  Think of this card as being exclusively good for cash back.  Whether the card is worth its $195 annual fee depends upon what alternatives you have…
While there are plenty of fee-free 2% cash back consumer cards with no annual fee, the only fee-free 2% cash back business card I can think of is the Evergreen by FNBO Business Edition® Credit Card.  Unlike the Chase Ink Business Premier card, the Evergreen card does charge foreign transaction fees (3%), but if most of your spend is within the U.S., the Evergreen card is probably a better bet.  If you spend $40K or more on large spend ($5K or more) each year, though, you would do better with the Chase card since the 0.5% cash back earned on those large purchases would more than pay back the card's annual fee.
Another comparison worth considering is to the $150 per year Capital One Spark Cash Plus card.  Both the Chase and Capital One cards are business charge cards that earn 2% cash back for most spend.  With the Chase card, for only $45 more per year, you gain the ability to earn 2.5% cash back on purchases of $5K or more.  It would only take two $5K purchases (or one $10K purchase) to come out ahead with the Chase card.  On the other hand, with the Capital One card, it's possible to move your cash back to a card that offers transferable "Miles," like the Venture X, in order to turn the cash back into points transferrable to airline and hotel partners for potentially much better value.  Unlike with other Ink cards, Chase has unfortunately made it impossible to do the same with the Ink Business Premier card.  There is no way to move the Chase points to other cards and so it's best to think of this card as a straight up cash back card.
The Bank of America alternative…  If you have $100,000 or more in business accounts with Bank of America or Merrill Edge, you can qualify for Platinum Honors status with Bank of America's Preferred Rewards for Business.  Among other perks, you'll get 75% more rewards from select Bank of America business credit cards.  The fee-free Business Advantage Unlimited Cash Rewards credit card, for example, usually earns 1.5% cash back, but with Platinum Honors, you'll earn 2.62% cash back on all spend!  That's a much better option than the Chase Ink card if you can swing the $100K in business funds requirement.  See this post for full details: Bank of America cards — awesome with Platinum Honors Status.
Amex alternatives…  Amex offers two fee-free business cards that offer 2x for all spend on up to $50K spend per calendar year (then 1x).  The American Express Blue Business Cash™ Card offers cash back rewards whereas the Blue Business Plus offers Membership Rewards points.  The first is best for those who prefer cash back whereas the latter is best for those who value the ability to transfer points to airline and hotel partners.
Ink Business Premier Application Tips
Should you apply?
If cash back is your thing and you have lots of big $5K+ purchases (but you don't qualify for Bank of America Platinum Honors for Business), then this is a good choice..
Are you eligible?
To get this card you must have a business, and you must be under 5/24 (more on 5/24 below).
Applying for Business Credit Cards

Yes, you have a business: In order to sign up for a business credit card, you must have a business. That said, it's common for people to have businesses without realizing it. If you sell items at a yard sale, or on eBay, for example, then you have a business. Similar examples include: consulting, writing (e.g. blog authorship, planning your first novel, etc.), handyman services, owning rental property, renting on airbnb, driving for Uber or Lyft, etc. In any of these cases, your business is considered a Sole Proprietorship unless you form a corporation of some sort.

When you apply for a business credit card as a sole proprietor, you can use your own name as your business name, use your own address and phone as the business' address and phone, and your social security number as the business' Tax ID / EIN. Alternatively, you can get a proper Tax ID / EIN from the IRS for free, in about a minute, through this website.

Is it OK to use business cards for personal expenses? Anecdotally, almost everyone I know uses business cards for personal expenses. That said, the terms in most business card applications state that you should use the card only for business use. Also, some consumer credit card protections do not apply to business cards. My advice: don't use the card for personal expenses if you're not comfortable doing so.
Chase's 5/24 Rule: With most Chase credit cards, Chase will not approve your application if you have opened 5 or more cards with any bank in the past 24 months.

To determine your 5/24 status, see: 3 Easy Ways to Count Your 5/24 Status. The easiest option is to track all of your cards for free with Travel Freely.
How to apply
You can find the current best signup offer and application link here: Chase Ink Business Premier.
The first part of the application asks for personal info. Fill this out the same way you would fill out a consumer credit card application with your own name and home address, your income (not just your business income), etc.  For the question about your business title, answer "
owner
."  Next up is the business info section.  If you already have a well established business, then the answers should be straightforward. If you are just getting started with your business, below are examples of how to fill this out. These answers assume that you do not have any employees and you operate as a sole proprietorship (which is the most basic form of a business). Use your judgment to answer differently if the examples given don't match your circumstances:
Here are example answers for the business part of the application:
Legal business structure: Sole Proprietor
Business legal name: If you don't already have a business name, I recommend using your own name as the business name.
Desired business name on card: Again, this can be your own name if you don't have a business name to use.
Does your business use another name? No
Tax ID type: EIN (you can get an EIN quickly and for free from the IRS here) If you'd prefer to use your social security number as your tax ID, select SSN rather than EIN.
Is your business's physical address the same as your personal address? Yes
Number of employees: 0 (the instructions say to enter the number of employees you have, not including yourself)
Business phone number: Your phone number
Business established date: When did your business start? If you've been doing your business for years (selling stuff at yard sales, for example), it's fine to estimate the starting date.
Annual business revenue: $0 (or project an amount based on expected revenue)
Business category, Business type, Business sub-type: Pick whichever categories are closest to your business. For example, an aspiring author, artist, or musician might choose: "Arts, Entertainment, and Recreation" and "Independent Artists, Writers, Performers."
Estimated monthly spend: $3,000 (Use your judgement here. A higher number might lead to a larger credit line, but if it's too high it might negatively affect approval).
Keep records of your answers
In some cases Chase will ask to speak with you before approving your application. In those cases, they are likely to ask some of the same questions (annual business revenue, number of years in business, total gross income, etc.). Ideally you'll answer the same as you did on the application.
Check Application Status
After submitting your application, you can check status by calling the automated status line: (888) 338-2586
Reconsideration
If your application is denied, I recommend calling for reconsideration (1-888-270-2127). It's surprising how often denials can be changed to approvals just by asking.
Chase Ink Business Premier Perks
Travel Protection
Trip Cancellation/Interruption Insurance
Trip Delay Reimbursement
Baggage Delay Insurance
Auto Rental Collision Damage Waiver
Purchase Protection
Cell Phone Protection: Up to $1K per claim
Fraud Protection
Zero Liability Protection
Purchase Protection
Extended Warranty Protection
Chase Ink Business Premier Earn Cash Back
Welcome Bonus
Here's the current welcome bonus offer:
Bonus Spend
Card Info Name and Earning Rate (no offer)
This is where the Ink Business Premier card shines.  Purchases of $5K or more earn 2.5% cash back.  When comparing to a 2% cash back card, this means that you can earn enough extra to cover the card's annual fee with $40,000 of large purchases each year.
Chase Ink Business Premier Redeem Points
Cardholders can redeem points for 1 cent each either as statement credits or as cash back. Points can also be used to pay for travel or gift cards, but it doesn't make sense to use your points in that way since you won't earn rewards on those purchases.  It's better to redeem for cash back and pay with your credit card for these things.
Chase Ink Business Premier Manage Points
Combine Points or Share Points? Nope
Unlike all other cards that earn Ultimate Rewards points, with this one you cannot move points to another card or to another cardholder in the same household or with the same business.
How to Keep Points Alive
As long as your card account is open, your rewards will be preserved.  If you want to cancel this card, simply make sure to cash out all of your earned points first.
Greg's Thoughts
This would have been an exciting product if points could be moved to other cards that earn Ultimate Rewards.  Without that ability, it's impossible to get better than 1 cent per point value from your rewards.
So, then, the question is whether this card is worth its annual fee for those who are happy with cash back.  The answer is… maybe.  If you spend $40K or more per year on purchases of $5K or greater, then this card has an edge over a fee-free 2% cash back card.  On the other hand, with Bank of America, it's possible to get 2.62% back on all purchases with a fee-free card.  If you can qualify then that's obviously a much better option than paying $195 for this Chase card that earns 2.5% back at most.
Personally, I do qualify for 2.62% back everywhere with Bank of America and so this Chase card is completely uninteresting to me beyond its welcome bonus.