Separately, we wrote about Virgin Atlantic's fantastic award availability calendar.  While the tool is currently only intended to be used to find Delta or Virgin Atlantic award availability to or from England, it turns out that it is easy to trick the tool into searching for ANY nonstop Delta route.  When you use the tool to search for Delta awards, it shows seats that are available to book with Delta's partners such as Virgin Atlantic and Air France.  That's important because it is often the case that partners charge far fewer miles than Delta for the same flights.  In this post I'll show you how to use the tool to find Delta award availability, and then I'll show examples of how you can use this to save huge numbers of miles.
This post is being republished because the trick detailed here had previously stopped working, but it is working again (and has been for quite a while).  The original post follows…
How to find Delta partner award availability
Select Flying with Delta Air Lines
It doesn't matter what airports are in the From and To boxes
Click "Check for reward seats".
Trick: Change the origin and destination airports in the URL

Make sure to use all capital letters for the airport codes
Only include airport pairs where Delta has a nonstop flight. This tool won't check for connecting flight availability.
I believe that only that step 5, above, requires explanation.  Once you follow steps 1-4, the URL in your browser should look something like this:
https://travelplus.virginatlantic.com/reward-flight-finder/results/month?origin=LHR&destination=ATL&airline=DL&month=06&year=2024
See how the URL says "origin=LHR" and "destination=ATL"?  All you have to do is change the origin and destination airports to match the route you want.  For example, suppose you want to fly from Atlanta (ATL) to the Bahamas (NAS).  You can simply change the above URL to this:
https://travelplus.virginatlantic.com/reward-flight-finder/results/month?origin=ATL&destination=NAS&airline=DL&month=06&year=2024
It's important to note that lowercase letters don't work for the airport codes.  And this tool will check only for nonstop flights.
With the above URL, I got the following results:
Where it says "Upper Class," it shows the number of Delta first class or Delta One seats available to be booked with partner miles.  "Premium" is for Premium Select, but I'm not at all sure that Virgin Atlantic can see or book Delta Premium Select seats.  "Economy" is the same as Delta's Main Cabin seating.
If you want to see other months, simply click the buttons at the top-right of the calendar to progress forwards or backwards.  Alternatively, you could change the part of the URL that says "month=06&year=2023".
Double check award availability at VirginAtlantic.com
While the Reward Flight Finder seems to be mostly accurate, I and others have found situations where it shows award space that isn't really available.  So, once you find award space you're interested in, go to virginatlantic.com to search for awards.  For a detailed guide showing how to do that (and a trick for showing results in a monthly calendar view), see: How to book Delta flights with Virgin Atlantic miles.
Better pricing with partners
Once you find Delta award availability, you can compare Delta's own pricing to partners like Virgin Atlantic and Air France.  Often you'll find much better pricing through a partner.  Don't worry if you don't have Virgin Atlantic or Air France miles.  Both transfer from many different transferable points programs:
Atlanta to Nassau, Bahamas
The award calendar shows lots of economy and first class availability from Atlanta to Nassau on June 27th.  Let's look at the cost to book this flight with Delta directly vs. Virgin Atlantic and Air France….
Delta wants 19,000 miles for main cabin economy, or 49,000 for first class:
Booking with Air France Flying Blue, you get a better price in economy (13,000 miles), but a worse first class price (55,000):
Virgin Atlantic is the clear winner in either economy or first class:
As you can see above, Virgin Atlantic miles are the best option, by far, for booking Delta from Atlanta to Nassau!
Amsterdam to Detroit Business Class
One famous best use for Virgin Atlantic miles is to fly between the U.S. and Europe in Delta One business class for only 50,000 miles.  Unfortunately, Delta is very, very stingy about releasing business class (Delta One) award space on these routes.  After hunting around a bit, I found one flight where I could demonstrate the pricing differences between programs.  The Virgin Atlantic Reward Seat Checker shows that there are 4 upper class (Delta One) seats available on March 27th from Amsterdam to Detroit:
For this flight, Delta wants a mere 375,000 miles (or 318,750 miles for cardholders) plus 215 Euros:
Air France Flying Blue is much more reasonable.  They want 79,500 miles plus $226.25 USD:
Virgin Atlantic wins the day again.  You can book the same flight with only 50,000 Virgin Atlantic miles plus 215 Euros:
It pays to compare
It's not always the case that Delta's partners offer significantly better award pricing than Delta itself.  Sometimes Delta offers the best option.  Still, there are times when booking via partner miles is so much better than with Delta that it pays to compare.  We can now use Virgin Atlantic's Reward Flight Finder to see when a nonstop Delta flight is available to book with partner miles.  Once found, go to VirginAtlantic.com and to airfrance.us to see what the other programs charge.
Have you found other great deals by booking Delta flights with partner miles?  Please comment below.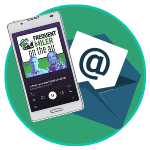 Want to learn more about miles and points?
Subscribe to email updates
 or check out 
our podcast
 on your favorite podcast platform.