Last year, in my initial review of the Grand Hotel Victoria Concept & Spa, I wrote the following letter to my long-time location love, Hawaii:
Dear Hawaii: Our love affair has been passionate and heartfelt for many years and no matter what I will always love you, but I owe you an apology. It's not you, it's me. You see, I have fallen deeply in love with Lake Como thanks in no small part to an SLH property called Grand Hotel Victoria Concept & Spa and things will just never be the same again. I hope I can still come to visit the Grand Hyatt Kauai and we can be friends, but if you don't see me for a while, it's because I'm back at Lake Como again. I hope you'll forgive me. -Nick
All of that has proven true. Last week, I returned to the Grand Hotel Victoria Concept in Menaggio on Lake Como, Italy (and I haven't been to visit the Grand Hyatt Kauai in the interim!). If you read nothing else in this post, skip ahead to the description of the spa — and recognize that my pictures do not do it justice.
The Grand Hotel Victoria Concept & Spa is a Small Luxury Hotel of the World that is bookable with Hyatt points. My first stay in 2022 was only one night long and I gushed poetic about it. This time around, we stayed for five nights….and it was even harder to leave this time than last time. I hadn't discovered the phenomenal spa on our first trip and this time around we had more time to stroll Menaggio and I only came to enjoy it all the more. I said it before and I'll say it again, this time with more experience to back it up: if you have any interest in visiting Lake Como, this place should be at or near the top of your list.
Booking & benefits
World of Hyatt Category 7
I booked the Grand Hotel Victoria while it was still in World of Hyatt Category 6, though it has since moved to Category 7. That means that an award stay at this property costs:
25,000 points per night off-peak
30,000 points per night standard
35,000 points per night peak
As room rates for standard rooms at this hotel during our week were 1600 Euro per night (about $1750 in USD), I wouldn't expect much off-peak pricing if any. Expect to pay 30K or 35K points per night if you want to stay here. That's a steep price, but it is well worth it for what you get here — and when you consider that you may be able to get enough points for 3 nights from a single new credit card bonus (and when you compare that to the cash cost of a place like this), the value can really stand out.
Note that finding availability is tough. You're going to have to hunt it out far in advance and in shoulder seasons. I got lucky and a reader tipped me off when they found availability. I just don't think this property takes many award bookings. That doesn't seem altogether unreasonable when you find out how fantastic the place is, but it doesn't make it less frustrating that finding award nights is tough.
SLH benefits when booking through Hyatt
The benefits of booking SLH properties through Hyatt: All SLH bookings made through Hyatt (including award stays booked with points!) get daily complimentary continental breakfast, free wi-fi, a one-category room upgrade based on availability, and early check-in (noon) and check-out (2pm) based on availability. This is for all members, regardless of Hyatt elite status (and with no additional benefits extended based on Hyatt status).
During our Instagram Live, one viewer asked whether the front desk staff was familiar with SLH benefits when booking through Hyatt. My first thought was that the staff at this hotel was so universally terrific that I wouldn't anticipate having a problem with anything.
That said, the benefits of booking through Hyatt are pretty simple and recognized to my knowledge. I think that all guests gets complimentary breakfast at the Grand Hotel Victoria (and if that's not the case, then I can at least confirm that we weren't charged for breakfast). The breakfast includes wonderful pastries (and I'm not using the word "wonderful" as a filler, they are wonderful), cold cuts that are sliced on a slicer next to the buffet, eggs (scrambled are on the buffet, but you can order eggs as you like them – my wife got an omelet several times), various yogurts, cheeses, stewed tomatoes, baked beans, cereals, breads, hash browned potatoes, and more. It wasn't the most extensive buffet I've ever seen and it was basically the same each day, but everything tasted high quality. You can also order coffee as you like it — Americano, cappuccino, macchiato, iced, etc. They had almond milk and soy milk on the buffet and a gluten free pastry each day also.
In terms of an upgrade, I just wouldn't count on one being available most of the time (at least during the summer) as I get the sense that this property is pretty frequently sold out or close to it. In our case, we did get an upgrade this time to a room with a balcony, though it was a balcony with a mountain view rather than a lake view (I have not gotten and would not expect a lake view room without paying for it). The "upgraded" room was actually a bit smaller than the base courtyard view room — they immediately pointed that out at check-in and offered to move us to a courtyard view room if we preferred to have more space. As it turned out, I liked the layout of the balcony room since the desk area was behind the bed / sleeping area, which made it possible for me to work on the computer at night from the room without disturbing the family (which I only did once or twice since I was on vacation, but it was handy those one or two times.
We did not need the late checkout this time. Last time, we had no problem getting the late checkout. I expect that this property would be as accommodating as they could be in that regard.
I'll also note that valet parking at this hotel is complimentary for all guests. When we arrived, the staff unloaded our car, parked it, and delivered our luggage to our room before we even arrived in it. We never waited for our car — we simply called down a couple of minutes before leaving the room and it was there when we got to the driveway.
For more pictures of the standard room, see my previous review of this property.
The Spa at Grand Hotel Victoria is a dream
Dave Grossman of Miles Talk had booked the Grand Hotel Victoria for the same exact week as I did, arriving a couple of days ahead of me (that wasn't planned, we just both found availability for the same week).
Last time, my family only had one night at the hotel. I'm not really a spa person in general and I'd never have thought to bring my kids to the spa, so until Dave messaged me the day before we arrived and mentioned the kids hours at the spa, I had totally forgotten about it. I'm glad he mentioned it right away, because this time around we made sure to check it out — and after going there the first day, we went to the spa every day of our stay. We actually planned our days around the spa, and I do not for a moment regret that at all.
You might not take my word for it on how nice the spa is since I already admitted that I'm not really a spa guy. Some skepticism is fair. However, my wife is a spa person and assures me that this place was very special (and that the spa itself was more impressive than Miraval Berkshires, where she recently enjoyed a day spa package), particularly since access to the spa is free for hotel guests — you do not need to book a treatment to enjoy all of the wonderful amenities the spa has to offer. Dave has also been to his fair share of spas and says that this is the best he's ever seen.
As is generally the case with this property, photos will not do the spa justice. Amenities include:
A very large indoor pool with many different types of jacuzzi jets controlled by buttons you select if and when you want them (some that come up from the pool floor, some on platforms within the pool where you could lay down on the jets, etc), a continuous waterfall feature, a dual waterfall that comes out of the wall at the push of a button, daybeds, loungers, etc. There is also complimentary tea and some healthy snacks in the pool area.
A "soft" sauna
A Finnish sauna
Several "water paradise" showers with four different types of water showers under which you can walk
Other spa showers
An ice bath room (which is freezing cold and has a bench and a bucket of ice)
A minty steam bath room that is kept at around 40-45 degrees Celsius and 98% humidity
A "Mediterranean" steam bath room that is kept at 45-50 degrees Celsius and about 58% humidity (this somehow smelled even more delicious than the minty room)
An oil-infused relaxation room with lounge chairs and soothing smells and music (this had a lavender sort of smell)
A "reading room" that had a long continuous fireplace in the center and hanging chairs that were so comfortable on one side of the room and loungers on the other (I saw people taking a nap in this room multiple times by the crackle of the fire)
A salt room with loungers
A smaller indoor pool with jacuzzi jets that was a little warmer than the main pool
A walkway with alternating very hot and very cold water
A locker room with robes, slippers, etc
Dave and I did an Instagram Live from the property and I didn't double-check this, but he said that the hotel sells a spa membership for people who live in the surrounding area — apparently, a 6-month membership costs 7,000 Euro. I don't imagine they sell a lot of those passes — though on the other hand, summertime rates at this property can easily exceed $1500 a night for the base room (the week we were there, the base room was selling for about $1750 a night). Once again, I didn't get the sense that many guests were there on points (Dave and I were and I met a reader who was also!).
Here are some pics of the spa:
Children are allowed in the spa from 8am-12pm and from 2pm-3pm each day. That was really nice because I don't think I'd have thought to bring my kids to the spa, but I think it was a good experience for them in the sense that they got some semi-quiet / relaxing time each day. And the staff was great — they found robes to fit the kids so that they'd get the full spa experience also.
The spa is open until 8pm. The closing time is my one complaint: I would have gladly run down to the spa for a while after the kids were in bed, but given the later dining hours in Europe they normally weren't in bed before 8pm.
Still, we were happy to eat breakfast and then head to the spa each morning and take advantage of it until 12pm, then head out to explore.
My wife ultimately did book a massage for our last day there. Surprisingly, she didn't love the massage (in fact, she was pretty unhappy with it and probably wouldn't book another treatment, though surely YMMV in terms of the provider of the service). However, the nice thing is that you don't need to book a treatment to enjoy the facilities. I could seriously imagine spending most of a day in the spa — the lighting and music were just that relaxing.
Menaggio, Italy
The town of Menaggio is lovely. The flowers weren't quite totally in bloom this time around, but the town had no less charm this time around.
Menaggio has a lovely center square that is an easy walk from the hotel. There are two gelato shops right in the center of town and you really can't go wrong, though we were partial to La Fabrica Del Gelato, which is the "organic" place. Thinking of the apple cinnamon gelato as I type this sentence is making my mouth water (imagine fresh apple cider — not the stuff with a bunch of preservatives you buy at the grocery store, but the stuff you get fresh at a cider mill — in a creamy gelato form). There are tons of cute shops and restaurants and people are generally very friendly.
Since we were managing the temperaments of two young children on this trip, we checked out the mini golf course that you can reach by walking a couple hundred yards from the hotel. The course itself was weird — it's all hard surfaces, no "grass" (or carpet), but the views are terrific as it is right on the lake. If you're going to get stuck "playing" mini golf with a 2yr old and a 5yr old (who really just want to roll the ball around a bunch and try to kick your ball rather than actually play mini golf), you might as well do it with these views.
We also needed to do laundry during our stay as we were departing Menaggio on our final day to head to Genoa and board a 10-night European cruise (one of the free cruises we have gotten through casino matching). We found a self-service laundry that was only about an 8-minute drive away. You do need cash for the machines and they are open from 7am-12am, but the machines appear to be on a timer to shut off before closing time. I arrived with a load about an hour before closing hoping to wash (the shortest cycle was 31 minutes) and dry (you pay per 8 minutes in the dryer and 16 minutes had been enough to dry a load previously), but the washers were already off. I know that this won't be relevant for a lot of people, but I include it as access to laundry is often important to those traveling with young kids.
Finally, the location of Menaggio is excellent. It is perhaps halfway up the western side of Lake Como, about a ~40-minute drive from the town of Como (which is on the southern end of the lake). I think the location in Menaggio is top notch. Menaggio is a relatively small town and you could drive a few miles in either direction to enjoy other small towns. Alternatively, you can take a ferry across the lake from Menaggio to Bellagio (about 15 minutes) or Varenna (also about 15 minutes). The ferry itself is worth the ride just to get the views of the lake as you cross. Bellagio isn't stroller-friendly at all since it includes a lot of walking up steep sidewalked hills if you really want to see the town, though we enjoyed strolling the manicured walkways just opposite the main town center. Note that the ferry is also a car ferry so you could take a car across, though parking is so difficult that I wouldn't think it worthwhile.
There's a lot to love about this hotel
The Grand Hotel Victoria is clearly high-end in a way that I feel separates it from many luxury hotels. It's hard to describe exactly what separates it, but it includes a lot of small touches. For instance, the tables in the restaurant had little brass footstools. I didn't immediately recognize what they were for, but my wife quickly did — they were stands so one's purse wouldn't need to sit on the floor or the table.
That's just a small mark of the way things are thoughtfully designed in this hotel. I can't tell you how many times I've been at a hotel and had the opposite experience, wondering "Does the person who designed X or Y ever stay at hotels?" The Grand Hotel Victoria seems to have anticipated guest needs quite well.
And that extends to the staff — once again, I felt like the staff did an excellent job of anticipating our needs and being genuinely happy to help with any request. The agent who checked us in checked on us several times throughout our stay when we saw her in the lobby, asking whether the space in our room was OK and generally making sure we were enjoying our stay. When we pushed the button for service, our room was cleaned by the time we returned from breakfast. This hotel is a smoothly-operated machine.
There was a piano player on the patio every night and the musicians rotated so it wasn't the same one and the same tunes each night. One night it rained and they moved the piano player inside the building at the entrance to the restaurant with a keyboard (clearly they had contingency plans in place!). Restrooms had cloth towels for drying your hands after washing, when we ordered wine in the bar area they came with a tray of olives and nuts to accompany it.
While most of the amenities at the hotel, like the spa and pool and full-sized toiletries in your room and so on) don't cost anything, those things that do cost something extra are not cheap. For example, a bottle of still water at dinner (tap water isn't an option) costs 9 Euro (and they may open a second bottle without prompting, so sip slowly). Dinner for my family of four with a glass of wine each for my wife and I ran around $200-$250 without dessert (and though I'm sure it was an honest mistake, we found that they accidentally charged us for two bottles of wine rather than two glasses at one meal — a mistake they remedied by removing the charge for wine altogether with their apologies). Don't expect to eat cheap at the hotel, though that is to be expected at a property where guests are paying $1750 and more per night. There are plenty of very reasonably-priced options a couple hundred yards away in town. I don't feel like the restaurant in the hotel is a must-do outside of breakfast. It isn't disappointing (and we had dinner there twice on this trip, already knowing it would be pricey), but by comparison the four of us had no trouble eating in Menaggio (and in the town of Bellagio) for under $100, wine included.
If you want to hear Dave and I chat about the place and answer questions, see the Instagram Live that we did from the property.
View this post on Instagram
Bottom line
The Grand Hotel Victoria Concept & Spa is my favorite World of Hyatt redemption to date. I had gotten that impression with my initial one-night stay last year, but after 5 nights this year (and five days in a row enjoying the amazing spa!), I feel even more strongly about that assessment. This is a special place that is certainly in the running for our favorite hotel anywhere in the world. Given some of the amazing upgrades we've gotten at places like Domes of Elounda and the Grand Hyatt Kauai or the terrific stays we've enjoyed at places like the Conrad Bora Bora and St. Regis Bora Bora, I think it says a lot about this place that it is among our favorite hotels in the world even without a particularly special upgrade. No property can have universal appeal since we all have different interests, but if you are a collector of World of Hyatt points, I think this is a property that is worthy of a spot on your bucket list redemptions if it interests you at all. I would be excited to return and spend days at the spa and afternoons on Lake Como again. We have a lot of places in the world that we still want to see, so I don't know when I'll be back — but I certainly hope to be back again to visit the Grand Hotel Victoria and Menaggio.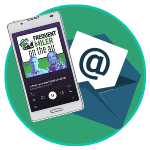 Want to learn more about miles and points?
Subscribe to email updates
 or check out 
our podcast
 on your favorite podcast platform.