Fair warning: this post is going to be long. After spending the past week in Bora-Bora, I can unequivocally say that it was the most stunningly beautiful place I have seen in my travels to ~60 different countries (so much so that I'll have a separate post that is much less content-heavy and mostly full of pictures of some of the scenic beauty you can expect here). Everyone looks for something different out of their travels and Bora-Bora isn't a one-size-fits-all vacation destination by any stretch, but I found myself completely in awe for eight nights and nine days. Of the widely popular destinations I've visited, Bora-Bora is without a doubt the place that most matches the hype in terms of beauty. No doubt enhancing my view of the place is the fact that I had the good fortune to spend 3 nights at the Conrad Bora-Bora and 5 at the St. Regis Bora-Bora, each among the most expensive hotels in their respective chains. Which was better? Much to my surprise, the answer is the St. Regis by a decent margin. That's not to say the Conrad isn't fantastic: I'd return there in a heartbeat. But after a terrific 3-night stay at the Conrad that was punctuated by some really nice touches, the St. Regis managed to up the ante. Here's how these two resorts stacked up in my opinion.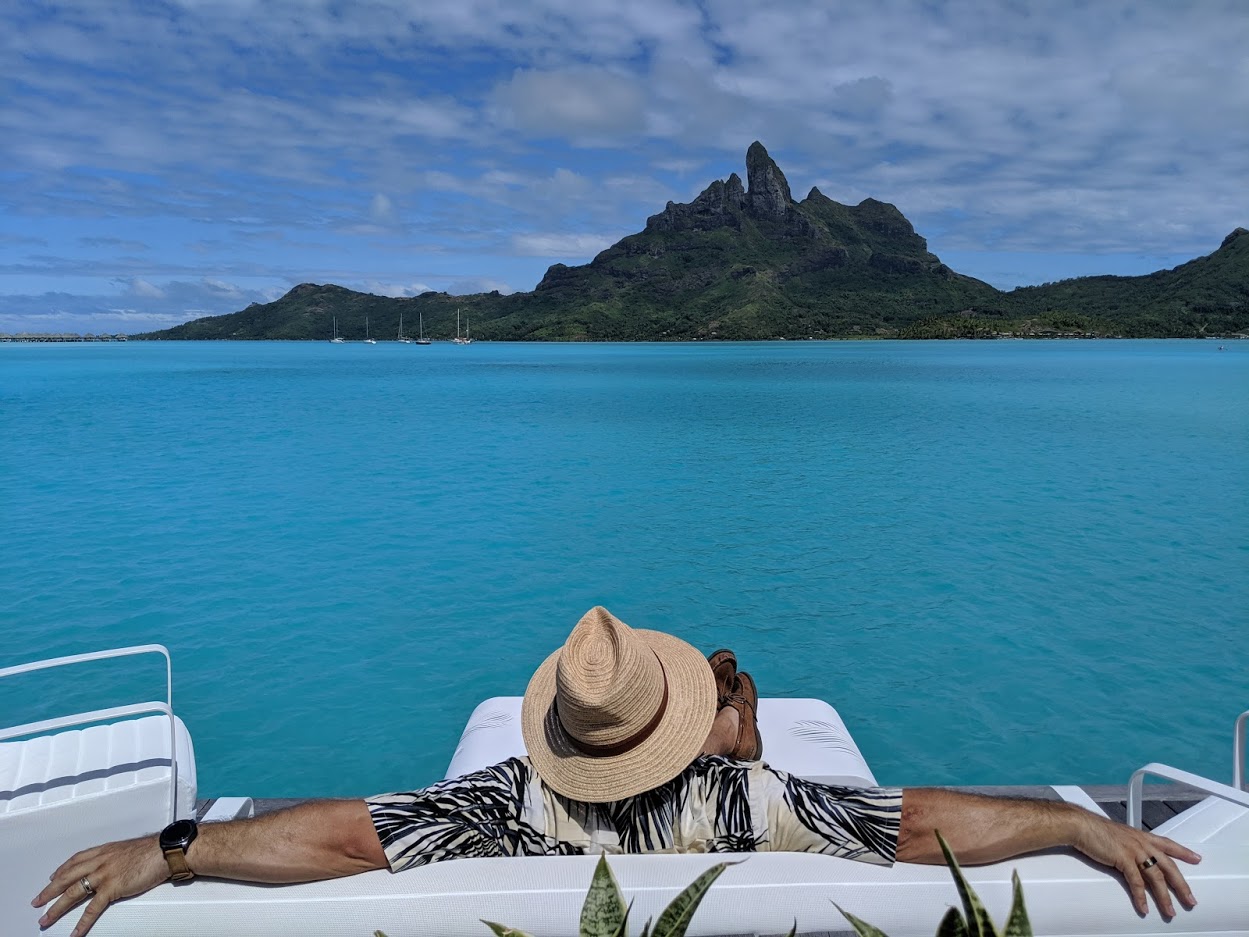 It's worth noting that my expectations of the St. Regis were perhaps artificially low. As soon as I found availability at the St. Regis for 60K points per night (48K per night after the 5th night free), I pounced and made a reservation about a year in advance. Sensing a great opportunity for comparison, I then reserved the Conrad Bora-Bora, thinking that I'd likely be the first to compare the two. Then Ben over at One Mile at a Time beat me to the punch: he stayed at both resorts earlier this year and compared them in a series of reviews. His review of the St. Regis was not very favorable at all and his review of the Conrad was glowing. While I agreed with many (but definitely not all) of his praises for the Conrad, I found my experience at the St. Regis to be starkly different from his. I wonder if perhaps the St. Regis made adjustments in response to his post or if perhaps he just experienced them on an "off" day so-to-speak, because I found one thing after another to be different than what I expected based on his reviews. To be clear, that's not to criticize Ben: I've long loved Ben's writing, enjoyed his reviews immensely, and often found myself in agreement with his assessment of airlines and hotels. It's just that in this instance, my experience was totally different.
From here, I'll compare the two hotels based on a number of criteria with a named winner at the beginning of each section.
Elite benefits: St. Regis Bora Bora
At the Conrad Bora Bora, Hilton Gold and Diamond members get free buffet breakfast each day. The buffet is pretty sizable, particularly in terms of pastries. If breakfast at a French bakery is your dream, the Conrad Bora-Bora essentially makes that come true, with a number of other options sprinkled in as well. The croissants at the Conrad Bora-Bora may have been the best I've ever had.
At the St. Regis, breakfast works differently for elite members. Marriott Platinum members and higher receive a choice benefit at St. Regis hotels. At check-in, I was told that I could choose between 1,000 bonus points (total), 2 St. Regis mugs, or free daily breakfast for 2. My wife told the check-in agent that those mugs sure sound tempting, but given the fact that breakfast for two would have cost us about $102 per morning (times five mornings), I quickly cut in to make sure the agent didn't take her seriously: we'll take breakfast, thanks. More on breakfast in the comparison between the two below.
Both properties offered an elite member welcome amenity on top of normal benefits. The Conrad Bora Bora gave us a large bottle of juice, sparkling and still water, and some locally-made truffles.
In fairness, the Conrad Bora Bora also had a huge welcome for our son. I'm not including that in this post/comparison because it wasn't necessarily an elite benefit. I will, however, have an entire post on it coming soon as it was really impressive — though likely not as replicable for reasons to be outlined in that post.
The St. Regis welcome amenity was decidedly more generous: we were given four bottles of juice (two mango / two apple), some sort of passion fruit marshmallow treat for our son (which was delicious), a bottle of Billecart-Salmon champagne (which room service sells for $132 at the St. Regis — alcohol is really expensive in Bora Bora), four macarons, and a hollowed-out coconut full of fruit.
Additionally, when we ordered our morning coffee on our first morning, the butler arrived with two bottles of local rum as a welcome amenity from the in-room dining team as a thanks for our loyalty.
The St. Regis also offered a 20% discount on the cocktail of the day for Platinum members, though I never did take advantage of this.
Both properties gave us a room upgrade over what we initially booked, though I asked for a specific upgrade at the St. Regis and it could not be granted until our arrival day — though we did ultimately get exactly what I wanted (a beachside villa with pool). Our room was proactively upgraded at the Conrad before I ever emailed them. The Conrad actually upgraded us a couple of room categories from a King Garden View suite (which is in a building that shares walls with other suites and has no real view) to a King Horizon View Villa, which I'd argue is really the room you want at the Conrad. While the overwater villa may be tempting, you really wouldn't have much of a view from one at the Conrad — the view at that property specifically is from the Horizon View villas (which I'm told will feature private pools next year — interestingly, both the staff at the Conrad and my butler at the St. Regis told me that).
Overall, the elite benefits were much better at the St. Regis. I'm a little surprised that the Conrad Bora Bora doesn't offer something more for Diamond members; the Conrad Maldives for example offers an afternoon cocktail and appetizer hour from what I've read. Something like that would be a nice addition.
Best breakfast: St. Regis Bora Bora
In my opinion (as well as my wife's), breakfast at the St. Regis Bora Bora was head and shoulders above the Conrad Bora Bora in terms of quality. That stands in stark contrast to Ben's analogy where he said that the Conrad made the St. Regis breakfast look like a Four Points by Sheraton by comparison. I thought breakfast at the St. Regis was much better — and furthermore, breakfast at the St. Regis included made to order eggs/waffles/etc (whereas the Conrad Bora Bora charges about $12 each to add on made-to-order eggs or other breakfast dishes). While the buffet was decidedly smaller at the St. Regis, everything just seemed better presented and better quality, which isn't necessarily captured in these photos, but here you go nonetheless:
By comparison, the Conrad had many types of fruit on the buffet. However, they didn't have serving utensils in most of them (you could obviously use one from another dish, it just seemed like someone could easily put one spoon in each bowl of fruit). Further, the fruit was uncovered, which was problematic for a couple of reasons. One morning there was a hair sticking out of the fruit salad that remained there throughout our breakfast (we returned to the buffet a couple of times between the two of us). I understand that hairs happen, but with the number of staff in the restaurant, it's a little surprising that nobody noticed it (of course, shame on us to some extent for not pointing it out I suppose). There were also a lot of flies around the fruit at the Conrad. I get that it's an open-air tropical environment, but the St. Regis had their fruit bowls covered and they had set up Dyson fans aimed at the air around it, which I imagine was to discourage flies from settling on the fruit — and that seemed to work.
There were also a greater number of Western-style options on the buffet at the St. Regis. Some of the items on the St. Regis buffet that I didn't see at the Conrad: bagels and Philly cream cheese, creme brulee french toast (which was awesome with the vanilla syrup!), croque monsieur sandwiches, a greater selection of cereals, muesli (on some days), and more. When you add in the ability to order Eggs Benedict with salmon or waffles with maple syrup or crepes with chocolate sauce, etc, breakfast just seemed better at the St. Regis. The Conrad had more local options, but if I were choosing between the two I'd take the St Regis buffet eight days a week.
Also, and I'll come back to this later, kids eat free at the St. Regis — which means that our son could also get made-to-order eggs, pancakes, crepes, etc. Between the three us, that was a $36 savings each day over what we'd have paid at the Conrad for the same.
Landscaping / grounds: Conrad Bora Bora
I mean, wow. The Conrad is gorgeous. That's not nearly a strong enough characterization, but I struggle to put it into words. Let this picture speak to the beauty of the Conrad Bora Bora's landscaping:
There were just no empty spaces at the Conrad and everything was well cared-for. We saw someone in the main building one day who appeared to be polishing some sort of post that looked nearly new. The St. Regis had a lot of this:
To be fair, that's not entirely the St. Regis's fault. I imagine that the Conrad, being built into a hillside, is a natural home to more vegetation. The St. Regis, being built on what I imagine is basically a sandbar, probably isn't meant to be as lush as it is. Still, there are small things they could do. We were told that the horizon-view villas at the Conrad are going to get swimming pools next year. I think that was why there were some random concrete columns under the deck area that weren't yet connected to anything (they are likely the foundation that will support the pool that I expect will be added on to the deck). However, rather than have empty columns, the Conrad had potted plants on top of them. The St. Regis could probably do some more with potted plants to make the grounds look prettier. That would come at considerable cost and upkeep time given the size of the property, but it's an example of where the property is lacking and where I think one could get the impression that the property isn't well taken care of, especially if comparing to the Conrad (which is a much smaller property).
All that said, I didn't see some of the deficiencies that Ben noted in his review of the St. Regis. For example, he showed a picture of a service golf cart in really poor condition. They must have taken that one out of service, because all of those carts looked great. Most things in fact seemed fairly well maintained given the size of the property and the high traffic it receives. That's not to give them a pass: I think they could do better, but I don't think most people would walk away thinking it was poor.
More Family-friendly: St. Regis Bora Bora
This outcome surprised me. The Conrad has a cool little kids club that was open every day during our stay and was staffed with someone who could watch and play with your kids or you were welcome to stay with your kids and play with them. I think the club officially opened at 10am, but we wandered in around 8:30am after breakfast a couple of times and the door was unlocked and we were able to play. Our son loved it.
They also had a bunch of brand new kids' bikes that I think were delivered while we were there.
The St. Regis also has a kids' club, but it is only open by appointment (24hrs in advance) and then only in the evenings and you pay for the staff member hourly like a babysitter. That's a bummer — we didn't bring a lot of toys on this trip and it was nice to have a variety of stuff to play with at the Conrad.
How, then, does the St. Regis win in terms of family-friendliness? Free food. Kids under 7 years old eat free at the St. Regis Bora Bora off of the kids' menu, which was actually really good and the portions were adult-sized. Rather than being all chicken nuggets and french fries, our son ate mahi mahi and grilled chicken and had sides like grilled vegetables and penne with sauce. Our boy has quite an appetite and couldn't manage to completely finish one of these meals in one sitting — we brought leftovers back to the room several times. In fact, a few times we even ordered two side dishes and it was still complimentary. While I knew from my stay earlier this year at the Courtyard Hakuba that kids get free ice cream at Marriott's Asia-Pacific hotels (in fact, that was the first time my son tasted ice cream), I didn't realize that Asia Pacific hotels and resorts offer free buffet breakfast for children (12 and under) of Platinum members (up to 2 kids). But the St. Regis takes this a step further with free food all day for kids. In a place like Bora Bora where food is Expensive (yeah, with a capital "E"), that is huge.
But let me expand on that: our first day at the St. Regis Bora Bora, we ate dinner at the pool bar and asked for a glass of cold whole milk for our son. The waiter asked if we might like to have a larger container of milk to bring to our room. When we said sure, we definitely didn't expect him to come back with an entire unopened carton of milk to bring back to our fridge to use over the coming days, but that's exactly what he did. Contrast that with the nearly $8 we were charged for a single glass of milk for our son one day at the Conrad and you can see why I'd say that the St. Regis was more family-friendly. And it wasn't that I found some fine print somewhere alerting me to the free food for kids: it was the staff in the restaurants and at the pool that were clear with me a number of times in making me aware that if our son got hungry, we could order complimentary food for him. In a place where a hamburger costs $35, getting a growing boy fed for free each day really made the sticker shock sting a lot less. One key note here: a couple of times, the waitstaff forgot to waive the charge on the kids menu items (even in one instance where the waitress had told us at the outset that it would be free). As soon as I asked about it in each instance, they apologized for the mistake and re-printed the bill. I think it was an honest mistake because they ring the food in to the register in order for the kitchen to make it — but you should definitely keep an eye on the bill so you don't get charged.
We also got free hot chocolate (or milk) for our son delivered by the butler in the mornings. We only took them up on free ice cream for him once, but it was delicious. We actually took a video where we kept asking him if he was done with his ice cream because his "no" head shakes were so adamant that it was hilarious. I tasted it and I don't blame him.
I also give the nod to the St. Regis regarding leftovers: at the Conrad, we had asked for a microwave to be able to heat up food for our son. Unfortunately, they do not have in-room microwaves available but said that we could contact in-room dining to heat up his food whenever we needed. In-room dining certainly did help us with that several times — but it always took about 30 minutes from the time I first called until someone picked it up and re-delivered it. After my second time calling for food to be heated at the St. Regis, the in-room dining team asked if I'd like a microwave for the room. Of course I would! Perfect.
The St. Regis also had more kid-friendly activities. A couple of times a week, they have a fish feeding in their lagoonarium (an area of the lagoon where you can experience what it would feel like to swim in an acquarium — there are tons of fish) and a shark feeding by the Lagoon restaurant. The fish expert that comes in to do that answers questions about the fish and is very knowledgeable about fish and the area in general. He first came to Bora Bora in the late 1960's and is full of interesting stories. You can jump in and snorkel with the fish and he let a couple of kids help him throw food in for the fish. You can also buy bags of fish food in the gift shop for a couple of bucks and feed the fish on your own — which our son really seemed to enjoy.
Complimentary pressing of 2 items for each person each day at the St. Regis extended to our son, so we got some nice family photos dressed up at dinner each night since we were all wearing freshly-pressed outfits.
There were also a lot of little things that added up to great service for kids. On our last day (as we were walking towards the front to catch the boat to the airport), a landscaper saw us with our son and called us over to break open a coconut to let our son try the coconut water. The landscaper didn't speak much English and it would have been easy for him to just watch us pass by and leave — but he took the opportunity to do something nice for no reason other than to make a kid smile.
While the Conrad catered very nicely to our son as will be shown in a future post, the St. Regis seems much more family-friendly overall.
Beach / water spots: St. Regis Bora Bora
This one was tight. Both resorts have amazing white sand beaches, though the sand at the Conrad Bora Bora felt like absolute powder between your toes. I remember the sand at the Whitsundays in Australia kind of squeaking as you walked on it because it was so fine. While the sand at the Conrad didn't do that, it felt so nice that I noticed I was just dragging my foot through it back and forth at one point.
On the other hand, the beach at the St. Regis Bora Bora had a much better view. We also saw a lot more life in the water at the St. Regis.
At Conrad, the overwater villas were right in front of the beach, so you were basically just looking at those.
While the Conrad had kayaks to take out on the water, you couldn't go too far out in front of the villas since the resort faces the open ocean. Both resorts had kayaks, but the St. Regis had more non-motorized water sports equipment. There was a pedal-boat bicycle and outrigger canoes and a greater variety of kayaks/boats. We took out snorkeling equipment on the first day at the St. Regis and were told to keep it to use for the week (which may have also been the case at the Conrad — we didn't snorkel there). The St. Regis is a much larger resort, which likely necessitates having a lot more equipment
The St. Regis also had beach workers who were there to offer towels and to take drink orders. They constantly offered us (free) water, (free) juice shots (non-alcoholic), and asked if we needed to order any (complimentary) food for our son. My son even learned how to "cheers" with free watermelon-mango juice that was served in plastic champagne flutes one day.
Maybe it was just the stretch of beach we frequented at the Conrad, but we never saw a worker coming around with anything like that there.
Again, I thought the sand at the Conrad was downright dreamy. The sand at the St. Regis was also really nice, though more heavily trafficked and therefore a bit less powdery (though of course we're comparing an Lamborghini vs a Ferrari here; you're unlikely to be disappointed with either). Beach view and facilities overall have to go to the St. Regis though.
Rooms: Conrad Bora Bora
The Conrad wins here hands down. I was actually pleasantly surprised with the beachside villa at the St. Regis, but there is not even a shadow of a doubt that the Conrad has nicer rooms. Again, we're comparing two pretty incredible properties here, but the St. Regis fell a little short.
As soon as you entered the Horizon View Villa at the Conrad Bora Bora, it felt luxurious.
That continued into the bathroom, which featured a deep soaking tub and dual vanities opposite each other.
And the shower felt not-quite as cavernous as the showers at the Conrad New York, but cut from the same thread at least, with both a rainfall and handheld shower head and a full door to that shower "room".
The bathroom at the St. Regis Bora Bora sucks. I'm not sure in what universe this shower design makes sense, but it's not one in which you value not freezing while showering (assuming you're running the AC in your villa) and certainly not one with a toddler who likes to take hold of the handheld shower head. Further, the tub was really awkward because it was so deep and the lip was awkwardly high/angled, making it harder than it looks in the picture to get in and out.
I also loved the scent of the toiletries at the Conrad Bora Bora. I honestly felt like I wanted to shower three times a day just because the stuff smelled relaxing and luxurious. I personally didn't like the toiletries at the St. Regis, but that's surely subjective.
Both rooms featured a really comfy bed. If you're ever seen the movie Couples Retreat, which was filmed at the St. Regis (and plays 24/7 on one of the TV channels), the rooms essentially look exactly like they did in the movie.
Another thing that I just don't get at a luxury international property is when they do not have at least one or two multi-type outlets. The outlets at the St. Regis Bora Bora are all the European two-prong style. The hotel does provide you with one adapter in your room, but it's only a 2-prong adapter. I have a 3-to-2 prong adapter that I keep in my backpack, so I was able to use their adapter with my laptop, but these days I expect any international-branded hotel charging north of a thousand dollars a night to have at least one outlet in the room that accepts multiple plug types. Even if they don't want to install new wall outlets, I was at a property recently that had a box with those outlets that plugged into the local outlet — basically like a small power strip with multi-plug sockets. For the record, the Conrad had at least one outlet in the bedroom and living room that accepted all of the various plug types. For the prices being charged at the St. Regis, I consider this to be a major failure in a day and age where everyone travels with multiple electronics. I only had one international adapter in my bag because I didn't expect to need one and as a result we couldn't plug in everything we needed to at night.
Another thing that really surprised me at the St. Regis: many of the glass doors (like to the outdoor shower and on the sides of the villa) featured huge gaps between the doors and walls, which meant that mosquitoes / lizards / bugs could easily enter. While we didn't have a major problem with this, we all got more bug bites at the St. Regis than at the Conrad and I think this was a factor.
The Conrad isn't perfect; in a couple of places the floor boards were in poor shape already — and the rooms look fairly new. However, overall it definitely felt more luxurious. There was a bluetooth sound system both in the room and on the patio and we rocked our music more than a few times. I loved the patio view of the horizon view villa.
That said, the backyard view at the St. Regis was nothing to sneeze at.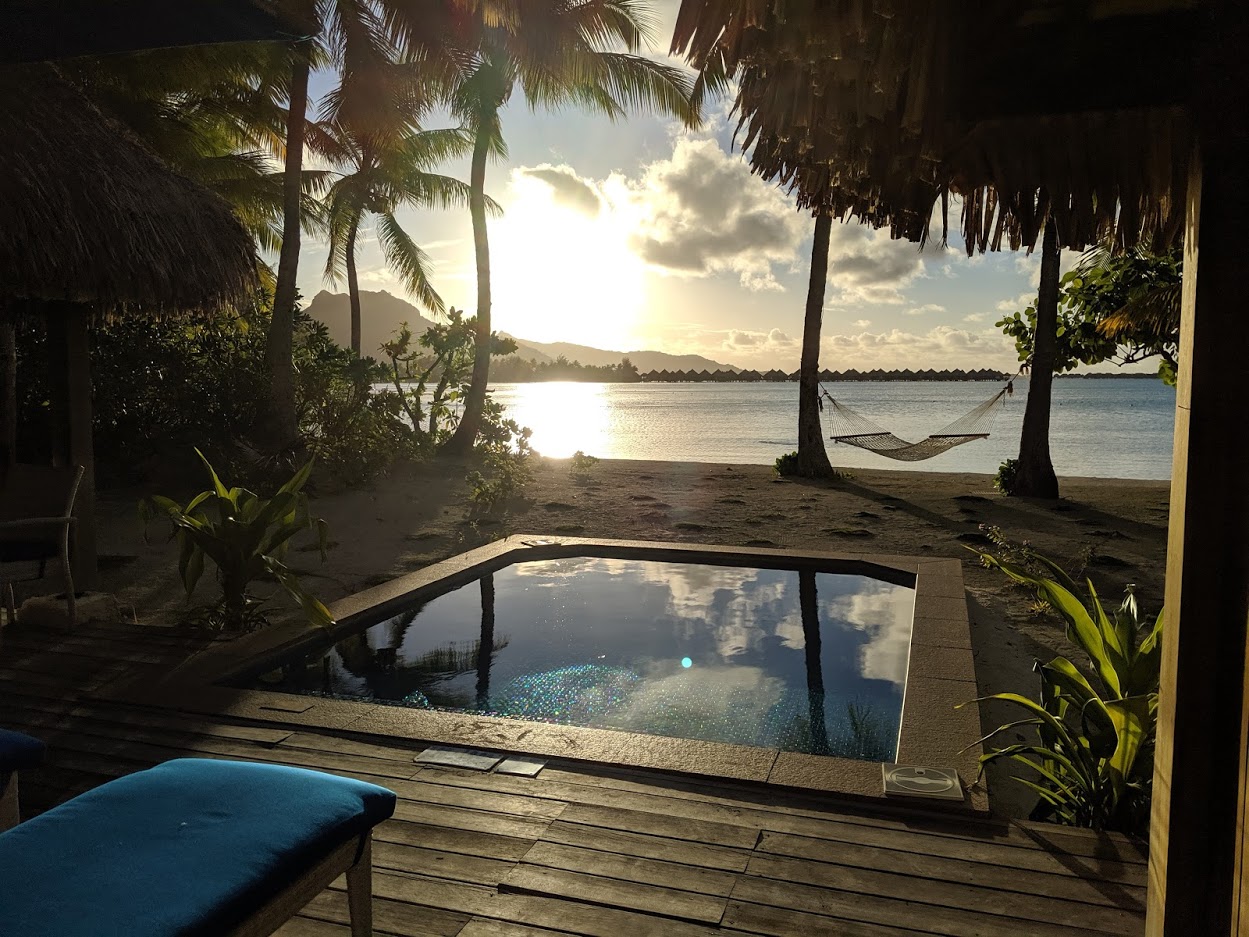 One day I set up an "office" on the beach side of the hammock for our Frequent Miler on the Air live broadcast / podcast.
But back inside the room, one thing that really annoyed me at the St. Regis: they block the bedroom door so you can't close it all the way. There are sliding doors that are meant to close, but they have nailed in boards to prevent you from closing the bedroom. It's just a louvered door, but we found that even with our son's crib set up in the living room, we couldn't watch a movie in the bedroom as the sound / light was enough to wake him.
Don't get me wrong: having an entire villa is awesome. I'd go back to the St. Regis and stay in the same room tomorrow if I could. But if I'm comparing, the Conrad wins this one.
Service: St. Regis Bora Bora
Service at the Conrad Bora Bora was extraordinary from the front office team and people at the pool. Sebastian, the general manager, was highly personable and I saw him talking with many guests throughout our stay. Caroline, the guest relations manager, was fantastic. I'll have more about her in a separate post, but suffice it to say that Ben's review of the property is right in the sense that she is meant to be in hospitality. From the moment we arrived and were greeted by Laureen to Oliver's sunny and welcoming attitude at the pool, there were individual people who really stuck out at the Conrad. Service in the restaurants, by contrast, was slow and lacking a bit (for example, one morning they forgot to bring our coffee at breakfast — which, at a buffet, is really the only thing the wait staff is tasked with for your table).
But the thing that really stuck out to me after five nights at the St. Regis is the fact that the staff seemed to never say no. I found myself marveling over that at some point: there just didn't seem to be any request that was met with "no" or "we can't do that". I didn't try asking for a bag filled with money, but every reasonable thing we requested was met with an affirmative response:
-Can our son get fruit on his crepes even though that's not one of the listed options? "Of course."
-There are no blueberries on the buffet, but I see there are some in the muesli — would it be possible to get a small dish of blueberries for him? (our son loves blueberries). "Yes, of course!"
-The hem in my wife's shorts has come out, is there someone who can sew that to fix it? "Absolutely" (we were told it would take an hour, but I think it was done in less than 30 minutes).
-The kid's menu indicates that the dishes come with a side; can we order a second side dish for him? "Yes, sir!"
-Butler service includes complimentary pressing for 2 items per person each day: does my 1.5yr old son count as a person? "Yes, of course!"
-Do you have any sand toys like a bucket/shovel/etc? "Yes, we'll send some to your room!"
-We're heading to breakfast but don't want to miss our morning coffee (free butler coffee service is available once daily between midnight and noon), can we order two iced coffees and can the butler just stick them in our fridge so we can drink them later? "Yes, sir!"
-Is there a small cup for the free sunscreen? "Yes, of course" (which was really, "No, but I'll fill an entire drinking cup with SPF 50 sunscreen so you can take it with you. After all, you look like Casper and surely need a lot of this". That last part was signaled with him touching his sun-soaked arm and then pointing to mine).

-In addition to our morning coffee, can we get a hot chocolate for our son? "Yes, of course."
I know there were many more examples. As mentioned above, kids eat free at the St. Regis and one day at the beach we wanted to order our son a meal. We weren't hungry but thought we should order ourselves drinks. My wife had a glass of wine and I asked for a smoothie. My son ended up drinking most of the smoothie, which was no biggie to me — but the beach attendant didn't charge me for the smoothie, just the wine.
Our butlers were also excellent. We had one butler for the first three nights and another for the last two. Ida, our first butler, was from Hong Kong and helped set us up with restaurant reservations for our whole stay (side note: you want to make reservations in advance — this is one of the few times I'd advise you to do your research in advance and respond to that email from the hotel asking for the times and restaurants you want ahead of your stay as we weren't able to get a table before 8pm on 2 of the 5 nights of our stay). She also found the sand toys for our son and sent them to our room and surprised him with a little stuffed St. Regis turtle early on. She met us at breakfast every morning and talked with us to find out our plans for the day and remind us of our restaurant reservations. She was also waiting to give us a ride back to our villa after breakfast a couple of times.
We also had a lot of little surprises at the St. Regis: there was the champagne at the beginning and the rum on day 2, but there was also a small sea salt gift at the French restaurant after dinner and a vile of perfume given at the end of another meal. We were given a plate of free desserts (small pastries) at another restaurant. These weren't unique to us, but rather nice little surprises that we saw them give to others as well.
The Conrad did a terrific job welcoming our son. The restaurant manager also came over to check on us at each meal and made sure we got a terrific table in the first row for the Polynesian show one night. There were bursts of greatness at the Conrad for sure. But overall, I felt like the St. Regis constantly excelled in unexpected ways.
Bottom line
Both the Conrad Bora Bora and the St. Regis Bora Bora are fantastic properties. I think it would be hard to leave paradise unhappy with a stay at either. If I had to pick only one to which I could return, it would be the St. Regis Bora Bora. Between the amazing service and larger property / more extensive facilities and better views, I just think it's a better pick between the two. That said, if I ever get to Bora Bora again (and gosh I hope I do), I would make an effort to be sure to stay at both properties again. They each had advantages and I think they are both worth a stay if you can swing the points / free night certificates to do so. More to come on the beauty of Bora Bora and how the Conrad Bora Bora rolled out the red carpet as well as a separate comparison of food at both properties as well as how to save a bunch of money if Bora Bora is on your radar.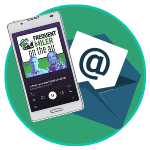 Want to learn more about miles and points?
Subscribe to email updates
 or check out 
our podcast
 on your favorite podcast platform.