If you missed it last night, there's a new set of offers in town: Chase Offers (See: Chase's foray into offers: Whole Foods, Lowe's eBags, and more). But let there be no doubt, Amex is still the king of offers. There are some hot new Amex Offers out this morning — including one at Staples that I'm sure will likely fill up and disappear: 2,000 Membership Rewards points back on a purchase of $100 or more. You'll want to log in and add that one sooner rather than later. While you're at it, check out some other good offers I found this morning:
Staples.com: 2K back on $100+
Why it's good: Staples.com sells a variety of gift cards online, so you can get a nice rebate here even if you're not looking for something from Staples. Based on our Reasonable Redemption Values, 2K Membership Rewards points are worth about $36, making this offer yuge.
Expires: 1/15/18
---
Ticket Galaxy: Spend $300+, get either 10K Membership Rewards points or $100 (see your offer)
Why it's good: Ticket Galaxy is an event ticket reseller with pretty poor reviews online. That said, 10K points are worth somewhere in the neighborhood of $160 (or more depending on how you use them of course) — and whether you're taking 10K points or $100, that's a big enough percentage that there may be enough room to scalp from the scalpers. I haven't done any research yet to see if there is a resale opportunity, but I added this one to all of my cards now so I could ask questions later.
Expires: 2/15/18
---
Allen Edmonds: Spend $200, get 5,000 Membership Rewards or $50 (see your offer)
Why it's good: I don't own Allen Edmonds shoes, but I know that those who do seem pretty enthusiastic about them. The $50 back on $200 offer has come around each of the past few years and can pair with their holiday sales (see what I did there?) to make for some great deals relatively speaking (if you would have considered paying full price anyway). This is the first time I've seen a Membership Rewards version of the offer, which I value higher and think makes it an even better deal if you're in the market for Allen Edmonds shoes.
Expires: 12/25/17
---
Hilton Gift Cards: Spend $50+, get $10 back up to 4x
Why it's good: I found this offer on almost all of our Amex cards this morning. Since each one can be used up to 4 times, it would be easy to stack these for 20% off of a hotel stay. As far as I know, there is no resale market for Hilton gift cards — I believe the only place to get them is from American Express (I don't believe they are sold by Hilton or in hotels). If you have paid Hilton stays, you could save a bundle if you have this on multiple cards.
Expires: 2/28/18
---
ShopRite: Spend $75+, get 2,000 Membership Rewards up to 2x
Why it's good: Shop Rite is a grocery store chain in the northeast. I thought it was a bit odd to have gotten this offer since the closest ShopRite is probably at least 70 miles away from me, but I do pass through areas with them often enough to put this one to good use. I got excited when I saw that it could be used online: ShropRite sells some random stuff online around the holidays. They had Apple Airpods for $130 with free shipping this week. In the past, I've bought iPads and gaming consoles and Nexus tablets and other random stuff from them. Unfortunately, they sell these things through shopritedelivers.com — and the Amex Offer explicitly excludes ShopRiteDelivers.com. That probably won't stop me from trying, but I don't imagine it will trigger the credit. Still, I'll be thrilled to pick up 4K total Membership Rewards on $150 total spend (2 x $75) on a couple of cards. This was only on one card each for my wife and I.
Expires: 1/10/18
---
Bottom line
These are some terrific new Amex Offers. The Staples offer was found on all of our business charge cards and the Ticket Galaxy, Allen Edmonds, and Hilton offers were on all or nearly all of our Amex cards. The Shop Rite offer was definitely targeted, though I was surprised to be targeted given that I don't live terribly close to a location. Take a look at your offers and see if you were targeted for anything else interesting!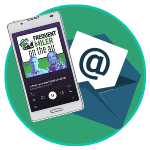 Want to learn more about miles and points?
Subscribe to email updates
 or check out 
our podcast
 on your favorite podcast platform.