There is a new Amex offer out today that gives an extra 5x at Amazon.com on up to $300 in purchases (maximum of 1,500 bonus points). I'd recommend signing in and adding this sooner rather than later as these offers usually disappear quickly.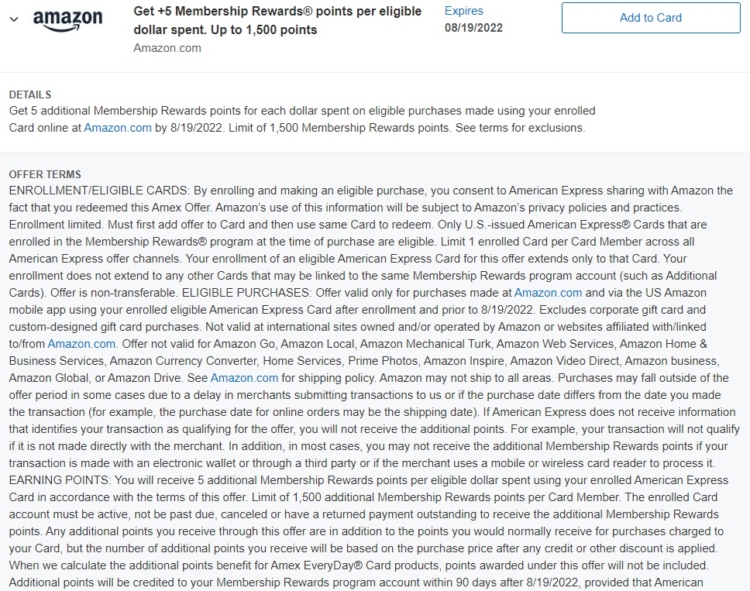 The Deal
Get an additional 5x Membership Rewards points at Amazon.com (up to 1,500 bonus points) with a targeted Amex Offer
Key Terms
Expires August 19, 2022.
Offer valid only for purchases made at Amazon.com and via the US Amazon mobile app using your enrolled eligible American Express Card after enrollment and prior to 8/19/2022.
Excludes corporate gift card and custom-designed gift card purchases.
Not valid at international sites owned and/or operated by Amazon or websites affiliated with/linked to/from Amazon.com.
Offer not valid for Amazon Go, Amazon Local, Amazon Mechanical Turk, Amazon Web Services, Amazon Home & Business Services, Amazon Currency Converter, Home Services, Prime Photos, Amazon Inspire, Amazon Video Direct, Amazon business, Amazon Global, or Amazon Drive.
EARNING POINTS: You will receive 5 additional Membership Rewards points per eligible dollar spent using your enrolled American Express Card in accordance with the terms of this offer. Limit of 1,500 additional Membership Rewards points per Card Member.
Quick Thoughts
This bonus tops out when spending only $300, a lower limit than some of the recent Amazon offers we've seen. But it's still a nice, easily-attainable sweetener for Amazon spend.
Regular gift card purchases, from either Amazon or from third parties, will earn bonus points. The only gift cards excluded are corporate or custom-designed cards.
I definitely recommend checking for this one sooner rather than later…the Amazon offers usually disappear fairly quickly. Sometimes, Amazon will have several variations of targeted Amex offers out at the same time, so let us know if you see a different one.
Check out our full database of current Amex offers here.
(h/t: GC Galore)