Update 5/2/20: This has been extended to May 11, 2020.
Update 4/22/20: This offer has been extended to April 30, 2020 if you didn't have an opportunity to use it yet.
~
On today's Last Chance Deals post we included the latest Amazon promo where you could save 20% when redeeming at least 1 Membership Rewards point. That promo has actually been extended to April 30 and there's a similar promo going on right now that can save you 20% when redeeming 1 Discover point.
The Deal
Key Terms
This is a limited offer. The promotion will end on the earlier of (a) 11:59 PT on 4/20/2020 4/30/2020 5/11/2020, or (b) the time at which offers worth $2,000,000 have been redeemed.
Maximum savings of $50.
Quick Thoughts
This is a targeted offer which is a great deal if you have access to it because it can save you 20% on up to $250 of spend. If you're struggling to come up with $250 of merchandise to buy on Amazon, this offer can also be used to buy third party gift cards (but note that it can't be used to buy Amazon gift cards themselves).
Something to be aware of is that items have to be sold and shipped by Amazon. A large number of items listed on Amazon are sold by a third party seller and shipped by Amazon, so those aren't eligible.
Be sure to only redeem 1 point when taking advantage of this offer. While redeeming more points than that doesn't represent awful value with Discover seeing as you're effectively cashing out at 1cpp, you can get more than 1cpp of value by redeeming your cashback bonus directly with Discover for gift cards that come with at least a $5 bonus.
When trying to activate this offer, you might get a message saying that you're not eligible for it. If that's the case, don't give up. I've gotten that message a number of times in the past with similar offers, but following the steps below has usually resulted in me finally being targeted. It's worked for other readers in the past too, so it's not only my account that eventually gets lucky. Here's what to do:
Delete every Discover card that you have saved as a payment method on your Amazon account.
Add one or more of those cards back as a payment method.
Re-enroll in Pay With Cashback Bonus (our affiliate link).
Try to activate the offer (our affiliate link).
It'll likely say that you're ineligible immediately after doing this. If so, check every day as it usually takes a few days before you're able to activate it.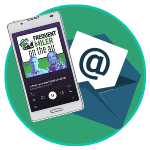 Want to learn more about miles and points?
Subscribe to email updates
 or check out 
our podcast
 on your favorite podcast platform.