In this week's Frequent Miler week in review around the web, check out a caution shut down story that reminds us to keep a safe distance, a nice resource list of courses you could be taking right now, an argument for the IHG cards, and more.
Miles per Day reports on just how savagely eBay came down on not just him, but people loosely associated with him. I've heard a number stories cut from this thread about shut downs with various institutions where a bank / store / company goes the extra mile to shut down not just your account but also those around you. I'd hate to be having to explain to coworkers (and in turn for them to have to explain to spouses) why their eBay accounts got shut down because of my mistake. Good reminder to keep your activities in this game as separated as possible from others.
Maybe a day late and a dollar short for some folks in states, but for those of us who are going to be at home for a while, I thought this resource from Lazy Traveler's Handbook was terrific. I've seen various things online about this place to get free courses or that one, but seeing a list compiled together like this seemed like a potentially useful resource for those with some time on their hands.
As expected, Cathay Pacific eliminated fuel surcharges on most of its routes on May 1st. We weren't sure that it would apply to award tickets, but indeed it does — and not just to awards booked with Cathay Pacific miles but also those booked through partners. This post at Mainly Miles has the key details.
I appreciated this timely post from Prince of Travel because I've (only half-seriously) considered transferring 50K miles to Aeroplan to pick up free elite status this month. If I did that, it would mostly be to try to run a match down the road, so I hadn't looked closely at the benefits. Keep in mind that Prince of Travel is a Canadian blog, so the valuations he's using are likely in Canadian Dollars. As I read it, I thought that I'd value most of the benefits even less than he did. Further, the most valuable benefit is savings on fuel surcharges for North American awards — but I'd almost surely be booking those through Turkish anyway and the mile savings outweighs the fuel surcharge savings even if I do book Air Canada. Essentially, this post confirmed that the only reason for me to consider this transfer is for the hope of a match later on. Meh.
I started out reading this post convinced that there was no way that the Free-quent Flyer would convince me that there was a decent strategy to be had with the Chase IHG credit cards. By the end of it, my furrowed brow was raised and shoulders shrugged. Greg and I recently talked about downgrading here and why we thought that was a better play, so we've just recently discussed some of these points, but I think putting it together with cheaply-purchased points It's true that an IHG strategy is better than a paying-full-price strategy for someone with no interest in MS and whose primary interest is in visiting places rather than nice hotels.
---
That's it for this week around the web. Check back soon for this week's last chance deals.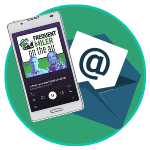 Want to learn more about miles and points?
Subscribe to email updates
 or check out 
our podcast
 on your favorite podcast platform.