I did not see this coming.  A great new credit card has just been introduced with no fanfare and no press leaks: Amex Blue Business Plus.  Unlike other recently introduced cards, this one is not a premium card.  Far from it.  This one has no annual fee.  And, it's a business card.  And that's a good thing.  Read on…
The Blue Business℠ Plus Credit Card: 2X Everywhere
The exciting thing here is the earning structure for this card: 2X Everywhere, up to $50,000 in spend per calendar year (then 1x thereafter).
This single feature has propelled this new card to the top of our Best rewards for everyday spend page.
Transferable points
Unlike the old similarly named Blue for Business card, the Blue Business Plus card earns real Membership Rewards points.  That is, even if this is the only Membership Rewards card you have, you can transfer points to airline miles.  And that's one of the best uses for Membership Rewards points.
In our resource page "Amex Transfer Partners," you'll find recommended transfer partners, other transfer partners (those that might not offer great value), and indirect transfer partners (where you can transfer first to one partner and then to another in order to achieve some goal).
Due to the fact that transferable points make it far easier to cherry pick great awards, Membership Rewards points have a high Reasonable Redemption Value (RRV): 1.82 cents per point at the time of this writing.  That means that you can reasonably expect to get 1.82 cents per point value, or better, when transferring points to miles and using those miles to book high value awards.
Since the Amex Blue Business Plus card earns 2 points per dollar, it is reasonable to expect to get 2 x 1.82 = 3.64 cents per dollar value for all spend, up to $50,000 per year.  That's excellent.
Pay with points for airfare
Update: This post includes offers that were valid at the time of publication, but have since expired. Please click here to see the best offers currently available.
If you couple this card with the Business Platinum card, you can get excellent value from your points by paying with points for flights via Amex Travel.  The Business Platinum card offers a pay with points rebate for economy flights with your selected airline or with business or first class flights with any airline.  The new standard rebate is 35% points back, but if you sign up new or upgrade to the card by May 31st, you can continue to get the 50% rebate for another year.
With a 35% rebate, points are worth just over 1.5 cents each (and so the Blue Business Plus card earns about 3 cents value per dollar).  With the expiring 50% rebate, points are worth 2 cents each.  Therefore the Blue Business Plus card earns 4 cents per dollar towards flights when points are used in this way.  That's awesome.
No Annual Fee
The fact that this card has no annual fee makes it a great option for anyone with a business.  If nothing else, having this card open means that you can cancel other Membership Rewards cards without fear of losing your points.
Are you eligible for a business card?
You must have a business to apply for business cards.  That said, it's not uncommon for people to have businesses without realizing it.  If you regularly sell items on eBay, for example, then you have a business.  Similar examples include: consulting, writing (e.g. blog authorship!), handyman services, owning rental property, etc.  In any of these cases, your business is considered a Sole Proprietorship unless you form a corporation of some sort.  If you want to keep things simple, you can use your own name as the business name and your own social security number as the business Tax ID.  You can optionally create a business tax ID (EIN), instantly and for free, via the IRS website here.
Business card advantages
No 5/24 Pain. Amex business cards are not reported to personal credit bureaus and so they do not affect your 5/24 status.  That is, if you want to sign up for Chase cards in the future, signing up for Amex business cards won't hurt (except the very small and temporary ding to your credit caused by a hard credit inquiry).
Amex OPEN Savings. Amex small business cards are also automatically part of the Amex OPEN Savings program.  This means that you'll automatically earn additional rewards or savings when you spend with Amex OPEN partners.  Currently, those include FedEx, Hertz, HP, and 1-800-Flowers.
Better Amex Offers.  As I pointed out in the post "Awesome Amex Offers and how to get them," a number of the best recent offers have been limited to business cards.  This card, along with any authorized user cards you get, will give you extra chances at getting those great offers.  Plus, some offers are limited to Membership Rewards cards.  Again, this card opens the door to those as well.
Buy Membership Rewards points indirectly and cheaply
There are many options for increasing credit card spend, usually with a small fee, for things that usually can't be paid by credit card.  By using these methods and earning 2X points, you can essentially buy Membership Rewards points cheaply.  Here are some examples:
Pay student loans or fund college savings programs (details here).  Buy a $500 Gift of College gift card with a $5.95 fee.  With this option you can earn 1012 Membership Rewards points for $5.95.  That's a cost of just over half a cent per point!  $5.95 / 1012 = $0.0059.  Wow!
Pay federal taxes (details here).  Pay1040.com lets you pay end of year or quarterly estimated taxes via credit card for a 1.87% fee.  If you pay a $1000 tax bill, for example, you would pay $18.70 in fees, but you would also earn 1018.7 x 2 = 2037 points.  So, paying the fee is like buying points for only 0.9 cents each ($18.70 / 2037).
Pay bills (details here).  The Plastiq bill pay service charges 2.5% for payments made via credit card.  If you pay a $1000 bill, for example, you would pay $25 in fees, but you would also earn 1025 x 2 = 2050 points.  So, paying the fee is like buying points for only 1.2 cents each ($25 / 2050).
One small bummer
If you start using this card to pay student loans, taxes, and other bills, I imagine that you may quickly use up the card's $50K 2X calendar year limit.  I know I will.  My plan is to get my wife to sign up for the card too.  And, maybe my dad… And, my son will be 18 in the fall…
And another
Unfortunately, this is a credit card, not a charge card, so it is subject to Amex's limit of 4 or 5 credit cards per person.
More info
More details about the card and its current signup bonus can be found here: The Blue Business Plus Credit Card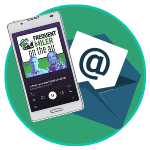 Want to learn more about miles and points?
Subscribe to email updates
 or check out 
our podcast
 on your favorite podcast platform.