Amtrak used to offer options to transfer Amtrak Guest Rewards points to Hilton at a 1 to 2 ratio and to Choice at a 1 to 3 ratio.  Without notice, Amtrak has discontinued both options.
In May we reported that the option to transfer Amtrak points to Choice was gone, but at the time transfers to Hilton were still available on Amtrak's website:
Now, even Hilton transfers are gone.  I reached out to an Amtrak public relations manager and he confirmed that these options really are gone:
I can confirm that we no longer offer point transfers to Choice or Hilton. We do have Amtrak hotels and cars which allows members to book hotels and cars using their points: https://trips.amtrak.com/hotel/search?currency=USD&locale=en-US&flow=spend
In place of the option to convert Amtrak points to hotel points at a favorable rate, we have the option to use Amtrak points to book hotels at a very poor rate.  I ran a few searches and found that using Amtrak points this way gives you approximately 1 cent per point value.  When you consider that Amtrak points can be used to book Amtrak rides at up to 2.9 cents per point value, you can see how poor of an option it is to spend them for 1 cent each.
The previous capability to transfer points to Hilton and Choice wasn't super exciting because it required jumping through hoops (you needed either Amtrak elite status or $20K spend on the credit card) and you didn't necessarily get good value (for example, since you can often buy Hilton points for a half cent each, transferring 1 to 2 to Hilton was like getting 1 cent per Amtrak point value).  That said, it was at least a theoretical option to get outsized value, especially with Choice points.  I'm sorry to see these options go.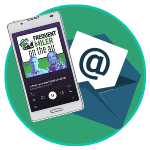 Want to learn more about miles and points?
Subscribe to email updates
 or check out 
our podcast
 on your favorite podcast platform.