Yesterday, we reported that Qantas Frequent Flyer is sending out emails to some members advising them of upcoming points expiration and the chance to extend points by clicking a link in the email. Apparently, that trend of requiring the consumer to take action to receive an extension is catching on because now ANA Mileage Club has sent an email to members indicating that they will extend the expiration of points for those who register for the extension.
Within the email sent to members is the following passage regarding points expiration:
We have already extended the expiration dates of miles and ANA SKY COINS due to expire between March 31, 2020 and February 28, 2021 up to March 31, 2021.
However, in light of the current circumstances, we will now extend the expiration dates of miles and ANA SKY COINS due to
expire between March 31 and August 31, 2021 up to September 30, 2021.
Members wishing to extend these expiration dates must register to do so within the registration period.

[ Registration Period ]
Up to 23:59 (JST) on August 31, 2021

* Please see the ANA website for further details on registration and this extension.
Link to register
Be sure to register here to extend your miles.
On the one hand, I'm glad that these programs are offering extensions. In the case of ANA, that is especially relevant since there is no other way to extend points expiration to my knowledge. ANA miles expire 36 months after earning them (or transferring them from Membership Rewards) regardless of your activity. Greg has previously written about his dilemma with ANA miles scheduled to expire.
On the other hand, given the current travel environment, I think it's pretty poor form to see airlines requesting proactive action from members to request extensions on points that they largely can't use. It obviously isn't the fault of the airlines that consumers can't use them and it is surely a very challenging time for airlines and other travel providers, but this still seems like poor service to me. I think it would be more reasonable for airlines to offer automatic extensions through at least next summer. Assuming that a COVID vaccine is widely available by then and countries have opened their borders, it would seem to me that points expiration could resume with largely similar results. International travel will still likely to be limited for a while and many customers are likely to allow points to expire without yet being comfortable with travel. It feels like the airlines would have similar results regarding breakage of expired points with fewer customer complaints.
But that's just my take – obviously the ANA and Qantas feel differently. At any rate, if you have ANA Mileage Club miles, keep an eye out for the email and make sure to register for the extension.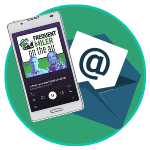 Want to learn more about miles and points?
Subscribe to email updates
 or check out 
our podcast
 on your favorite podcast platform.