Last month, we wrote about an easy-money promotion from Acorns (See: (EXPIRED) Huge $1,000 bonus for referring friends to invest). The deal is back, though this time it requires you to refer 12 friends (last time it was 10 friends). It's pretty simple — provide your friends with your referral link, get them to invest a minimum of $5 for a minimum of 30 days and you should qualify for the bonus. You'll receive $5 for each friends who signs up and deposits $5 and a bonus $1,000 next month for a total of $1,060. Last time, new users immediately had access to this promo after signing up — meaning that you should be able to sign up today and refer 12 people this month and get the bonus. Read on for details.
The Deal
Receive a $1,000 referral bonus if you get 12 friends to sign up for an Acorns account using your referral code by 2/28/18
If you sign up, feel free to use Greg's referral link with our thanks
Key Terms
Friends must invest a minimum of $5 for a minimum of 30 days to qualify for the promotion
Friends must invest by 2/28/18 to qualify for this promotion
Terms state that referrals will be paid out by 3/15/18
If you have previously referred friends for a referral promotion, you should still qualify for this new promotion
Quick Overview
In a nutshell, Acorns is a robo-investing platform that allows you to invest in ETFs in four ways:
Making a one-time deposit into your Acorns account
Automating weekly/monthly set-amount deposits
Rounding up the change from your purchases via linked credit/debit cards (e.g. You spend $10.58 and Acorns automatically withdraws $0.42 from your linked checking account to invest)
"Found money", which has two methods — most partners work like a traditional shopping portal where you click through the Acorns link to earn cashback that is invested, but some partners work similarly to other credit card-linked programs (like in-store cash back, Shell Fuel Rewards, etc) and award cash back when you use your linked card at those retailers
I signed up last month and invested a $200 of my own money and received $5 for each referral who signed up ($55 total). I have not yet received the $1,000 bonus from last month's promo, but expect to receive it by 2/15/18. My investments were up about $8 (~3.2%) initially, but took a dive with the market this week and I'm down $10.42 overall (which includes the $1 monthly fee). Others have reported respectable returns over the long-term — not as good as investing on your own, but better than not investing. Of course, assuming I receive the referral bonus, my $10.42 loss will be more than covered (and truth be told it already is with the $5 bonuses I've received for each referral). I'm insulated from poor market performance for a while anyway :-).
Signup is pretty simple, though keep in mind that they will require your Social Security Number since you are signing up for an investment account. I don't love the idea of giving out my number more often than necessary, but after the Equifax hack, I am ironically a bit less paranoid about the number itself now that I assume my information is out there (and I've followed our tips on How to Survive the Equifax hack).
During the signup process, you'll have the ability to fill out some profile information and determine what kind of investment portfolio you would like.
You can further expand those categories for "more info" on what each one means:
Unfortunately, you can not adjust the sliders as you see fit — you can only choose your preferred level of aggression and then accept the layout.
You will also need to link a bank account if you plan to auto-invest, either via rounding up or recurring investments. One thing that surprised me here: I had not linked any credit cards for round-up when I created my account. However, when Clint reached out with this deal a couple of days ago, I linked a bank account to transfer funds for a one-time investment. Today, I saw that I now had 3 cards linked for round-ups. The bank account I linked to transfer funds was a Capital One bank account, and to link it I had to log into my Capital One account via the Acorns system. I realized today that Acorns automatically enrolled all of my Capital One debit and credit cards for round-ups. I was able to un-link those cards today — but I didn't like the fact that they were instantly added. If you link a bank account login that also has credit cards linked to it, be aware that this may happen.
Once you have invested money, you can see your performance, invest more, withdraw, etc.
Note that per the terms, in order to qualify for the referral promotion, the friends you refer much invest at least $5 and keep it there for 30 days.
Fees
This is the kicker as their fee schedule isn't a deal (though that said, the thousand dollar referral bonus will mitigate this if you're able to refer friends).
$1 per month if you have under $5,000 invested
0.25% if you have over $5,000 invested
That makes this a relatively poor deal in comparison to doing it yourself. That said, if you're the type of person who will put off doing it yourself for the next five years, it's probably better to get the ball rolling on investment now.
Furthermore, reported returns certainly aren't bad. Danny the Deal Guru reports gains after fees of 12.58% over the past year. He furthermore reports that there are no fees for those under 24 years of age or those attending college. How soon can my as-yet unborn son begin investing? 😀
Found Money can be a win
The "found money" feature can add to the deal. There were recently some deals for signing up for a Sam's Club membership that brought the net cost to an approximate break-even point. Greg signed up for a Sam's Club account and he later got an email from Acorns saying that he received $10 in "found money" for signing up for a Sam's Club membership – icing on the cake.
Where to get your code
Acorns has sent out an email, though I didn't receive it yet. However, I can still see this promotion in my account and new members reported seeing it last time. You can find your referral link under the "Invite Friends" button in the top right when you log in. My link shows the $1,000 bonus when I click "Invite Friends" as shown below:
Where to share your code
Our spam filter automatically blocks comments with a link. If you would like to share your referral link with others, head over to our Frequent Miler Insiders group and post your link in the comments on this deal as a reply to my first comment on the post (referral links not posted following this direction will be deleted). This helps us keep the thread open for discussion below the referral links replies and below this post here at Frequent Miler. Thanks!
I think this one might also be an easy enough one to share with friends and family as it's a pretty simple investing platform. While the fees aren't cheap, the ability to auto-invest as little as $5 per week will probably make this one appeal to many people who would normally be daunted by spending $3,000 for a credit card signup bonus (and by the task of setting up their own investment portfolio. While Acorns won't become my primary means of investing, I think it's certainly got something for a segment of the investment market.
Bottom line
This is an easy thousand dollars to be made if you can find ten people interested in investing five bucks for a month. Note that your thousand dollars will be paid out in shares according to your investment portfolio — so you'll have to withdraw it if you're looking for cash. I have mixed feelings about Acorns as an investment platform as you don't actually see whatever it is you supposedly own — I'd feel better about owning shares I can see. However, the $1,000 referral bonus makes it very easy to try this out for now.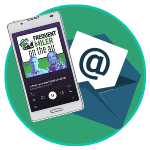 Want to learn more about miles and points?
Subscribe to email updates
 or check out 
our podcast
 on your favorite podcast platform.