In my recent posts "My end of year App-No-Rama application spree. 147K and counting." and the follow-ups "Chase IHG was the +1 at my application spree party" and "Results of my end of year application spree," I described applying for 10 Bank of America cards and one Chase card.  The Chase card and seven of the BOA cards were approved.  In response to these posts, a number of readers asked why I chose those particular cards.  Here's the answer…
My son is a senior in high school and has been actively applying to colleges for Fall 2017 admission.  He is very interested in one that has already accepted him, Kalamazoo College.  He even went on his own via Amtrak to visit friends who are currently freshmen there.  If he ultimately decides to attend, I thought it would be great to have a healthy stash of Amtrak points in hand, both for him to use and for my wife and I to visit him.
I thought the 30K offer for the Amtrak card was going to expire at the end of December (the usual offer is 20K).  Otherwise, I probably would have waited.  But, it turns out that the 30K Amtrak offer is still alive at the time of this writing.  That's OK.  If my son attends a different college, we'll still use the Amtrak points for weekend trips to Chicago or beyond.
Bank of America
To some extent, the rest of the Bank of America cards were simply add-ons to the Amtrak application.  I know from experience that multiple Bank of America applications within a short period of time result in only one hard inquiry.  So, why not apply for more?  The Bank of America section of my Best Offers page lists cards in order of estimated first year value (to see the estimated values, visit my Top 10+ Credit Card Offers page).  So, I mostly applied from top to bottom, but stopped when I felt like I had done enough.  Here's a look at each card I applied for, and how I expect to (or hoped to) use the signup bonus….
Amtrak 30K after $1K spend: As described above, we plan to use the points for Amtrak rides.  30,000 points are worth about $870 in rides.  That will go a long way!
Amtrak 12K after $1K spend; Same as above. (Note: a 15K offer is now available).  I plan to keep this card long term since it has no annual fee, but provides the same 5% point rebate as the other Amtrak card.  See: Amtrak Guest Rewards credit card review.
Virgin Atlantic 75K after $12K spend + add 2 authorized users: I plan to use Virgin Atlantic miles to visit additional Virgin Limited Edition properties as described here: The Hunt for Virgin Duckies.  Saner people than me may get more value by using Virgin Atlantic miles for Delta flights.
Alaska personal card 30K + $100 after $1K spend: We're considering using Alaska miles for travel to Africa on Cathay Pacific with a layover in Hong Kong (Alaska charges only 70,000 one-way for Cathay first class, with a stop-over allowed). Yes it would be a long way around, but if we can snag first class it should be worth it.
Alaska Business card 30K after $1K spend: Same as above.
Travel Rewards for Business 25K after $1K spend: I don't have specific plans for these points, but I believe I can use them to reimburse $250 worth of travel.
Cash Rewards for Business $200 after $500 spend: I'll use the $200 to offset the first year annual fees on many of the above cards.
Merrill+ 50K after $3K spend: This one wasn't approved, but I would have loved to use the 50,000 points for up to $1,000 in flights.  Miles Per Day has a great post with details about maximizing these points.
Chase
I previously described my reasons for applying for this card here: Chase IHG was the +1 at my application spree party.  The short version is that I was able to get the 80K offer with $50 statement credit, and the timing was such that the annual free night would line up nicely with my wife's IHG card.  That way, each year when we realize that our free nights are about to expire, we can book an entire weekend at an Intercontinental Hotel rather than a single night.
Why not other cards?
There are many cards that arguably offer much more first year value than the cards I chose.  With many, I wouldn't qualify since I had opened the same card in the past (Amex), or received the bonus within the past 24 months (Chase), or it has been within 24 months that I opened or closed an account within the same brand (Citi).  If I had a desire to open more cards at once, I would have gone for the 50K Citi AA Platinum card that doesn't have the 24 month language, or the Avianca Vuela Visa card with its awesome bonus: 60K miles after first purchase.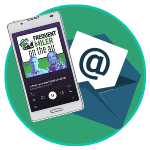 Want to learn more about miles and points?
Subscribe to email updates
 or check out 
our podcast
 on your favorite podcast platform.