Join me as I travel in style to Bangkok and back.
I arrived home this morning.  My return flight from Bangkok began with a short trip to Hong Kong on Thai Airways, followed by an amazing flight on Singapore Airlines in their Suites class from Hong Kong to San Francisco.  Then, like a slap in the face, I took a red-eye flight on Delta, in coach, back to Detroit.
I loved everything about the Singapore Airlines flight.  The suite and the service were awesome.  The food was good, but not great.  I hardly noticed that, though, because I was too busy savoring the overall experience.
The flight attendant, who introduced herself as Ivy Lee, was simply amazing.  She seemed to anticipate every need before I asked.  And, anytime she wasn't there, others were readily filling in.  None of my earlier experiences on this trip came close to the level of service I experienced on this flight.
Then there was the suite…  Wow.  Suite walls rose almost to the ceiling to create a truly private room.  The room looked great and was well designed with controls, storage cubbies, etc. wherever you needed them.  The entertainment system featured a huge, bright screen, a good selection of movies, and comfortable Bose headphones.  My only quibble was that the seat itself was uncomfortable when in the upright position.  There was something hard under the cushion.  It was so prominent that when I first sat down I actually thought I had sat on the seatbelt.  When reclined, though, the seat was great.
And, it gets better…  There were so many empty suites that every Suites Class passenger was given two rooms: in one, the seat was turned into a bed; and in the other the seat remained a seat.  I started thinking of the two rooms as my bedroom and my living room.  My living room was for watching movies and dining, and my bedroom was where I read and slept.  And, I slept well because the bed was incredibly comfortable.  That is, I would have slept well if I wasn't so darned excited about how great everything was…

My bedroom.  I opened the doors and the privacy shades to take this photo.

My living room, as viewed from my seat.  Note that the TV looks a bit warped in this picture due to the iPhone panorama feature I used.  It's quite straight in real life.
Why you shouldn't fly Singapore Suites Class
Now that I've flown Singapore Suites, I never want to fly any other way!  Had I flown this leg at the beginning of the trip rather than at the end, my First Class flights on Lufthansa and Thai would have been huge let-downs.  Don't let this happen to you.  And, more importantly, don't take away award space that I might need!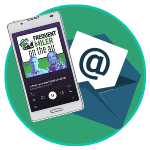 Want to learn more about miles and points?
Subscribe to email updates
 or check out 
our podcast
 on your favorite podcast platform.