View from the Wing reports on a new, easy, and potentially fairly lucrative offer to earn miles with a savings account from Bask Bank. While many long-time readers will remember BankDirect, this is actually a different account that I believe is backed by the same entity (Texas Capital Bank, N.A.). This Bask Bank account works similarly, but is better in many ways. I'm only half sold on the long-term value proposition, but I was sold enough to sign up and pick up a very easy 6,000 American Airlines miles at least in part because you never know when that kind of mileage may get you to New Zealand.
The short story
Bask Bank is offering a mileage-earning savings account. You'll earn 1 American Airlines AAdvantage mile per dollar saved annually (more on how this is determined below). You can additionally earn new account bonuses as follows:

Open an account and provide app feedback (can be done immediately after opening an account), get 1,000 AAdvantage miles
Deposit $1,000 and maintain that minimum deposit for 30 consecutive days within 60 days of account opening and get 5,000 AAdvantage miles

You can additionally earn bonus miles by funding your account within 60 days and maintaining a minimum balance for 360 days thereafter (keep in mind that these totals are in addition to 1 mile per dollar saved for a year):

Fund and maintain $25,000 for 360 days and get 10,000 bonus miles
Fund and maintain $50,000 for 360 days and get 20,000 bonus miles
Fund and maintain $100,000 for 360 days and get 40,000 bonus miles
Will you get a 1099-INT tax form?
Yes, you will. However, Bask Bank is valuing the miles at a rate of 0.42c per mile. In other words, you'll be taxed on a value of $4.20 per thousand miles. If you earn 10,000 bonus miles, you'll therefore owe tax on $42 worth of "income". I'm not an accountant, and this obviously varies based on your tax bracket and situation, but doing the quick math on tax brackets between 12% and 32% (which I think covers most Americans), that seems like a fairly reasonable amount.
Of course, note that Bask Bank could make changes here. At the moment, it seems they have a pretty fair valuation that won't necessarily be a deal-breaker.
How hard is this to do?
Opening this account is incredibly easy. It took me 9 minutes and 37 seconds total from the time I hit "Open an Account" to the time when I had arranged the transfer to fund it and logged in to provide feedback. That includes time spent taking screen shots and Googling an answer for one of the ID verification questions (just an odd coincidence I think — they asked which street was closest to an address on file and none of the answers sounded familiar to me) — you may find it takes you half my time. There is no hard pull and you can link your external account via bank login (they use Plaid for this) and fund your new Bask Bank account that way or you can alternatively use their routing number and your account number to fund from an external source after opening. It was as quick and easy to open the account as one would expect.
Normal mileage earning
This account earns 1 mile per dollar saved annually. Here's how the FAQs explain that:
The Bask Savings Account awards one AAdvantage® mile for each dollar saved annually. Miles are accrued daily and awarded monthly based on your average monthly balance. For example, if the account's average monthly balance for January is $60K, you will earn 5,096 AAdvantage® miles for that month ($60K ÷ 365 × 31). If that same balance is maintained in February, you will earn 4,603 AAdvantage® miles. After one year of maintaining an average balance of $60,000, the customer will have earned 60,000 AAdvantage® miles.
In other words, they figure your average monthly balance and pay you the miles earned for that month's share of a year's miles, so the number of miles you earn could vary each month if you are depositing or withdrawing. If you leave the money alone for a year, you'll earn 1 mile per dollar at the end of a year's time.
Bonus 1: Share feedback get 1,000 miles
After opening the account and logging in, you can easily click to "Provide app feedback" within your account and given them a star rating and write a couple of sentences. In my case, I gave a slightly longer piece of feedback due to the identity verification question oddity I encountered, but I don't think others are likely to have the same situation.
Note that the terms state that miles will be deposited in your AAdvantage account within about 10 days (assuming you link your AAdvantage account, which can be done from your account dashboard after opening your account and logging in by clicking the "Rewards" tab). However, Gary Leff reports that these bonus miles for feedback showed up in just a couple of days.
Bonus 2: Fund with $1,000 within 60 days and maintain it for 30, get 5,000 miles
Bask is also offering a new account opening bonus. When you deposit $1,000 and maintain that minimum balance for 30 consecutive days within 60 days of opening your account, you'll get 5,000 bonus American Airlines AAdvantage miles. While that quantity doesn't feel huge, the total of 6,000 bonus miles between providing feedback and depositing this $1,000 is potentially enough for some economy web specials within the US, and we've even seen international flights to New Zealand and Australia for 6,000 miles one-way (not likely to be a regular occurrence, but a good illustration as to why I'd argue that it's worth picking up easy miles when you can). With the extremely low bar set here, I'm happy to collect 6K miles with near-zero effort and very little opportunity cost.
Bonus 3: Bonus tiers for minimum 12-month balances
In addition to the bonuses for providing feedback and leaving $1,000 on deposit for the minimum time period, and in addition to the 1 mile per dollar saved annually that you earn in lieu of interest, you can earn the following bonuses for maintaining minimum balances over a longer period of time. Note that while these are advertised as being based on meeting the requirements for 360 days, the bonus are paid out each 180 days and they note that you could trigger different bonus thresholds (for example, earning the bonus on $50K deposited for the first 180 days and then withdrawing $25K and earning the bonus based on $25K for the second 180 days). Again, here are the bonus tiers:
Fund and maintain $25,000 for 360 days and get 10,000 bonus miles
Fund and maintain $50,000 for 360 days and get 20,000 bonus miles
Fund and maintain $100,000 for 360 days and get 40,000 bonus miles
As noted above, these are in addition to all of the other bonuses and the miles earned annually.
For instance, if you opened an account today and deposited $25,000 and provided feedback and then left the money deposited for 365 days, you would earn:
1,000 miles for providing feedback
5,000 miles for depositing $1K and leaving it for 30 days within the first 60 days of opening your account)
25,000 miles for saving an average daily balance of $25K for 365 days (earning the full 25K miles is based on your balance for a full year)
10,000 miles as a bonus for funding and maintaining $25K for 360 days
41,000 total miles
That's not terrible and could be pretty good depending on your use of the miles. Based on the current valuation, the 1099-INT for those miles should be for $172.20, so that should be the approximate amount of income on which you would owe tax based on your situation.
That stacks up great against the average savings account. On the other hand, most people with enough cash on hand to meet the bonuses are hopefully keeping that money in accounts with a decent yield.
Is this worth the opportunity cost?
In terms of opportunity cost, it's a fairly interesting debate. You're getting 6,000 miles for depositing a thousand bucks for 30 days, and I think that's a no-brainer. The real question becomes whether or not to deposit $25K (or more) for a year.
By depositing $25K and leaving it for a year, you'll earn 35,000 miles (25K at 1 mile per $1 saved and 10,000 bonus miles for leaving $25K for 360 days). Based on their current mileage valuation, the 1099-INT value of those 35K miles is $147. You'd therefore owe tax on $147 in "income" for the 35K miles. If your tax rate were 24%, you'd pay $35.28 in tax.
Let's say that your other option was to keep that $25K in a SoFi Money account, where it currently earns 1.6% APY. Instead of earning 41,000 miles, you could earn $400. You would then pay tax on $400 in income. Based on the same tax rate of 24%, you'd pay $96 in tax for a net win of $304.
Is it worth taking the miles over the money? While miles devalue and money is much more flexible, I think that's not a bad trade for many people.
That said, I've recently written about taking advantage of bank account bonuses and between high-yield accounts and new account opening bonuses, there are certainly opportunities to potentially do better than 1.6% APY with little effort. If depositing money here would take place of taking advantage of other opportunities, you'll have to do the math on what makes more sense for you.
I've personally been putting more focus on investing as of late and I'm not sure I want to tie up $25K or more for a year to earn these miles. If you could otherwise invest $25K to the tune of a 5% gain over the course of a year, you'd do much better (in my opinion) than the value of the miles. That only compounds as you reach the higher bonuses.
However, investing carries risk and could result in a loss, whereas this is FDIC-insured savings that is earning a reliable mileage return. The buying power of those miles isn't entirely reliable and neither is your account with AAdvantage guaranteed to remain open, but I imagine that many of us could maximize well enough to do reasonably well with very little risk.
Bottom line
After the recent revelations that BankDirect is now valuing miles quite highly, it's great to see a new savings option that enables you to earn miles on money you have sitting around. Whether or not this type of account compares favorably to other options really depends on what you're currently doing with your money. I suspect that many readers could put together the miles for a business class ticket with their emergency fund saved here through Bask Bank. If that money would otherwise be sitting in an "average" savings account earning next to nothing in interest, this would certainly be a better choice.
H/T: View from the Wing and Free Frequent Flyer Miles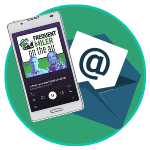 Want to learn more about miles and points?
Subscribe to email updates
 or check out 
our podcast
 on your favorite podcast platform.