After reviewing the detailed resources on
airline
,
hotel
and
flexibile points programs
, this page is designed to show you, "Which points are best?"  So, without further ado, here are my favorites:
#1: Chase Ultimate Rewards
Chase's Ultimate Rewards program tops my list because Ultimate Rewards points both easy to use, and extremely valuable.
Earning points
At the time of this writing, there are 4 publicly available credit cards that earn Ultimate Rewards. Based on current offers, it is possible to earn over 150,000 points from signup bonuses alone.  Increase your point earnings by taking advantage of category bonuses (Sapphire Preferred 2X travel & dining; Ink 5X telecom, cable, and office supply stores; and Freedom rotating 5X categories).  And, when shopping online, you can log onto your Chase Ultimate Rewards Account and click "Shop through Chase" to earn bonus points beyond those earned by your credit card directly.
Note: Chase has recently started making it much more difficult to be approved for Ultimate Rewards earning credit cards. Generally if you have opened 5 or more new cards in the past 24 months (across all banks) then they will deny you.
Using points
With no-fee Ultimate Rewards cards, each point is worth exactly a penny and can be exchanged for cash or gifts. The real value comes from two special credit cards that have more flexible redemption options: The Sapphire Preferred and the Ink Plus. With either of these cards, you can freely transfer points to various loyalty programs.  For example, you can get fantastic value by transferring points to United Airlines, British Airways, or Hyatt, (to name just a few). Since point transfers to most of these programs are instantaneous, you can wait until you have a specific award in mind before transferring your points. This flexibility gives your points more value than when stuck in a single purpose program.
Combining points
One of the neatest aspects of the Ultimate Rewards program is that points can be transferred from one account to another for free between spouses and domestic partners (Personal accounts only). Suppose, for example, a married couple has several Ultimate Rewards cards, but only one person has a Sapphire Preferred. The other person who earns points with other Ultimate Rewards cards (Chase Freedom, for example) could transfer their points to the Sapphire Preferred and then the person with that account can freely transfer those points to a loyalty program for redemption. In that way, points earned (that would normally be worth just a penny) become much more valuable.
#2: Starwood Preferred Guest (SPG)
Unlike Ultimate Rewards, SPG points are hard to get, but they can deliver extraordinary value once you have them.
Earning points
SPG points are earned primarily through hotel stays and credit cards. American Express offers both a personal and business version of their SPG branded credit card, so it's possible to earn two sign-up bonuses by signing up for both. You can also earn SPG points by using those credit cards for purchases. You will earn one SPG point per dollar for most purchases and 2 points per dollar when you use your card at an SPG hotel. Unfortunately, there are no options to earn extra points through an online shopping portal.
Using points
It's here that the SPG program really shines. A free night at a category 4 hotel requires only 10,000 points. By comparison, a similar hotel in the Hilton chain would require 40,000 to 60,000 points per night. Even better, you can sometimes find "cash and points" options in which you pay a small amount of cash per night in addition to points for a room. For example, when available, a category 4 hotel would cost only 5,000 points + $75 per night. If you find a rate like that in an otherwise expensive city, it can be an incredible bargain and it's a great way to stretch your valuable points further.
Another option for using SPG points is to transfer them to airline miles. SPG has a huge list of airline programs they support. In most cases, points transfer 1 to 1. (The primary exception to the 1:1 transfer ratio is United where the ratio is 2:1, so it takes 2 Starpoints to get each United mile. This is quite an unfavorable transfer rate and should not be considered except in rare circumstances.)  If you transfer in blocks of 20,000 points at a time, you get a 5,000 point bonus. For example, if you transfer 20,000 SPG points to American Airlines, you end up with 25,000 American Airlines miles! (But if you transfer 20,000 Starpoints to United Airlines, you end up with 15,000 United Airlines miles.) As a result, each SPG point earned is automatically worth more than an airline mile since it can be converted to 1.25 airline miles! One downside of converting points to miles is that the transfer can take anywhere from a couple of days to a couple of weeks. So, you do need to plan ahead when you want to take advantage of this option. There are several other great uses for SPG points which are covered in other resources, but if you're curious now take a look at Starwood's Redemption Options Page.
#3: American Express Membership Rewards
Membership Rewards points are easier to earn than SPG points, but not as valuable as either SPG points or Chase's Ultimate Rewards.
Earning points
American Express has quite a few cards in the Membership Rewards program so there are plenty of sign-up bonus opportunities. Pay attention to your mail because it's not unusual for American Express to send out targeted offers with signup bonuses ranging from 50,000 to 150,000 points! Once you have your cards, there are a few bonus categories such as 2X points for gas and 3x points for groceries with the Everyday Preferred card.
Using points
The best use of Membership Rewards points is to transfer points to airline miles. (See: Transfer Partner Master List.)  American Express frequently runs specials in which transfer rates are better than one to one. For example, in the past we have seen bonuses of up to 50% on transfers to a number of airlines. (Here is an example.) By waiting for a transfer bonus like this, you can stretch Membership Rewards points really far.
Other Programs
The programs listed above are my favorites because they deliver great value and flexibility, but that doesn't mean you should ignore other programs. Any time you have a chance to earn points for free, take it. This means that when you stay at a hotel, make sure to sign up for that hotel's loyalty program and make sure you get credit for that stay. Same with airlines: even if you think a flight will be the one and only time you'll fly with a particular airline, go ahead and signup!  You never know when the points may come in handy.
To keep track of all of these programs, I highly recommend an app called AwardWallet.  AwardWallet makes it easy to keep all of your loyalty program numbers, login IDs, and passwords in one place. The program keeps track of your points across programs, so that when you're ready to travel you can go to one place to see the points you have available for redemption.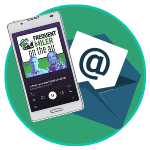 Want to learn more about miles and points?
Subscribe to email updates
 or check out 
our podcast
 on your favorite podcast platform.